This sunscreen is the tinted version of Bare Republic's regular facial sunscreen, and contains the same trio of antioxidant-rich oils: grape seed, carrot seed, and raspberry seed.
Remember those heavily discounted Bare Republic sunscreens I saw at Duane Reade (my local drugstore) a few months ago? I went back about a week after I first bought those and they were completely gone…replaced by Christmas merchandise. At least I had the chance to snag more than one bottle that day, including Bare Republic Tinted Facial Mineral Sunscreen SPF 30.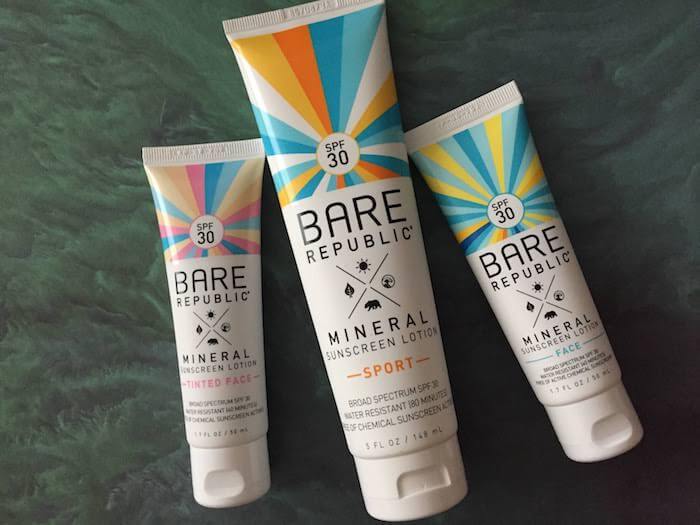 Bare Republic Tinted Facial Mineral Sunscreen SPF 30 is similar to the other Bare Republic sunscreens I grabbed: Bare Republic Body Sunscreen SPF 30 and Bare Republic Face Sunscreen SPF 30. All of these sunscreens are physical, containing a mix of titanium dioxide and zinc oxide. They're also all fragrance-free.
Let's take a closer look at this tinted face sunscreen, and how it differs from the non-tinted face sunscreen.
Bare Republic Tinted Face Sunscreen SPF 30 ingredients
Active Ingredients: titanium dioxide (5.2%), zinc oxide (2.5%)

Inactive Ingredients: aluminum hydroxide, butyrospermum parkii (shea) butter, cyclopentasiloxane, daucus carota sativa (carrot) seed oil, dimethicone crosspolymer, glycerin, hydrogen dimethicone, iron oxides, isopropyl myristate, isopropyl titanium triisostearate, mica, polyamide-5, polysilicone-11, propylene carbonate, rubus idaeus (raspberry) seed oil, silica silylate, stearalkonium hectorite, synthetic wax, vitis vinifera (grape) seed oil
The ingredient list is very similar to Bare Republic Face Sunscreen SPF 30 except for the addition of iron oxides (for tint), isopropyl titanium triisostearate (a fatty acid that is commonly added to tinted products to help distribute the tint evenly), and synthetic wax.
It contains the same beneficial moisturizing ingredients I liked from the non-tinted Bare Republic Face Sunscreen SPF 30, which I'll recap here:
It also contains exactly the same active ingredients—and concentrations of those ingredients—as the non-tinted Face Sunscreen.
Bare Republic Tinted Face Sunscreen SPF 30 review
Basically, Bare Republic Tinted Facial Mineral Sunscreen SPF 30 feels to me like Bare Republic Face Sunscreen SPF 30 with a few drops of tinted foundation blended in. I thought the tint was pretty subtle, and it mostly went on just as sheer as the Bare Republic Face Sunscreen SPF 30. Here's what it looks like when you first start blending it in: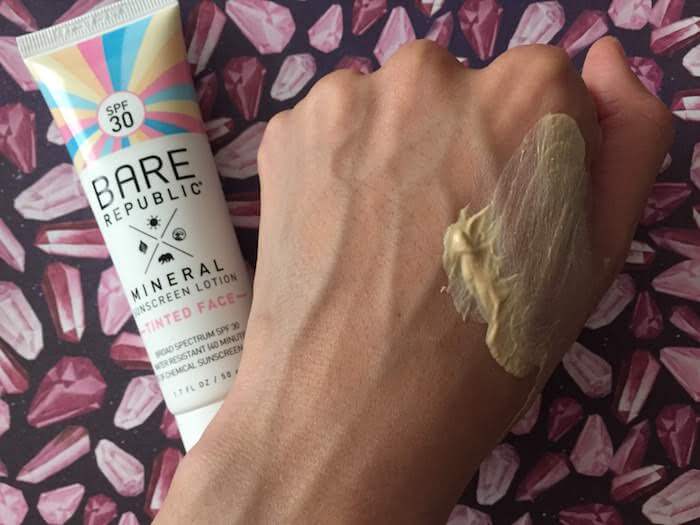 …and after I've blended it in a bit more: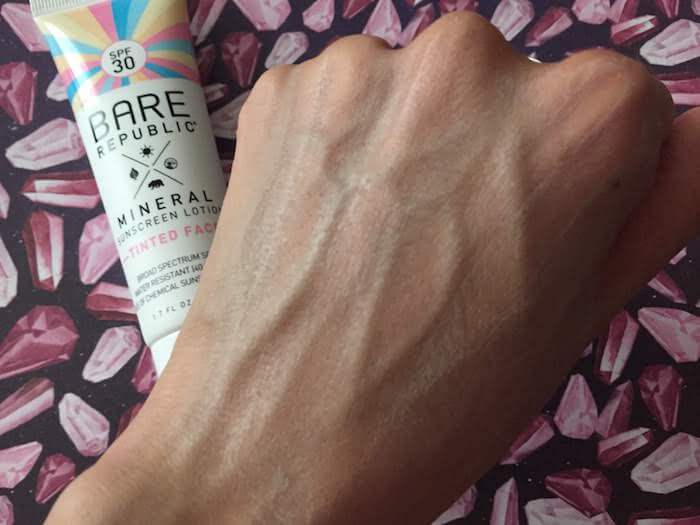 In the end, this sunscreen left a bit of a golden, streaky aftereffect that wasn't quite right for my skin tone, but it wasn't noticeably awful either. I'll still use up the bottle, but I probably won't repurchase this one.
I think I prefer being a bit paler than being the wrong shade of tan, so I would probably recommend buying the non-tinted version of this sunscreen (Bare Republic Face Sunscreen SPF 30) rather than the tinted one, since it does a pretty good job of not whitening your skin.
I normally love tinted sunscreens, but something about this one didn't work quite right with my skin tone. It also contains synthetic wax, while the non-tinted version does not. This makes the consistency feel slightly heavier than the regular Face Sunscreen. If you see both of them sharply discounted at the drugstore, there's no harm in trying both of them—perhaps the tint will suit your skin just fine. But if you only want to try one of them, I'd recommend opting for the regular Bare Republic Face Sunscreen SPF 30 instead of the tinted version. You can't really go wrong either way, though. Since they both contain antioxidant-rich oils, they double as daytime moisturizers when your skin is in dire need of hydration.
If you're looking for a tinted sunscreen that leaves more of a matte finish, check out my review of Australian Gold Tinted Face Sunscreen, one of my favorites for oily/combo, acne-prone skin.
Related reading
Note: This post uses affiliate links, which means that I'll receive a commission if you make a purchase after clicking a link (at no extra cost to you). See our
disclosure policy
.