This sunscreen protects with a mix of titanium dioxide and zinc oxide. It's also fragrance-free though it does have a coconut-vanilla scent because it contains the coconut oil and vanillin.
Today I'm going to review another one of the deeply discounted Bare Republic sunscreens I scored from my local drugstore's clearance section. Although this Bare Republic Body Sunscreen SPF 30 says "Sport" on it, and is water/sweat-resistant for up to 80 minutes, it's marketed as a Body Sunscreen. The company also makes an SPF 50 Sport sunscreen. This sunscreen contains quite a few more ingredients than the Bare Republic Face Sunscreen SPF 30 I reviewed the other day.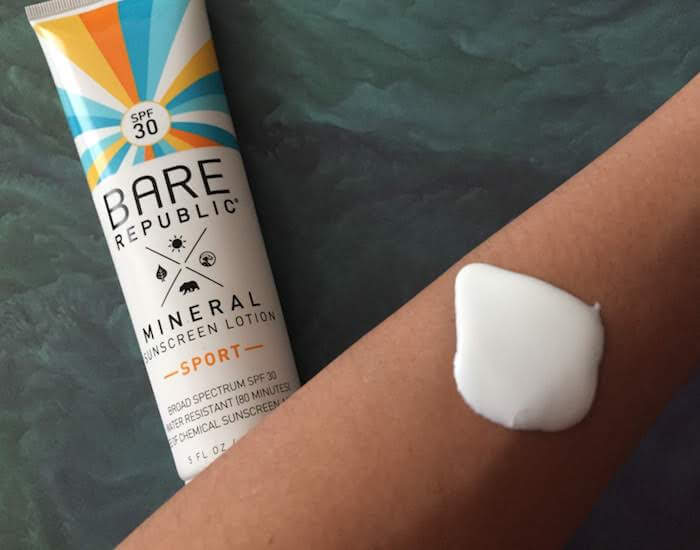 Bare Republic Body Sunscreen SPF 30 ingredients
Active ingredients: titanium dioxide (2.6%), zinc oxide (3.9%)
Inactive ingredients: aleurites moluccana (kukui) seed oil, algae extract, allyl heptoate, aloe barbadensis leaf juice, butyloctyl salicylate, c30-38 olefin/isopropyl maleate/ma copolymer, caprylic/capric triglyceride, caprylyl glycol, cetyl peg/ppg-10⁄1 dimethicone, cocos nucifera (coconut) oil, crosspolymer, dimethicone, ethyhexyl methoxycrylene, ethylhexylglycerin, gamma decalactone, gamma nonalactone, gamma octalactone, glycerin, heliotropine, isohexadecane, lauryl peg-8 dimethicone, octyldodecyl citrate, peg-8, phenylpropenol, raspberry ketone, silica, sodium chloride, sodium citrate, tocopheryl acetate, triethoxycaprylylsilane, triethyl citrate, vanillin, vegan beeswax, water
My bottle of Body Sunscreen SPF 30 had the ingredients as listed above. The website now lists a new version with a few tweaks. The new Body Sunscreen now contains alcohol and doesn't list "crosspolymer" as a separate ingredient—instead, "octyldodecyl citrate" has changed to "octyldodecyl citrate crosspolymer."
Bare Republic Body Sunscreen SPF 30 review
Bare Republic Sport Sunscreen SPF 30 contains slightly less titanium dioxide (2.6% vs. 5.2%) and more zinc oxide (3.9% vs. 2.5%) than the Bare Republic Face Sunscreen, though both are SPF 30. You can tell that the zinc oxide percentage is higher—this product leaves a stronger white cast than the Face Sunscreen, though not by too much. I've experienced much worse white cast in the past, including with ThinkSport and Aveeno, which have at least 20% zinc oxide.
How bad is the white cast?
TLDR; it does leave your skin looking slightly paler, but not nearly as much as some other zinc oxide sunscreens out there.
Here's what it looks like when you're in the middle of rubbing it in: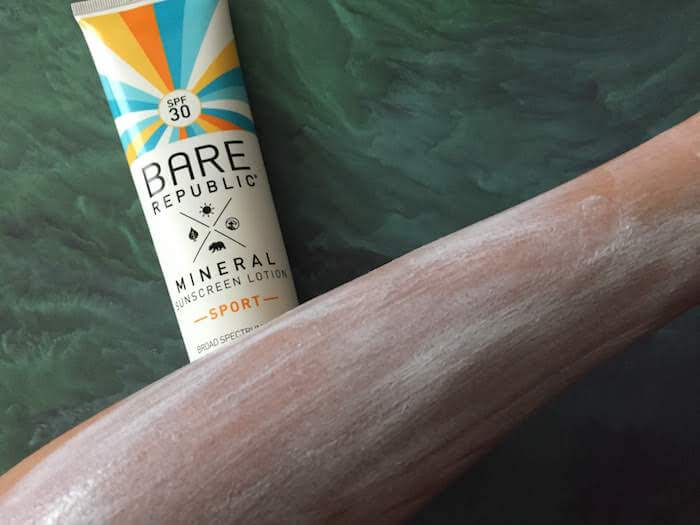 …and what it looks like after you've completely rubbed it in: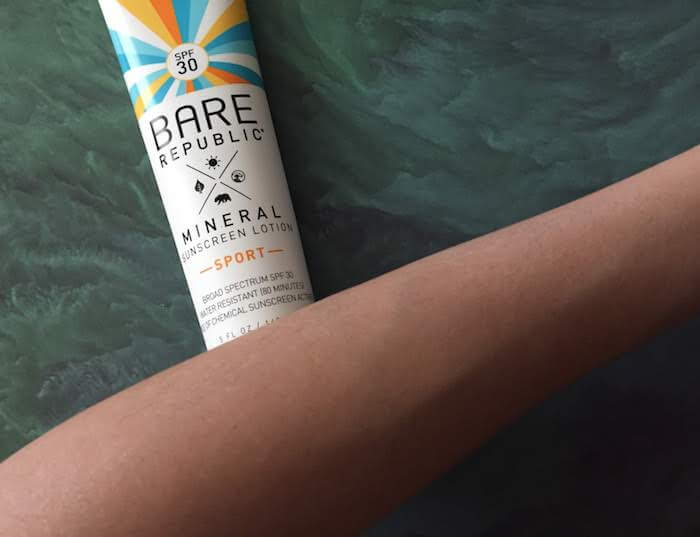 Not too bad, right? It makes my arm look a little paler, but it's certainly nothing to freak out about.
How does it compare to Bare Republic Face Sunscreen?
This sunscreen is slightly thicker than the Bare Republic Face Sunscreen SPF 30, but still quite runny. You'll need to shake the bottle up before squeezing it out. It also leaves more of a waxy texture behind, maybe because of the inclusion of "vegan beeswax." This ingredient might help provide additional water resistance—the Face Sunscreen only provides up to 40 minutes of water/sweat resistance, whereas this Body Sunscreen offers up to 80 minutes of protection.
Bare Republic Face Sunscreen SPF 30 contains a trio of antioxidant-rich oils, and does not contain any coconut oil. Meanwhile, the main oil in this Body Sunscreen is coconut oil, which has made me break out in the past. Therefore, I choose to only use this on my body. But if you don't have a problem with coconut oil, I don't see why you couldn't use this on your face, too, especially since it provides longer sweat/water resistance.
What does Bare Republic Body Sunscreen smell like?
Coconut oil also offers some natural SPF protection. In this study, coconut oil offered about SPF 7 protection. Olive oil was also found to provide a similar (though slightly higher) amount of SPF protection. The coconut oil also lends a slightly tropical scent to it, and the smell of vanilla is also pretty strong, since it contains vanillin. However, I didn't experience any irritation with this product, though I'm not really a fan of the scent, which is a bit sickly sweet, almost like what a vanilla coconut lip balm would smell like after being left in a hot car.
Final thoughts on Bare Republic Body Sunscreen SPF 30
All in all, I'm glad I bought this sunscreen at a discount at my local Duane Reade drugstore. However, I'm not sure if I would repurchase it since it contains coconut oil. However, this sunscreen is considerably easier to rub this in than something like Aveeno Positively Mineral Sunscreen I reviewed the other day.
However, it is kind of a pain to wash this sunscreen off. I'm a strong advocate of sunscreen, if you haven't noticed—but even I find it annoying to have to struggle to get it off. This sunscreen has a waxy residue, probably because it contains vegan beeswax. I guess you can't expect water/sweat resistance without paying some sort of price later on, in terms of effort required to remove it.
I'm not sure if my bottle just happened to mistakenly leave off the "alcohol" as an ingredient, but it looks like this Body Sunscreen now contains alcohol, according to Bare Republic's website. This might be a dealbreaker for some people with sensitive skin.
If you're planning on conducting a hardcore workout outdoors, you should probably opt for the dedicated Sport Sunscreen instead, since it's SPF 50 instead of SPF 30. That said, it seems like this Body Sunscreen is suitable for use on occasions when you expect to break a light sweat.
Related reading
Note: This post uses affiliate links, which means that I'll receive a commission if you make a purchase after clicking a link (at no extra cost to you). See our
disclosure policy
.