This hair treatment includes a mix of argan oil and linseed oil, but it also contains silicones (a cheap filler) and unnecessary dyes and fragrance.
I still remember the first time I discovered the magical qualities of the hair straightener. As an awkward teenager with frizzy, wavy (not in the cute way) hair, I could have benefited from discovering this appliance five years before I finally used it for the first time in college. Since moving to NYC, I haven't had as much of a problem with frizzy hair, since the NYC humidity seems to actually help tame my hair in comparison to the dry heat of Los Angeles, where I grew up. That's why I don't usually use a hair straightener unless I need to attend some sort of social function (like a wedding or bachelorette party). I recently attended a bachelorette party in LA, so I decided to pack this tiny bottle of Moroccanoil treatment to help tame my mane for a night on the town.
I received this product as part of the Sephora Summer Hair Sample Set a while ago. I love the look of the packaging—the turquoise label is very eye-catching.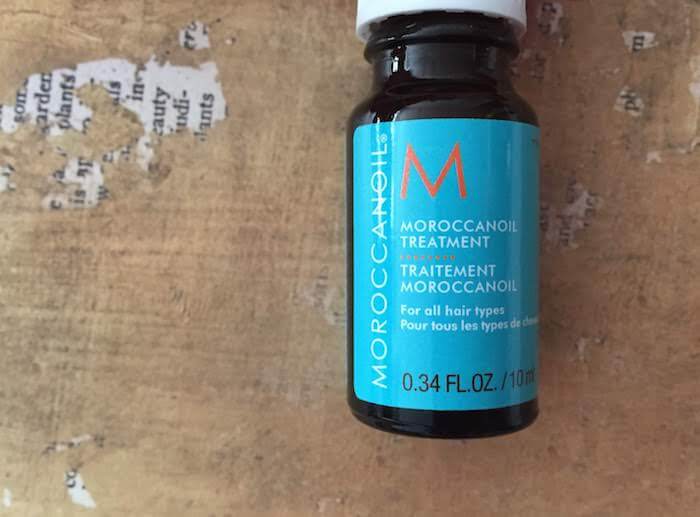 Moroccanoil Treatment ingredients
cyclomethicone, dimethicone, argania spinosa (argan) kernel oil, fragrance, linum usitatissimum (linseed) seed extract, ci 26100 (red 17), ci 47000 (yellow 11)
Moroccanoil treatment contains many silicones, which some people don't really like, because it can create buildup.
This product also contains two oils that are meant to reduce frizziness and make your hair healthier: argan oil and linseed extract. Argan oil is a main ingredient that often included in luxury haircare products. This oil is rich in vitamin E, carotenes, moisturizing squalene, and fatty acids. According to the Moroccanoil website, the company sources its argan oil from argan trees in Morocco, and manufactures its argan oil with a cold-press process to help preserve the nutrients in it.
Linseed (aka flaxseed) extract is rich in fatty acids that are supposed to help promote hair health. I don't know if applying it topically like this helps fortify your hair more than actually eating flaxseed and other fatty acids. Dr. Weil recommends consuming black-currant oil supplements, as they provide gamma-linolenic acids (omega-6 fatty acids), which have anti-inflammatory benefits. He also recommends consuming omega-3 fatty acids from flaxseed, sardines, salmon, walnuts, and other sources (about 2 tablespoons of flaxseeds every day).
Moroccanoil Treatment review
This Moroccanoil treatment comes packaged in a glass bottle with a screw top. The oil is the same color as a dried apricot, perhaps because it contains a mix of red dye and yellow dye. This was the first suspicious sign that this product was more style than substance.
Although the name comes from the inclusion of argan oil, it also contains silicones (cyclomethicone and dimethicone), which are cheaper than argan oil. Indeed, two silicones are listed first in the ingredient list, leading me to believe that this product contains more silicones than oils. The viscosity is also more silicone-like than oil-like. It is runny, but it feels like a thick liquid, almost like gel that's been heated up.
It also contains fragrance, and smells slightly like melted wax mixed with your typical hair salon fragrance. I don't really like the fragrance, to be honest.
It helps tame frizziness but it also feels a bit heavy/oily if you accidentally apply too much. Unfortunately, it's all too easy to apply too much. Even though the packaging looks nice, functionally it isn't all that great. The bottle has a wide opening, so you're likely to pour out more product than you actually need. I suggest carefully pouring it out very, very slowly, because it will come out more quickly than you might expect.
Overall, I found this product to be just OK. I was glad I got to try it out as part of a sample set, but I wouldn't purchase it a la carte. I think it mainly contains silicones, dyes, and fragrance, and not so much argan oil. If it contained more argan oil, or if it helped remove the need to straighten my hair at all, I think that would help justify the premium price point. As it stands, it's just an average product that contains unnecessary filler ingredients like dyes.
I know a lot of people who like to avoid silicones in their skincare and haircare products, but I personally don't have a problem with them in my hair products. Silicones are a very effective way to reduce frizz, and help condition the hair shaft very nicely. But since silicones are pretty cheap, I think I could find another more affordable option than Moroccanoil Hair Treatment, including this treatment. There is one upside of the silicones in this product—silicones help protect hair from heat treatment such as blow-drying and hair straightening.
I've used this treatment on damp hair and dry hair, and I think it works better on damp hair, before you blow-dry. I find that if I apply it to damp hair and then blow-dry, I still have a bit of frizz, so I still have to use a hair straightener to get really nice and shiny hair. Thankfully, the silicones in the product helped protect my hair from the heat of the hair straightener.
All this talk of frizzy hair is making me miss Maui all over again. I can't just drop everything and fly out there, but at least I can live vicariously through books like The Unhoneymooners, which is set in Maui. This book was a great, feel-good, lighthearted read, with a few twists to keep you guessing. I also found myself laughing quite a few times, which I think is the sign of good writing.
With leis around our necks and the heavy ocean air adhering our clothing to our skin, we catch a cab just outside the airport. I spend most of the ride with my face pressed to the window, taking in the bright blue sky and the glimpses of ocean visible through the trees. I can already feel my hair frizzing in the humidity, but it's worth it. Maui is stunning.
—The Unhoneymooners, Christina Lauren
Related reading
Note: This post uses affiliate links, which means that I'll receive a commission if you make a purchase after clicking a link (at no extra cost to you). See our
disclosure policy
.