This sunscreen contains a trio of antioxidant-rich oils—grape seed, carrot seed, and raspberry seed—and is fragrance-free.
Does your local drugstore have a clearance section? I recently scored a few bottles of Bare Republic sunscreen at my local Duane Reade (a subsidiary of Walgreens): Bare Republic Face Sunscreen SPF 30, Bare Republic Tinted Face Sunscreen SPF 30, and Bare Republic Sport Sunscreen SPF 30. They were priced at a deep discount (less than the price of a coffee!) and all of 'em were still about a year away from expiration. I also checked the bottles to make sure they were sealed. I've always wanted to try Bare Republic's physical sunscreens because they're fragrance-free, so I was excited to have the chance to try these out at such a low price point!
So make sure to check your drugstore's clearance section…you never know what you're going to find. Without further ado, let's take a closer look at the Bare Republic Face Sunscreen SPF 30.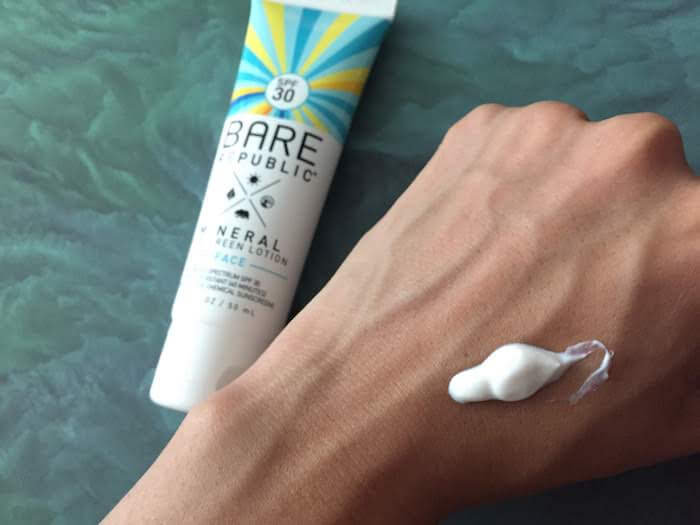 Bare Republic Face Sunscreen SPF 30 ingredients
Active ingredients: titanium dioxide (5.2%), zinc oxide (2.5%)
Inactive ingredients: aluminum hydroxide, butyrospermum parkii (shea) butter, cyclopentasiloxane, daucus carota sativa (carrot) seed oil, dimethicone crosspolymer, glycerin, hydrogen dimethicone, isopropyl myristate, polyamide-5, polysilicone-11, propylene carbonate, rubus idaeus (raspberry) seed oil, silica silylate, stearalkonium hectorite, vitis vinifera (grape) seed oil
This sunscreen contains a few nice, skin-nourishing ingredients, including:
I like that this sunscreen doesn't just protect you from UV rays—it also nourishes your skin with antioxidant-rich ingredients, almost like a serum.
Active ingredients in Bare Republic Face Sunscreen SPF 30
The active ingredients in Bare Republic Face Sunscreen SPF 30 are zinc oxide and titanium dioxide, also known as the only two physical sunscreen ingredients approved for use in the U.S. One potential area of concern about this sunscreen is that it doesn't contain a very high concentration of active ingredients. Some people are (understandably) skeptical of sunscreens with low active ingredient percentages. I actually wrote another blog post about this topic; if you read it, you might remember that my dad noted something interesting: "Depending on the formulation technology, you may achieve the same SPF while using less amount of active ingredients…as long as they have clinical test data to back up their SPF claim."
Basically, you can't assume that a product will automatically be less effective simply because it contains a lower concentration of active ingredients. Sometimes other ingredients in the formulation can help contribute to the product's SPF protection, such as the oils included in this sunscreen. My dad advised choosing sunscreens with higher active ingredient percentages whenever possible. However, he also mentioned that if the product comes from a reputable company, you can probably trust that the company conducted sufficient testing to back up its SPF claim, regardless of the specific percentage of active ingredients listed on the label.
My Dad the Chemist's review of Bare Republic Face Sunscreen SPF 30
Dear Emily, looks like a decent SPF 30 formula, i'll buy at least 3 to try ( estimate the amount you can use it before the expiration date) if it's made in US and isn't approaching the expiration date, I saw one sunscreen was deep discounted sunscreen in 99 cent store were going to be expired in two months. You'd better check the expiration date to ensure you have enough time to use it.

Try one first on the water resistance as I said before if you're going swimming , if it fails the test, return all of them to the store, otherwise you may buy more for the future.

Love,
Dad
My dad isn't worried about these discounted sunscreens, as long as they haven't expired. He has even seen sunscreen on sale at the 99 cent store before.
Bare Republic Face Sunscreen SPF 30 review
Bare Republic Face Sunscreen SPF 30 is marketed as a facial sunscreen and is completely free of alcohol and fragrance. Yay! I did find it to be quite oily, which isn't surprising since it contains three oils: grape seed oil, carrot seed oil, and raspberry seed oil. However, these oils are also all very rich in antioxidants, and could help boost the protection this sunscreen provides against UV radiation.
These oils do make the sunscreen rather runny, so make sure to follow the instructions on the bottle (shake before using) so you can evenly distribute ingredients before squeezing it out. It does leave a very slight white cast on my face, but it gets more sheer as you rub it in. It's definitely less whitening than other physical sunscreens, maybe because of the low percentage of zinc oxide in this product (5.2%, as opposed to some other products I've used that contain upwards of 20%). Below, you can see that my hand looks slightly paler after blending this sunscreen in, but it's definitely not worth complaining about.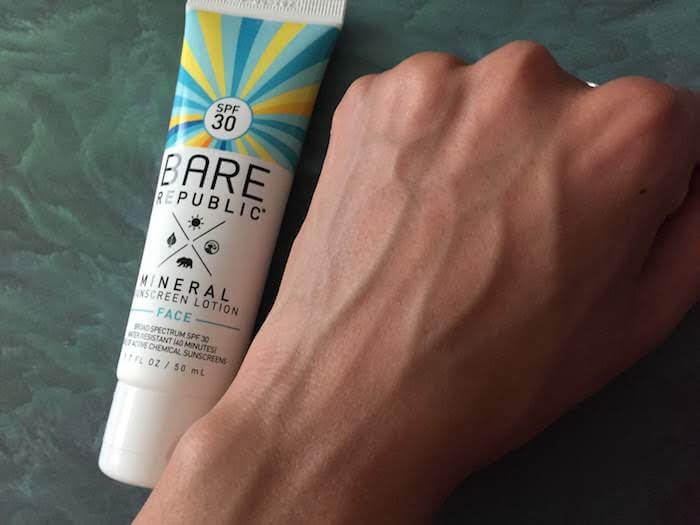 This product is fragrance-free, but it does have a natural smell that's slightly sweet, like ripe fruit—maybe because of the natural oils included in the product. This product didn't irritate my skin, but it made it more oily than usual. It also has a silky texture that's unlike any other product I've used in the past. It's not just silky, it's like you can feel the finely ground minerals (zinc?) sitting as a layer of protection on top of your skin. This is the main reason I don't think I would repurchase this sunscreen, unless it goes on deep discount again. If you have pale, sensitive skin and don't mind an oily texture in your sunscreen (perhaps if your skin is prone to dry patches?), this could be a great fragrance-free sunscreen to try out. It also provides 40 minutes of water/sweat resistance.
Stay tuned for my reviews of the other two Bare Republic sunscreens I picked up at the drugstore: Bare Republic Tinted Face Sunscreen SPF 30, and Bare Republic Sport Sunscreen SPF 30.
Related reading
Note: This post uses affiliate links, which means that I'll receive a commission if you make a purchase after clicking a link (at no extra cost to you). See our
disclosure policy
.