This twisty hair accessory won't ever break on you or let you down. Plus, it can easily be revived after it stretches out—and it even doubles as a bracelet.
If your hair is long enough for a ponytail, you've probably formed an opinion or two about what you'll use—or eschew—as a hair tie. Rubber bands are a no-no…unless you like wincing in pain while yanking out strands of your hair for no good reason. Scrunchies are cute, but the inner elastic bands usually get stretched out waaaay too easily. Recently, I finally discovered my forever hair tie in a Walmart Beauty Box: Teleties. According to the package, Teleties are designed to help reduce ponytail headache, be less damaging to hair, and eliminate that ugly accordian-like crease you get from constricting your hair in a too-tight ponytail.
I received a Teleties hair tie in a size small, which is designed for fine to medium hair, according to the website. It takes me three loops to securely tie my ponytail. For me, that ensures that it's tight enough to hold up my ponytail when I'm running, but not so tight that it causes a headache. I can get by with two loops when I'm not exercising, but eventually I'll need to readjust or retie it when it starts loosening. Teleties also come in tiny and large sizes. Large Teleties are designed for people with thick and/or curly manes. I like the idea of making hair ties in different sizes—no two manes are alike!
Super stretchy + made to last a lifetime
Teleties hair ties remind me of old-style telephone cords, except reimagined in fun colors. They're super stretchy, and they won't ever break apart, so you can use it for life. You don't have to worry about it snapping or breaking, like a regular fabric-covered elastic hair band. According to the package, if it starts stretching out, you can place it in hot water and it should shrink back to its original size. I haven't had to try this out yet, since mine's still holding its shape/grip pretty nicely, but I love the idea!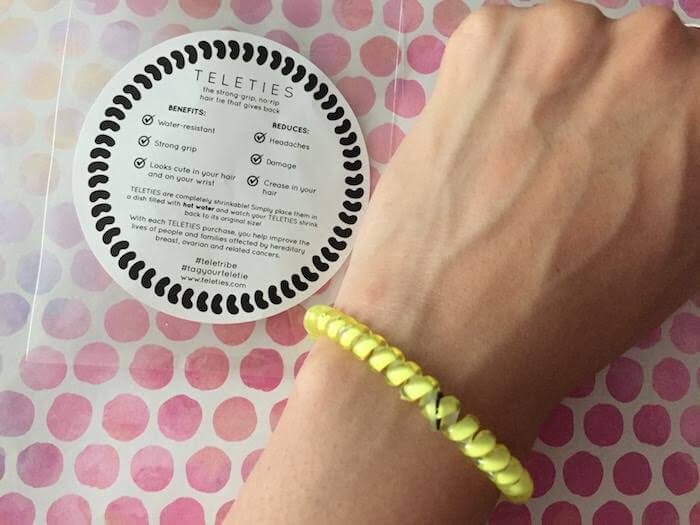 Support a good cause while looking good
With every purchase, Teleties donates to FORCE, a nonprofit organization that is dedicated to supporting families who are affected by hereditary cancers. Plus, they look just like funky jewelry—a welcome breath of fresh air after years of using boring black elastic hair bands.
These hair ties come in a variety of colors that you can mix and match to create a stackable, '90s throwback jewelry vibe. Mine is neon yellow, but the company creates these in all sorts of colors. These hair ties look like they could pass off as jewelry when you stack three of them (in complementary colors) on your wrist. So you can wear them all the time and always have them handy (ha!) whenever you need them (for me, I always need to tie back my hair to eat a bowl of noodles or something).
Water-resistant so you can wear them 24⁄7
I've hardly taken off my Teleties hair tie since I started using it. Since it's plastic, I can wear it in the shower without any problems. Whenever I used to accidentally leave my old elastic hair bands in the shower, the dampness of the hair band actually irritated my skin. With Teleties, I don't have that problem anymore.
Related reading
Note: This post uses affiliate links, which means that I'll receive a commission if you make a purchase after clicking a link (at no extra cost to you). See our
disclosure policy
.