This lip balm adds a subtle boost of glam to your everyday look—and as a bonus, it's SPF 15 (but only blocks UVB rays).
Now that the days are getting chillier, my lips need more hydration and protection from wind. That's why I seldom leave the house without a lip balm in my handbag—preferably one that includes SPF, because sun protection is always in season. Lately, I've been using Blistex Lip Vibrance SPF 15 because it was in the last Walmart Beauty Box I received (along with the Bic Soleil razor I reviewed a few days ago).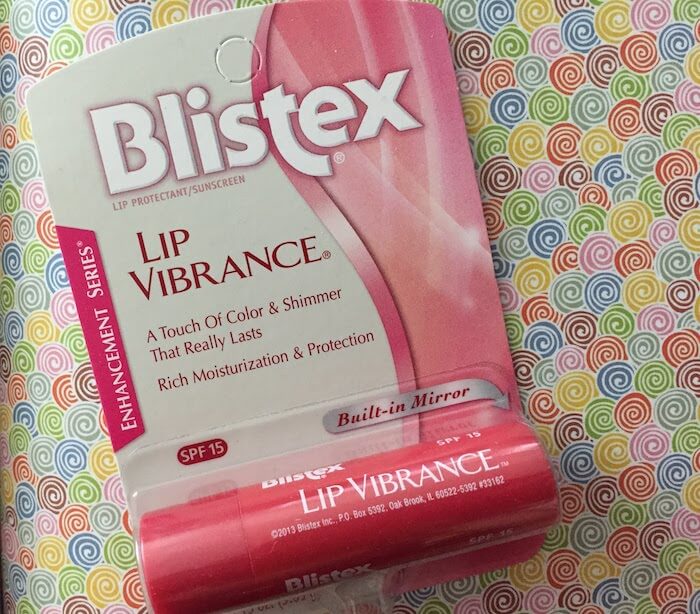 She wonders if he can feel her eyes on his back, if he senses that someone is watching him. Then he walks away, puts the phone back in its cradle by the television, grabs a jacket off the sofa, and puts it on. He takes a brush and weirdly runs it over his bald held. Pulls a stick of lip balm out of his jeans pocket and rubs it on. It is the Chapstick that does it. It gives her a very bad feeling. A sick feeling, really, that he is going out on a date.

—New People, Danzy Senna
If you currently only wear lip balm for special occasions (like dates), Blistex Lip Vibrance may be a good gateway to using lip balm every day. This particular lip balm includes beauty and substance—it will make your lips look rosy, but also protect them from UV rays.
Blistex Lip Vibrance SPF 15 ingredients
Active ingredients: dimethicone (2.0%), octinoxate (6.6%), octisalate (4.4%)

Inactive ingredients: arachidyl alcohol, arachidyl glucoside, behenyl alcohol, bis-diglyceryl polyacyladipate-2, butylene glycol, cutyrospermum parkii (shea) butter, D&C red no. 6, D&C red no. 7, ethylhexyl palmitate, flavors, hydrogenated polyisobutene, iron oxides, mica, microcrystalline wax, mineral oil, oxokerite, panthenyl ether ether, paraffin, pentaerythrityl tetraethylhexanoate, petrolatum, phenoxyethanol, phenyl trimethicone, polybutene, ricinus communis (castor) seed oil, saccharin, silica dimethyl silylate, sodium hyaluronate, titanium dioxide, tocopheryl acetate, vitis vinifera (grape) seed oil
Inactive ingredients make up 87 percent of the remaining formula, once you subtract the active ingredients (octinoxate, octisalate, and dimethicone). According to the FDA's Cosmetics Labeling Guide, manufacturers can list inactive ingredients in any order if they are included at 1 percent concentration or less. Otherwise (if an ingredient is included at more than 1 percent concentration), it needs to be listed in descending order of prominence.
So…why are all of the inactive ingredients listed in alphabetical order? Since there are 30 inactive ingredients, and inactive ingredients make up 87 percent of the formula, there's no possible way that every single inactive ingredient is included at 1 percent concentration or less. I was puzzled about this so I asked my dad if he knew why this was the case. Here's what he said:
Dear Emily, good catch! Agreed, I don't think the marketer is listing inactive ingredients by the regulation. If no one complains FDA will never know that the inactive ingredients are not listed as should be.

Love,
Dad
I'm not sure if anyone would ever complain about this, so I don't see it changing anytime soon. However, I do wish that Blistex would list the inactive ingredients in decreasing order of concentration (at least the ones included at more than 1 percent concentration) so we could get more visibility into what's a major part of this formula, other than the three active ingredients listed. It's not a big deal, but it would be nice for companies to give consumers more visibility—not only when it comes to the ingredients that go into the products they're using, but also which particular ingredients are most prominent in each product. I always wonder what's going on when I see a long ingredient list with items written out in alphabetical order.
Blistex Lip Vibrance SPF 15 review
Blistex Lip Vibrance SPF 15 is a very interesting product. It contains specks of what look like glitter…but a subtle glitter. A shimmer, if you will. The package says that you can just apply a light layer if you want a more natural look, or apply multiple layers if you want to achieve more noticeable tint and glimmer. This lip balm won't make you look like you put glitter on your lips, but it will definitely add some glamour and sparkle to your aesthetic, without the flashiness or tackiness of actual glitter. The tube also includes a mirror on one end, so you can double check the color of your lips.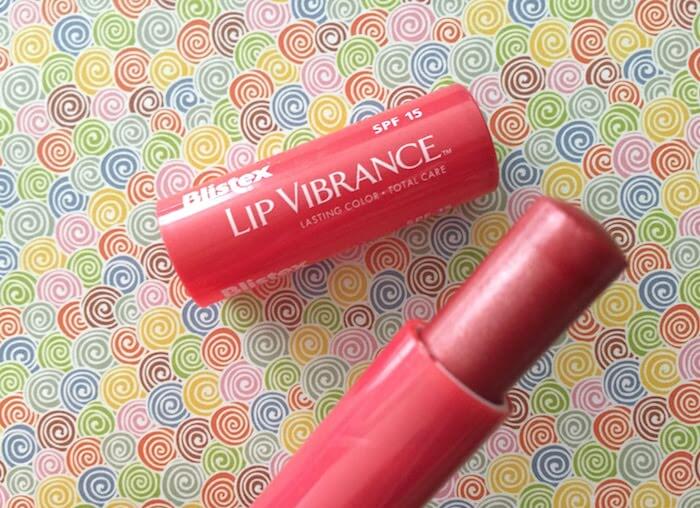 The two active sunscreen filters are chemical: octinoxate and octisalate. Both of these filters block UVB rays. This sunscreen lip balm does not contain any ingredients that protect from UVA rays. SPF 15 protects from 93 percent of UVB rays. This balm is not water-resistant, so if you need a better option for the beach or pool, check out my other article on the best sunscreen lip balms.
The other active ingredient in this lip balm is dimethicone, which is allowed by the FDA to be used as a "skin protectant active ingredient" in a concentration of 1 to 30 percent. See more information about other skin protectant ingredients here. This balm does a decent job of protecting my lips from the wind here in NYC. I think that it's more moisturizing than my top sunscreen lip balm pick (Banana Boat Aloe Vera Sunscreen Lip Balm SPF 45), but less rich than Fresh Sugar Rose Tinted Lip Treatment Sunscreen SPF 15. The Fresh version is also tinted and I think it has a nicer, rosier tint than this Blistex Lip Vibrance SPF 15. Plus, it moisturizes my lips better with its mixture of grape seed oil, jojoba seed oil, meadowfoam seed oil, and avocado oil. Although this is a budget-friendly option for anyone looking for a tinted, SPF 15, moisturizing lip balm, I suggest checking out the Fresh product instead if you have the money to spare.
Related reading
Note: This post uses affiliate links, which means that I'll receive a commission if you make a purchase after clicking a link (at no extra cost to you). See our
disclosure policy
.