This conditioner helps cleanse/clarify hair by removing buildup. Plus, it's vegan and fragrance-free (but still smells nice, thanks to the extracts and oils).
Over the past year or so, I've had some pretty bad experiences with hair care products—they either irritated my skin (ahem, Suave Professionals Sleek & Smooth Conditioner) or gave me a headache from their super strong fragrance (for example, Not Your Mother's Texturizing Sea Salt Spray). That's why I've been on a continuous hunt for fragrance-free hair care products. They're few and far between, so when I find them, I snatch them up right away. Today, I'm reviewing a product that I picked up at TJ Maxx: Acure Curiously Clarifying Conditioner.
Note that, even though this is fragrance-free, it does considerable number of extracts and oils that could potentially irritate you if you're sensitive to any of those ingredients. If you've read my interview with allergist Dr. Ratika Gupta, you might remember that she said that essential oils are not suitable for sensitive skin. So even though this product is technically "fragrance-free," make sure to scan the full ingredient list to make sure that it doesn't contain any oils that may irritate your skin and scalp.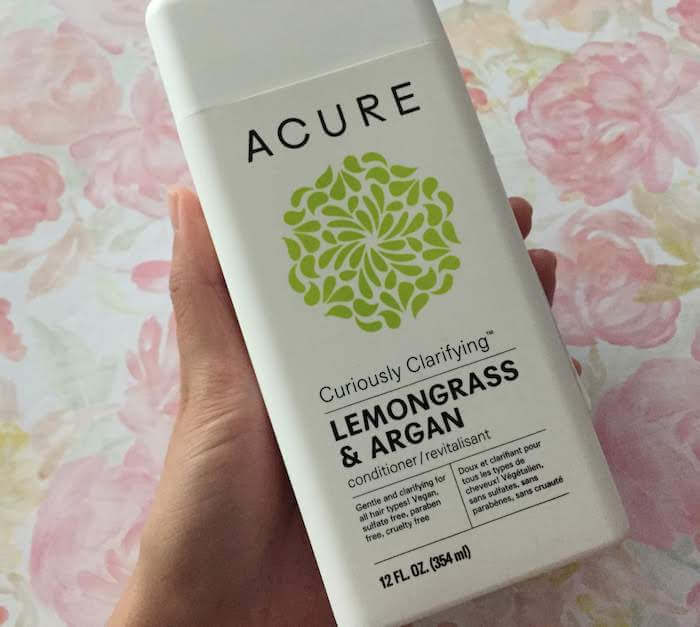 Acure Curiously Clarifying Conditioner ingredients
water, cetearyl alcohol, glycerin, stearalkonium chloride, behentrimonium chloride, cetearyl glucoside, glyceryl stearate, sorbitan olivate, argania spinosa (argan) kernel oil, theobroma cacao (cocoa) seed butter, guar hydroxypropyltrimonium chloride, l-arginine, cymbopogon schoenanthus (lemongrass) extract, hippophae rhamnoides (sea buckthorn) fruit oil, persea gratissima (avocado) oil, ubiquinone, euterpe oleracea (acai) fruit extract, rubus fruticosus (blackberry) fruit extract, punica granatum (pomegranate) extract, rosa canina (rosehip) fruit extract, calendula officinalis flower extract, aspalathus linearis (rooibos) leaf extract, chamomilla recutita (matricaria) flower extract, sodium levulinate, lavandula hybrida oil, cymbopogon flexuosus (lemongrass) leaf oil, rosmarinus officinalis (rosemary) leaf oil, juniperus virginiana (red cypress) oil, lactic acid, tocopheryl acetate, cetyl alcohol, potassium sorbate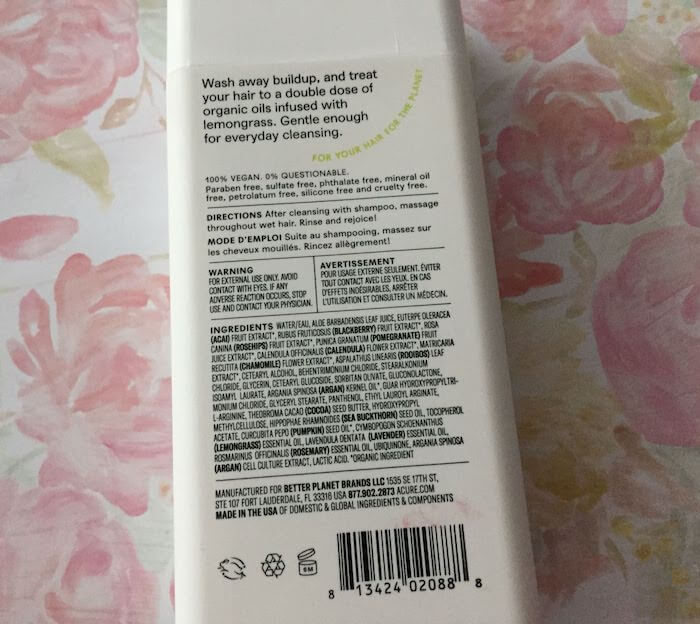 My Dad the Chemist's review of Acure Curiously Clarifying Conditioner
Dear Emily, formula may do as claimed if this conditioner is a rinse off conditioner, if not, It may not perform the clarifying job.

cetearyl glucoside is an emulsifier used in this type of oil in water formulations. It helps clean hair, retain moisture, and gives a velvety after touch.

Love,
Dad
Apparently, cetearyl glucoside is the key ingredient in making this type of clarifying conditioner. I think my dad meant to say "afterfeel" instead of "after touch," but you get the gist. :) An emulsifier helps blend together the oils and water in this formula. According to my dad, it's an oil-in-water formulation, meaning that, once emulsified, oil droplets are distributed throughout the water, like what happens when you make mayonnaise from scratch.
According to My Dad the Chemist's Ingredient Database, cetearyl glucoside is also in these products (reviews linked below):
Interestingly, no other conditioners are listed on there. As a cleansing ingredient, I guess it makes sense that it was in the Yes to Cucumbers cleanser. The other products in this list are all lotions/sunscreens, which makes sense since my dad said that this ingredient helps you "retain moisture."
Acure Curiously Clarifying Conditioner review
I love the packaging of this Acure Curiously Clarifying Conditioner. It comes in a rectangular bottle with rounded corners. It looks like they changed the packaging, so maybe that's why bottles of this product (featuring the outdated labels) ended up on the shelves of TJ Maxx.
I've used clarifying shampoos in the past, but never tried a clarifying conditioner until now. When I originally bought this, I actually thought I was buying shampoo, until I got home and realized that it was actually conditioner. Oh well!
I like that this conditioner doesn't contain any fragrances. Instead, the smell comes from a bunch of extracts and oils. I would say that lemongrass is the dominant smell in this product, which I find to be very invigorating. This conditioner doesn't leave my hair instantly feeling detangled and super glossy. But it does help make it feel a bit smoother, and I like that the fragrance isn't super aggressive. It also doesn't irritate my skin or scalp at all, like some other products. The consistency of the conditioner is not too thick but also not too runny. It's white/creamy in color, like most other products in this category. It's also completely vegan!
I recommend trying out Acure Curiously Clarifying Conditioner if you're looking for something to help smooth and detangle your hair without irritating your skin. It's also not overly fragranced like a lot of other hair care products out there. However, if you're looking for a completely transformational conditioner that will leave your mane feeling completely revived, sleek, and lovely, you'll probably be disappointed with this product.
Related reading
Note: This post uses affiliate links, which means that I'll receive a commission if you make a purchase after clicking a link (at no extra cost to you). See our
disclosure policy
.