This fragrance-free face wash has a pretty basic formula, so probably not worth the premium price point.
When my skin is flipping out, I pare down my routine to just the basics: face wash, sunscreen (during the daytime), and moisturizer. Absolutely no fragrances or acids—just the plainest possible versions of everything I can find. Kiehl's Ultra Facial Cleanser was my face wash of choice last time I overdid it on a clay mask and my skin protested with dry, red, blotchy patches.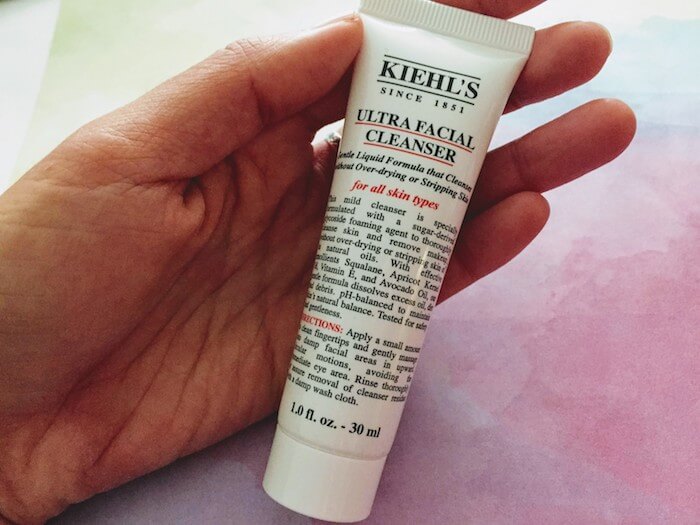 Kiehl's Ultra Facial Cleanser ingredients
water, sodium laureth sulfate, decyl glucoside, glycerin, cocamidopropyl betaine, disodium cocoamphodiacetate, acrylates copolymer, peg-200 hydrogenated glyceryl palmate, lauryl glucoside, sodium chloride, pentylene glycol, triethanolamine, phenoxyethanol, peg-7 glyceryl cocoate, distearyl ether, behenyl alcohol, methylparaben, laureth-2, propylparaben, sodium methylparaben, squalane, prunus amygdalus dulcis oil, prunus armeniaca kernel oil, tocopherol, ascorbyl glucoside, persea gratissima oil, sodium hydroxide, citric acid
Kiehl's Ultra Facial Cleanser has a pretty simple ingredient list, with glycerin (a moisturizing agent) and sodium laureth sulfate (a common surfactant/cleanser/foam creator found in many drugstore shampoos like Suave) at the top. The preservative system of choice is parabens, which are actually a good option for those with sensitive skin, despite what the naysayers may say.
Other than those normal ingredients, the "premium" or more expensive ons are probably:
prunus armeniaca kernel oil = apricot kernel oil

prunus amygdalus dulcis oil = sweet almond oil

persea gratissima oil = avocado oil

squalane

I asked my dad two questions:
Is Kiehl's Ultra Facial Cleanser a good choice for people with sensitive skin?
Based on the ingredient list, does he think it's an expensive or cheap product?
My Dad the Chemist's review of Kiehl's Ultra Facial Cleanser
Dear Emily, it's ok for sensitive skin but may still irritate eyes if it runs into eye(s) accidentally due to the content of sodium chloride (salt).

Looks like it would cost just a little bit more than the conventional cheap shampoo but still should be less than the "sulfate free" shampoos.

Love,
Dad
My dad makes an interesting point—though the majority of the ingredients look suitable overall for sensitive skin, the presence of sodium chloride (aka salt) may irritate your eyes if you accidentally get some in there. So watch out for that potential hazard. :P
By looking at the ingredient list, he would guess that it costs "just a little bit more" than a conventional sulfate-based shampoo (probably because of the apricot, sweet almond, and avocado oils). But he thinks it will cost less than a sulfate-free shampoo. It's interesting that he mentioned shampoo here because it probably could double as a shampoo, actually.
I'm glad I scored it for free at a Nordstrom event a few months ago. But since I wouldn't normally splurge on face wash, I was curious to see if the ingredient list actually contained anything that would warrant the premium price point. My dad's guess about the price confirmed it: This face wash is probably overpriced.
On the plus side, I love that this face wash doesn't have any noticeable fragrance. It also does a slightly better job at removing physical sunscreen than the creamy, non-foaming cleansers I tend to use, probably because of the stronger detergents in it. I think it's a great basic face wash, but not extraordinary enough to warrant its high price point. If you want to try it out, get the travel-size version—it has actually lasted me a decent amount of time. I've taken it with me on my last two trips (one that was two weeks long, and another that was about four days long). But if you're looking for an affordable option that won't irritate your skin and doesn't contain salt, I would suggest opting for Whole Foods Gentle Skin Cleanser or CeraVe Hydrating Facial Cleanser instead.
Related reading
Note: This post uses affiliate links, which means that I'll receive a commission if you make a purchase after clicking a link (at no extra cost to you). See our
disclosure policy
.