This physical sunscreen is runny and blends in without leaving too much of a white cast. However, if you have oily skin, stay far, far away.
I finally got around to reviewing tarte tarteguard SPF 30 sunscreen, which was included in my Sephora Sunscreen Safety Kit in 2018. This sunscreen is pretty pricey but it does contain a ton of natural extracts that are supposed to deliver beneficial effects beyond just protecting your face from UV radiation. But just how accurate are those claims? I asked my dad for his opinion of this sunscreen and also got him to weigh in on the many marketing claims associated with this sunscreen's plethora of natural, plant-based extracts. TL;DR: He isn't impressed with most of the extracts and thinks that it's an effective sunscreen, but he says that certain ingredients are only effective if they meet a minimum concentration of the product, and we have no way of actually verifying if a product contains enough of each ingredient (unless it's an active ingredient) to back up its claims.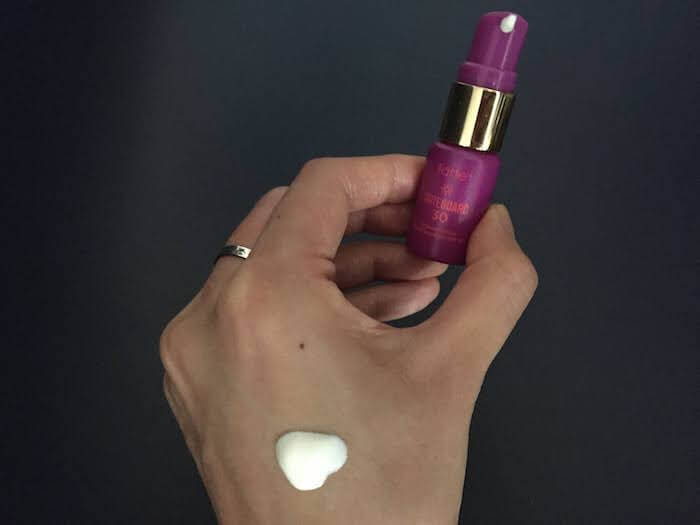 tarte tarteguard SPF 30 sunscreen ingredients
Active ingredients: titanium dioxide (3.36%), zinc oxide (4.13%)
Inactive ingredients: water, butyloctyl salicylate, coco-caprylate/caprate, c12-15 alkyl benzoate, caprylic/capric triglyceride, diheptyl succinate, polyglyceryl-6 distearate, propanediol, jojoba esters, glycerin, pyrus malus (apple) fruit extract, polysorbate 20, polyhydroxystearic acid, polymethylsilsesquioxane, potassium cetyl phosphate, phenoxyethanol, alumina, diethylhexyl syringylidenemalonate, xanthan gum, tocopherols, glycine soja (soybean) oil, capryloyl glycerin/sebacic acid copolymer, citric acid, triethoxycaprylylsilane, lonicera caprifolium (honeysuckle) flower extract, trisodium ethylenediamine disuccinate, chlorphenesin, fragrance, stearic acid, ethylhexylglycerin, passiflora edulis seed oil, lonicera japonica (honeysuckle) flower extract, algae extract, pseudoalteromonas exopolysaccharides, sodium hyaluronate, sodium salicylate, propylene glycol, sodium dehydroacetate
When I sent my dad the ingredient list, he said that he thought it should be an effective sunscreen. To get more of his thoughts on the super-long ingredient list, I decided to ask him to weigh in on some of the claims that were listed on the Sephora product page:
maracuja for firming and brightening

red algae for renewing

soybean extract to "combat" aging

apple extract: an antioxidant

honeysuckle extract for soothing

sodium hyaluronate for moisturizing

vitamin E: as a preservative, emollient, and antioxidant
I asked my dad if any of these claims were worth believing, or if they were more hype than substance. He said two of them were the most likely to be legitimate as long as this product contains a sufficient concentration of those ingredients in the formula: sodium hyaluronate and vitamin E.
Sodium Hyaluronate And Vitamin E, but if they're added at <0.001% or < 0.100% respectively, they would be just for the marketing claims only.

Love,
Dad
I guess you just never know how much these natural extracts actually help deliver on their claims. I've always been somewhat skeptical of products that contain huge ingredient lists, chock full of plant extracts, because I'm unsure of the quality and concentration of those extracts. Could it just be a very tiny amount that's included? Or worse, could those extracts cause unnecessary irritation to your skin? On the one hand, the company could be adding just a very small amount in order to list a specific marketing claim on its label, without adding enough to actually deliver said benefits. On the other hand, it could be adding enough of the extract and exposing your skin to unnecessary irritation. If you've read my Q&A with an allergist, you know that plant extracts may be natural but they are still just as likely to cause irritation as other types of ingredients.
tarte tarteguard SPF 30 sunscreen review
This sunscreen came as part of my Sephora Sunscreen Safety Kit in 2018, and I just never got around to reviewing it until now. It came in a small plastic pump-style package with a cap. The consistency is pretty runny, not as thick as other physical sunscreens. It's a purely physical sunscreen with titanium dioxide and zinc oxide as the active ingredients. Both of these ingredients are included at a pretty low percentage (<5% for each). This probably helps explain why it doesn't leave as much of a white cast compared to other physical sunscreens. It will still leave your skin slightly paler, though (see below for details).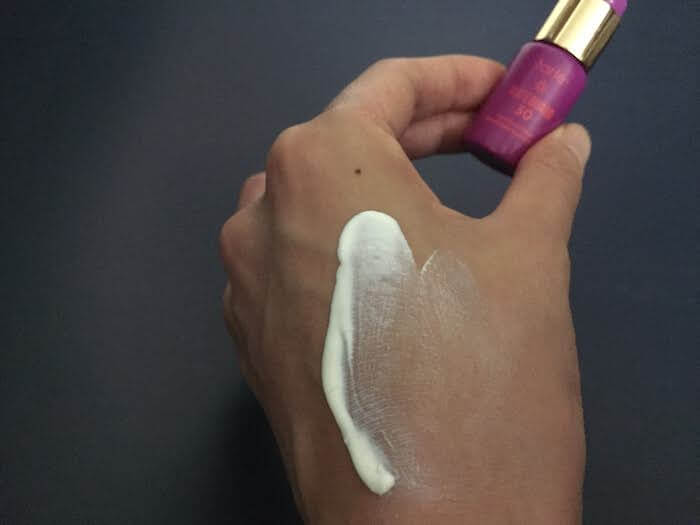 The runny consistency leaves a dewy finish, so it may not be suitable for anyone with oily skin, like me. I thought it made my face feel way too greasy by the end of the day, so I wouldn't repurchase this sunscreen. It also contains a ton of extracts and is not fragrance-free, so it could be irritating to people who have very sensitive skin. However, it is worth noting that even though it isn't fragrance-free, it doesn't have a very strong detectable odor, which is a plus in my book.
It is also nice that it includes some bonus ingredients that make it almost like a moisturizer and sunscreen in one. It contains sodium hyaluronate, as well as glycerin, to help moisturize your skin while protecting it from UVA/UVB rays. So, if you have dry skin, it could be worth trying out this sunscreen.
My dad thinks that if this product contains <0.001% of sodium hyaluronate and <0.100% of vitamin E, then those ingredients won't deliver their intended benefits. There's no way of confirming if this sunscreen meets those requirements, but it is useful to keep this in mind when buying any products, really. Sometimes you see a hyped up ingredient like "sodium hyaluronate" on the label, but you have no way of knowing if the product actually contains enough of that ingredient to actually be effective. So if you find out that the product isn't moisturizing enough for your skin that may be why.
At the end of the day, any company could choose to include a very low concentration of an ingredient just so it can list it on the label and make a claim about it. On the flip side, maybe most companies aren't doing that. Hopefully, they're actually being diligent about testing their products to ensure that it carries through on its marketing claims. As consumers, we can only look at the ingredient list and make an educated guess based on other people's reviews.
Related reading
Note: This post uses affiliate links, which means that I'll receive a commission if you make a purchase after clicking a link (at no extra cost to you). See our
disclosure policy
.