This is one of my all-time favorite products for moisturizing dry hands at night. It also works as a facial moisturizer in a pinch.
I'm in a long-term relationship with Vaseline Intensive Care Advanced Repair Lotion. Ever since I discovered it in high school, I've used it pretty much every night before going to sleep. When I'm running low on this product, I always, always make sure to order more right away. Finding the right lotion for your needs is very similar to dating—there may be many fish in the sea, but a lot of them are duds. I've tried a LOT of lotions over the course of my life. My biggest qualm with them is that they're often very greasy, making it exceedingly difficult to complete day-to-day activities—even something as simple as lifting a heavy mug. Sometimes they're so thick that they feel like cement on my hands (cough, Vanicream, cough).
But if you have hand eczema or any type of condition that requires you to constantly take extra care of your skin barrier, applying lotion is a necessity, not a choice. I'd rather make do with a greasy lotion than no lotion at all, if I have to choose between the two. But after I discovered Vaseline Intensive Care Advanced Repair Lotion, I never looked back. Sure, I still try out other lotions and creams every now and then, but I always keep a bottle of Vaseline Intensive Care Advanced Repair Lotion on my nightstand because it's affordable, easy to find, and decently moisturizing for my skin.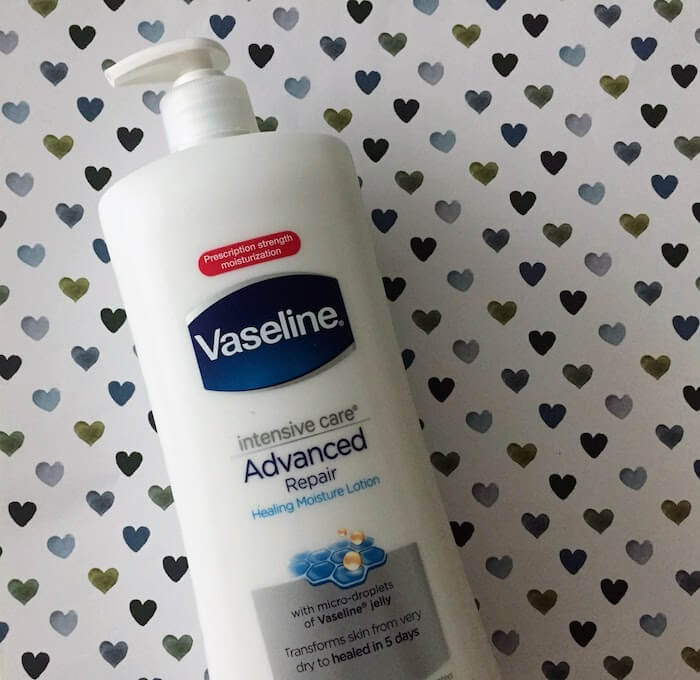 Vaseline Intensive Care Advanced Repair Lotion ingredients
water, glycerin, stearic acid, isopropyl palmitate, glycol stearate, peg-100 stearate, mineral oil, dimethicone, glyceryl stearate, petrolatum, cetyl alcohol, phenoxyethanol, acrylates/c10-30 alkyl acrylate crosspolymer, methylparaben, triethanolamine, propylparaben, stearamide amp, disodium edta, isopropyl myristate, cedrol
Vaseline Intensive Care Advanced Repair Lotion review
Vaseline Intensive Care Advanced Repair Lotion comes packaged in a standard plastic bottle, with either a flip-top lid or a pump, depending on the size you buy. I like to buy the larger size because it comes in an easy-to-dispense pump and it also tends to be cheaper than the smaller sizes. Whenever I travel, I dispense a pump's worth of lotion into a travel-size container for each night/day I'm going to be away, and then include a few extra pumps just in case. This tends to work out pretty well. I've even used this lotion as a facial moisturizer in a pinch, even though I don't normally use it for this purpose when I'm at home. It doesn't break me out and does a decent job of moisturizing my face.
That said, it does contain mineral oil and petrolatum, so it will leave your hands feeling slightly greasy after application. However, I find that the oily residue is not that bad compared to other lotions—and it tends to feel much less oily after you let it dry/soak in for a few minutes. Dimethicone is also a nice moisturizer and is classified as a "skin protectant" by the FDA. Some lotions even list dimethicone as an active ingredient with the percentage included, though this particular lotion does not.
It does not contain any added fragrance, and I couldn't detect much of an odor from the normal ingredients at all. It smells vaguely reminiscent of Vaseline petroleum jelly, if you've ever sniffed a tub of that before.
I mainly use this lotion to moisturize my hands at night. It rubs in pretty nicely and has a nice and creamy consistency that helps protect my hands from eczema flareups. The label claims that it contains "micro droplets" of Vaseline petroleum jelly throughout the lotion base. This helps make it less oily than applying 100% petrolatum (Vaseline) so that it's suitable for everyday use, while still delivering the amazing skin protective benefits of petroleum jelly.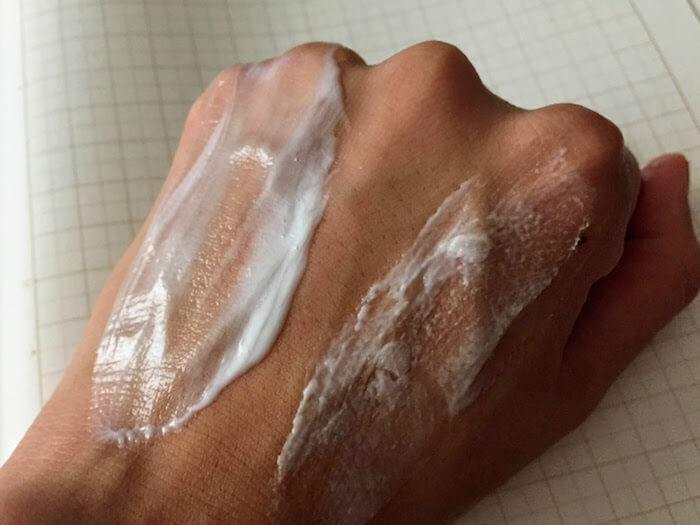 This lotion is not quite rich enough for the days when my hands are extra dry and cracked in the winter. On those types of days, I usually apply a layer of this lotion and then follow it up with something richer like CeraVe Moisturizing Cream, and then seal all of it in with a layer of Vaseline for good measure. Then I put on some lightweight cotton gloves to keep everything sealed in. I find that this 1-2-3 punch helps my hands look and feel significantly better in the morning. In the picture above, you can see that the Vaseline (left) is more watery and less waxy than Cerave Moisturizing Cream (right).
Further reading
Note: This post uses affiliate links, which means that I'll receive a commission if you make a purchase after clicking a link (at no extra cost to you). See our
disclosure policy
.