I recently discovered that good ol' Vaseline is a miracle worker for my dry, flaky skin patches—and it turns out that dermatologists agree.
After my less-than-ideal experience with Laneige Water Bank Moisture Cream, I am wary of trying any other Laneige products unless someone I trust fervently recommends it to me. Even though I always hear lots of good buzz around Laneige's Lip Sleeping Mask, I'm not really tempted to try it because I have something that works for just a fraction of the price: Vaseline.
That's right, good ol' 100% triple-refined petrolatum—specifically, the name brand that has become synonymous with that ingredient: Vaseline. The morning after I started using it, my upper lip area was no longer dry or flaky anymore. Magic.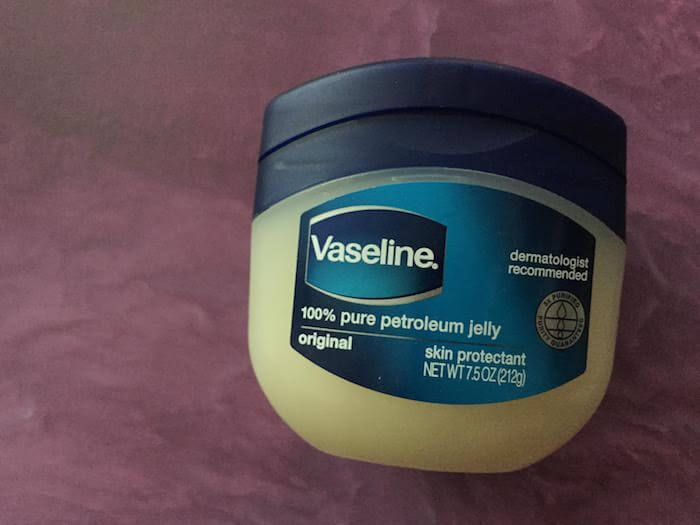 The backstory of my sad lips
Why is this such a momentous occasion, you ask? Well, I went through the whole month of December with an embarrassingly dry patch of skin around my upper lip. It was so dry and flaky that you could actually see the flakes of skin. I tried to rub them off, but the abrasive rubbing only made things worse. And when I tried to apply my tinted sunscreen over the area, it only accentuated the problem by tinting the flakes of skin, further drawing attention to the area. There was no winning. I eventually rgot used to the idea that I was going to have to suffer through a winter of discontent.
Over this period of time, I tried applying all my other favorite lotions (CeraVe Moisturizing Cream, CeraVe PM, Vaseline Intensive Care Lotion, etc.) on the area, to no avail. These lotions would sting quite a bit when I first put them on, which gave me hope that they were actually doing something. But to my disappointment, I would wake up with an upper lip that felt just as dry as the night before.
Interestingly, CeraVe Moisturizing Cream and Vaseline Intensive Care Lotion both contain some petrolatum, but apparently not enough to be as effective as 100% petrolatum is on my skin. It wasn't until I tried the 100% Vaseline product that I saw an improvement in the texture and feeling of my upper lip skin.
Dermatologists like Vaseline, too
It turns out that dermatologists agree that Vaseline is an excellent addition to your skincare routine. The American Academy of Dematology even has a whole article that's titled, "5 ways to use petroleum jelly for skin care". The article recommends using Vaseline to moisturize flaky dry skin in delicate areas like your eyelids and lips. Apparently, your eyelids are where you have the thinnest skin of all, so make sure to never bully your eyelids, or they'll burst into tears. Sorry, I had to make that joke. I also picked up the following nugget of information from the article: "For best results, always apply petroleum jelly when your skin is damp." I'll definitely have to try that next time I get a really dry patch of skin.
Scientific studies on petrolatum
I found a few studies online that seem to support that idea that petrolatum is an effective moisturizer for those with skin conditions like wounds, atopic dermatitis, and infections. This study found that applying petrolatum to skin helped boost the presence of antimicrobial peptides and increased the thickness of the skin barrier. Another study supported the idea that petrolatum helps accelerate skin barrier recovery and acts as an occlusive that helps the skin lock in water.
Is there any difference between Vaseline and generic petroleum jelly?
Vaseline states that all of its petrolatum is triple refined to remove impurities, which may make it less likely to cause allergic reactions. I'm not sure how much of a refining process the generic drugstore versions of petroleum jelly go through, so I tend to prefer buying the name brand when it comes to this product, even though I love saving money as much as the next person.
If you have sensitive skin that reacts to impurities/allergens, I'd recommend springing for the name brand Vaseline, since it offers more of a guarantee of the purity of the petrolatum you're getting. According to the FAQs page, Vaseline is triple refined to remove impurities, so the National Eczema Association has given it a seal of approval for eczema patients and for those who have other sensitive skin conditions.
Is Vaseline comedogenic?
Vaseline describes itself as "a blend of mineral oils and waxes" on its FAQs page. Some people might feel icky about the idea of applying mineral oil and wax on their face, but sometimes your skin needs all that richness. This is coming from someone who used to submit her oily, acne-prone skin to astringents, acne creams, and all sorts of abuse as a teenager until it begged for mercy.
Since I started using Vaseline around my lip area, it doesn't seem like it has clogged my pores or caused any new breakouts to appear on my skin. Granted, I don't tend to get many breakouts in that area to begin with. Of course, from some online searching, it looks like some people have reported that their skin will react poorly to Vaseline/petroleum jelly, so YMMV. I personally haven't noticed any negative impact on my acne. The only effects I see are silky smooth skin, and no more dry flaky areas! And that's why I'll love Vaseline forever and ever.
Vaseline also asserts that petrolatum is non-comedogenic, citing a third-party study published in the Journal of Cosmetic Chemists that found that Vaseline did not clog pores or cause any breakouts. I don't think similar studies have been done with generic-brand petrolatum jelly, but I could be wrong. If I found the right study (linked here), it looks like the study was conducted on a small sample size of just 10 patients, using two types of Vaseline products: Vaseline petrolatum jelly and Vaseline petrolatum jelly cream. See Vaseline's FAQs page for more details.
Of course, everyone's skin is different. If you're sensitive to breakouts, I definitely recommend proceeding with caution. But go ahead and apply it to dry areas of your body, such as the soles of your feet. You won't be sorry!
Give Vaseline a chance if you have super-dry skin
In my honest opinion, you're going to have a hard time finding a moisturizer that offers better bang for your buck than Vaseline. Just a thin layer of Vaseline was all it took to moisturize and smooth out my super-dry skin. This was after I had tried applying much thicker layers of more expensive creams and lotions, none of which delivered any sort of noticeable improvement.
But of course, Vaseline is not good for everything. I don't like to apply it to eczema flareups that are actively itchy—it only makes my skin itchier. I much prefer to use Vaseline for maintenance in between flareups, though, since it helps lock in moisture and keep the skin barrier from being damaged by dry heat or brutal winter winds.
For those who are against using petrolatum
I recently found out that there is such a thing as "un-petroleum jelly," produced by Alba Botanica. So we know what it's not, but what is it? Looks like it consists mainly of castor oil, which has been deemed safe for use in cosmetics. The official product listing on Alba Botanica's website says it contains coconut oil, but doesn't list coconut oil in the ingredients. So either the company updated its formula to remove coconut oil for some reason, or the ingredients list is outdated and it now contains coconut oil. It's easily accessible on Amazon, so I think it's worth a shot if you find that you want something that moisturizes very dry skin.
Related reading
Note: This post uses affiliate links, which means that I'll receive a commission if you make a purchase after clicking a link (at no extra cost to you). See our
disclosure policy
.