This is the cutest package of cucumber melon lip balm you'll ever meet—I just wish it would tone down the fragrance.
eos is a lowercase acronym that stands for "evolution of smooth." You've probably seen this company's distinctive lip balms at the drugstore before—they come in these round "spheres" that are pretty awesome.The surface area of each orb is much larger than your average tube of ChapStick. A friend recently gave me a pack of eos cucumber melon lip balm and it instantly put a smile on my face…after all, I'm a sucker for beautiful (and recyclable!) packaging. I mean, look at it…isn't it out of this world?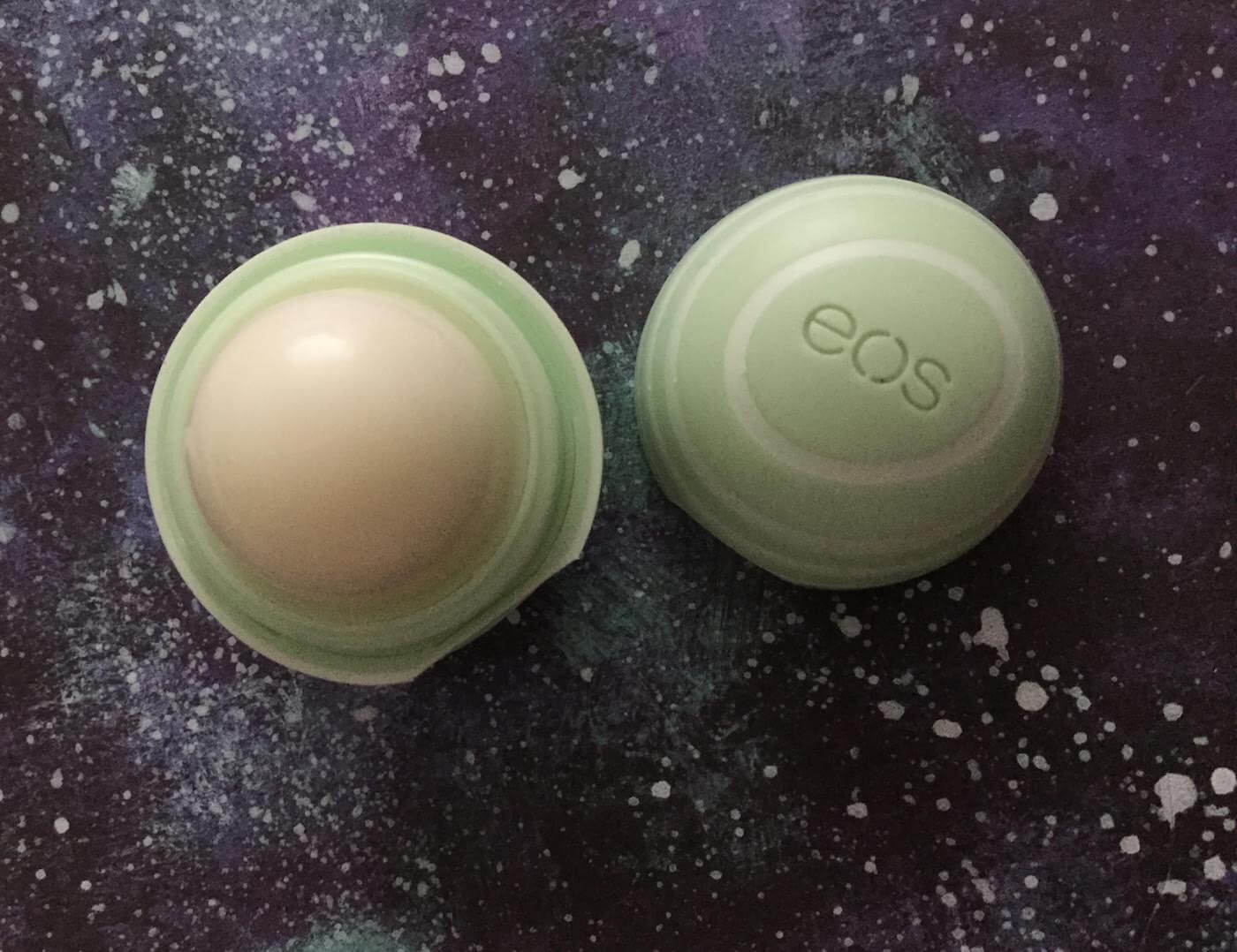 a brief interlude: my personal history with eos
It's a funny story, but eos first came on my radar many moons ago, during my first summer internship in NYC. I was interning at a magazine that folded just one week after I arrived in the office. That was my first brief (but gruesomely real) glimpse into the shiny new world of magazine publishing. Anyway, during that my one-week internship, my first assignment was to pick something out of the "beauty closet" and then write about it. I chose a canister of eos shaving cream because it felt familiar to me. My dad has formulated many shave prep products before, so I was always used to living in a house, surrounded by random shaving products. I never got to write that review, but I was able to keep that can of eos around as my keepsake from the shortest internship in the history of internships.
eos, the company
Like Brandless, eos advertises a list of ingredients that it refuses to include in its products. This list includes parabens, SLS (sodium lauryl sulfate), phthalates, and oxybenzone (not a reef-safe sunscreen active).
eos cucumber melon lip balm ingredients
beeswax, helianthus annuus (sunflower) seed oil, ricinus communis (castor) seed oil, bis-diglyceryl polyacyladipate-2, jojoba esters, cocos nucifera (coconut) oil, fragrance, oryza sativa (rice) bran wax, helianthus annuus (sunflower) seed wax, butyrospermum parkii (shea) butter, theobroma cacao (cocoa) seed butter, acacia decurrens flower wax, cucumis sativus (cucumber) fruit extract, cucumis melo (melon) fruit extract, ficus carica (fig) fruit/leaf extract, stevia rebaudiana leaf/stem extract, tocopherol, polyglycerin-3, glycine soja (soybean) oil, citric acid
This formula is free of parabens but it is not vegan, since it's primarily made up of beeswax (like Burt's Bees all-weather lip balm). According to the FAQs page, beeswax is the only non-vegan/animal-derived ingredient in the lip balms, because it gets its squalene from a vegetable source. Also, none of its products are tested on animals.
In this study, a natural skin care regimen that included natural oils and beeswax outperformed a dermatologist-recommended routine made up of synthetic materials like cetyl alcohol (fatty alcohols) and glycerin.
This lip balm includes plenty of natural ingredients like coconut oil (another great moisturizer that may not be great for acne but is probably safe for using on lips), shea butter, cocoa seed butter, and sunflower seed oil. Plus, it includes stevia extract to provide a bit of a sweet taste if you happen to lick your lips.
The fact that "fragrance" appears so high in the ingredient list is a bit worrisome, though, as it may irritate your lips if you have sensitive skin. However, eos asserts that it formulates all of its fragrances to meet standards set by the Research Institute for Fragrance Materials (RIFM) and International Fragrance Association, which you can read about here. I think it's a promising sign that they are openly aware of the dangers that fragrances pose as potential allergens, and that they formulate theirs to reduce this risk by complying with international standards.
eos cucumber melon lip balm review
I love the large size of this eos cucumber melon lip balm "sphere," because it just puts a fun spin on things. It also makes this lip balm much easier to find in your handbag. I feel like it does a decent job at coating my lips and protecting them from the wind and cold. I still prefer straight-up Vaseline (or this cute little tub of lip therapy) for days when my lips are really dry.
The fragrance of this lip balm is also pretty darn potent. I could smell it right when I opened the top of the sphere. The fragrance reminds me of a watermelon Airhead, with a whiff of cucumber thrown in. Smelling it conjures up the word "sweet" in my mind—and because of the stevia, it tastes sweet, too, if you happen to accidentally lick your lips. If you're not used to products with a heavy scent, it can almost be cloying.
If you don't generally have problems with fragrances, and you love the smell of candy, this can be a fun way to mix up your normal lip balm. You can find it on Amazon here, or at your local drugstore. Otherwise, I'd recommend going for one of eos's other lip balms like this fragrance-free aloe lip balm with SPF 30—the SPF protection is a nice bonus.
Related reading
Note: This post uses affiliate links, which means that I'll receive a commission if you make a purchase after clicking a link (at no extra cost to you). See our
disclosure policy
.