This soap bar is fragrance-free and claims to help treat acne. Plus, I asked my dad for his opinion: Are salicylic acid-based face washes generally more effective in liquid form than solid form?
Some people hunt for wildlife. Others hunt for bargains. But me? I like to hunt for niche skin care products that are less likely to aggravate eczema/sensitive skin. Recently, I've been looking for a fragrance-free salicylic acid face wash. Sounds like that should be a simple enough product to find, right? (Spoiler alert: It's not.) Neutrogena, Clean & Clear, and other big brands make plenty of acne face washes that contain 2% salicylic acid as an active ingredient. But for some reason, these companies feel like they need to make acne products more appealing by adding fragrances and fun colors.
Eventually I found a suitable product to try: The INKEY List Salicylic Acid Cleanser. Unfortunately, it seems to perpetually be out of stock on Sephora's website. Just when I was about to cave in and order one of Neutrogena's fragranced acne washes, I thought of another option.
I decided to widen my search to include solid soap bars, not just liquid cleansers. And voila—I found something I wanted to try: DermaHarmony 2% Salicylic Acid Bar Soap. That got me thinking…I haven't seen a lot of solid salicylic acid-based soaps out there, so I wondered if there was a reason for that. Is it perhaps harder to ensure that salicylic acid is evenly distributed throughout a solid bar? Is it easier to formulate a liquid face wash? Let's ask my dad for the answers and see if this bar soap actually does what it claims.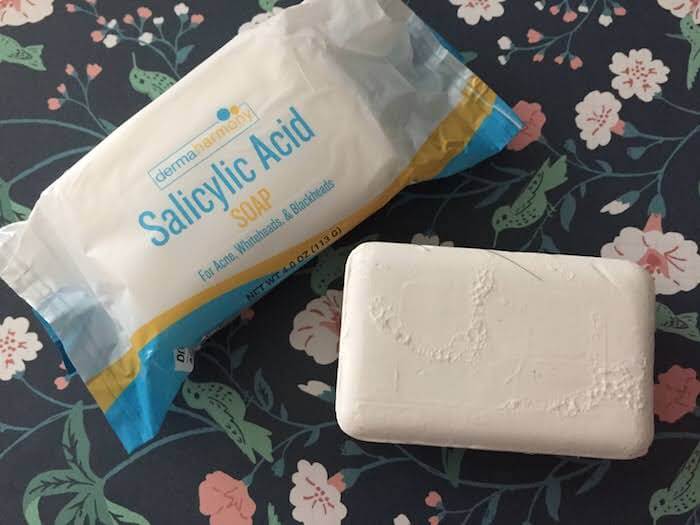 DermaHarmony 2% Salicylic Acid Bar Soap ingredients
Active ingredient: salicylic acid (2%)

Inactive ingredients: sodium palmate, sodium cocoate, sodium palm kernelate, water, glycerin, titanium dioxide, table salt, olive oil, avena sativa (oat) kernel flour, pentasodium pentetate, tocopheryl acetate
This bar soap contains 2% salicylic acid as an active ingredient, like many of its liquid-based competitors. Otherwise, it's very similar to a normal bar soap. Like Aveeno Moisturizing Bar for Dry Skin, it contains oat kernel flour, which isn't commonly found in a lot of soaps (solid or liquid). I like this ingredient because it's commonly used in ecezma products as a skin-protective ingredient. And best of all, I like how it's free of fragrances and dyes.
My Dad the Chemist's review of DermaHarmony 2% Salicylic Acid Bar Soap
I asked my dad if he had any idea why salicylic bar soaps seem to be less prevalent than salicylic face washes in liquid form. Here's what he said.
Great question Emily! The maximum amount of Salicylic Acid is only 0.18% in 99.82% of water, and is only 1.63% in 98.37% of glycerin , and May be up to 2.16% in 97.84% of Olive Oil.

Therefore, it's less likely this soap formula would have uniform 2% of Salicylic Acid, unless they have an unique process to blend Salicylic Acid uniformly and keep this active uniformly suspended in the entire soap mass, even they claim so, it still required to take different portions of soap and analyze to confirm the assay.

I have the same doubts about whether the efficacy and consistency be the same as the formulas in the liquid form.

Love,
Dad
I asked my dad where he got those numbers - is it an FDA regulation or just what is physically possible?
No, not due to the law or regulation,these are the one of the physical properties of Salicylic Acid, the Solubility in different solvent( carrier), these data can be obtained through Salicylic Acid manufactures (or suppliers).

Since Salicylic acid is much more soluble in oil(s) than water, and your attached formula does contain Saponified Oils Along with some glycerin and olive oil, together they may be able to dissolve Salicylic acid completely before forming into a bar soap, if they are able to, it will have the uniformity of Salicylic acid in the soap, I have never attempted to dissolve Salicylic acid in the listed Saponified Oils , just try to test it, may work well.

Love,
Dad
So it turns out that the maximum amount of salicylic acid that can physically dissolve into different types of solvents differs. This maximum percentage varies across water, glycerin, and olive oil, which are all found in this particular soap.
This means that it could be less likely that the active ingredient is evenly dispersed throughout the solvents in this solid bar. Or it could be ok, if the manufacturer found a way to make sure that the formula evenly distributed the salicylic acid. There is no way to tell how evenly the 2% salicylic acid is distributed through this product, but my dad says that it's possible that the manufacturer was able to evenly dissolve salicylic acid throughout those ingredients completely before forming it into a solid. He hasn't personally done it, but he thinks it should theoretically be possible.
So based on this, it sounds like it might be harder to ensure that salicylic acid is evenly dispersed in solid bar soap form compared to liquid form. This might explain why liquid salicylic acid washes are more common than solid bar soaps. However, we have no way of determining if this particular product is formulated successfully or not, without analyzing different portions of the soap to find out.
Basically my takeaway here is that I shouldn't automatically suspect that this bar soap will be less likely to contain 2% salicylic acid than a liquid-based competitor, but in general, it might be safer to go with a liquid-based wash if you want to err on the side of caution, since it sounds like liquid formulas are easier to formulate correctly.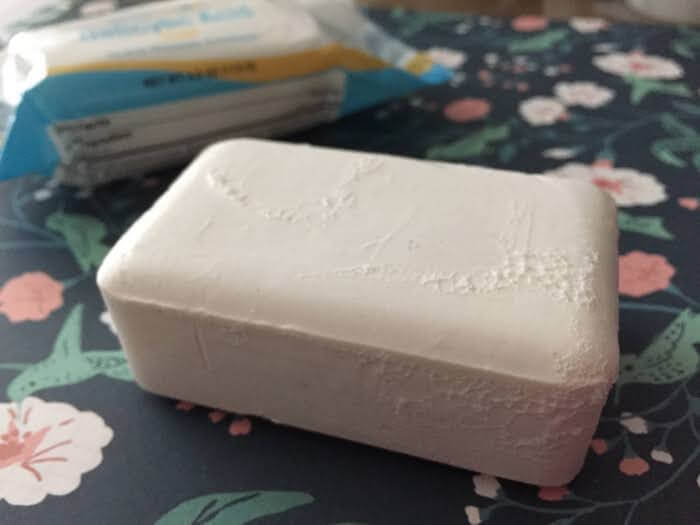 DermaHarmony 2% Salicylic Acid Bar Soap review
I've been using this bar soap as my nightly face wash, and it doesn't seem to be having a major effect on my skin. I don't have keratosis pilaris, but the reviews seem to indicate that this bar is good for that skin condition. I mainly started using this bar as a way to keep a few of the monthly pimples I get (probably due to hormonal reasons) under control. Ever since I started using Differin, my acne has been pretty tame, so I don't have much to complain about. But I do tend to get a few pimples, probably due to hormonal reasons, around my jawline. I was hoping that this salicylic face wash would help with those pimples, and also help provide some gentle exfoliation to brighten my skin without irritating it too much.
I like that DermaHarmony 2% Salicylic Acid Bar Soap is not only fragrance-free but also free of any strong odor/fragrance from the ingredients. It does smell ever so slightly of oats, but I love oats, so that's a plus in my book. It's very mild, so if you're not an oat lover, don't worry too much about it. It foams up quite nicely. It does still dry out my skin more than a regular gentle, liquid-based cleanser like Cetaphil face wash normally does, which is why I only use it once a day. But as long as I make sure to moisturize right after patting my face dry, everything's fine.
The main thing to keep in mind with salicylic face washes is to make sure that you keep the face wash on your skin for 30 seconds before rinsing it off. This gives the active ingredient (salicylic acid) enough time to do its work. I did this, but it doesn't seem to be having a major effect on the pimples along my jawline. Although this could indicate that this product doesn't contain enough salicylic acid to make a difference on my acne, it could also just not be effective for me for some reason. Next, I'll have a to try a liquid-based salicylic acid face wash to compare if it seems to be more effective for me.
DermaHarmony 2% Salicylic Acid Bar Soap is very bare bones—and just a warning: the packaging looks very outdated. But it's made in the USA and contains normal ingredients without any unnecessary fragrances or dyes. Personally, I'm all about no-frills products—as long as they contain ingredients that work, I couldn't care less about the logo or packaging design. I'm all for companies spending less money on advertising and aesthetics, if it means that they devote that money to sourcing quality ingredients and formulations.
Although it didn't seem to do a whole lot for my acne, I do think that this product is worth a shot if you're interested in an affordable, no-frills, fragrance-free salicylic acid face wash (which is harder to find than you think…believe me). It's available as a 2-pack on Amazon and each bar seems to last for a pretty long time. I've been using mine nightly for a month now, and I think I've only gone through 25% of the bar, at most.
Let's take a look at some 2% salicylic acid cleansers
If you don't believe me when I say that fragrance-free salicylic acid cleansers are hard to find, here's some data to back it up. Neutrogena seems to be a repeat offender—most of their acne face washes contain dyes and fragrances, whereas other brands just lean on fragrances. Alba Botanica commits the offense of labeling its "deep pore wash" as "unscented" but then proceeding to include fragrance components like linalool, limonene, and citral, as well as another potentially irritating ingredient: orange peel oil.
| Product name | Fragrance | Dyes | Inactive ingredients |
| --- | --- | --- | --- |
| Aveeno Clear Complexion Cream Cleanser With Salicylic Acid | Yes | No | Water, Cetyl Alcohol, PPG-15 Stearyl Ether, Polysorbate 60, Steareth-21, Potassium Cetyl Phosphate, Xanthan Gum, Fragrance, Menthyl Lactate, Glycine Soja (Soybean) Seed Extract |
| Clean & Clear Blackhead Eraser Facial Scrub with Salicylic Acid | Yes | No | Water, Cetyl Alcohol, Ppg-15 Stearyl Ether, Cellulose, Glycerin, Polysorbate 60, Steareth-21, Microcrystalline Wax, Potassium Cetyl Phosphate, Xanthan Gum, Fragrance, Disodium Edta, Menthyl Lactate, Sodium Hydroxide, Ferric Ferrocyanide |
| Unscented Alba Acnedote Deep Pore Wash | Yes | No | Water, Coco-Betaine, Disodium Cocoyl Glutamate, Sodium Chloride, Cocamidopropyl Betaine, Glycerin, Citrus Aurantium Bergamia (Bergamot) Fruit Oil, Citrus Aurantium Dulcis (Orange) Peel Oil, Mentha Piperita Peppermint) Oil, Azadirachta Indica Leaf Extract, Camellia Sinensis Leaf Extract(1), Carum Petroselinum (Parsley) Extract, Hamamelis Virginiana (Witch Hazel) Water, Melissa Officinalis Leaf Extract, Salix Alba (Willow) Bark Extract, Urtica Dioica (Nettle) Extract, Alcohol, Citric Acid, Dehydroacetic Acid, Benzoic Acid, Phenoxyethanol, Potassium Sorbate, Sodium Benzoate, Citral, Limonene, Linalool |
| Neutrogena Oil-Free Salicylic Acid Acne Fighting Face Wash | Yes | Yes | Water, Sodium C14-16 Olefin Sulfonate, Cocamidopropyl Betaine, Sodium Chloride, Peg-80 Sorbitan Laurate, C12-15 Alkyl Lactate, Benzalkonium Chloride, Disodium Edta, Fragrance, Cocamidopropyl Pg-Dimonium Chloride Phosphate, Propylene Glycol, Aloe Barbadensis Leaf Extract, Anthemis Nobilis Flower Extract, Chamomilla Recutita (Matricaria) Flower Extract, Sodium Hydroxide, Citric Acid, Yellow 5, Red 40 |
| Neutrogena Oil-Free Acne Stress Control Power-Cream Wash | Yes | Yes | Water, Cetyl Alcohol Ppg-15 Stearyl Ether, Glycolic Acid, Glycerin, Polysorbate 60, Steareth-21, C12-15 Alkyl Lactate, Cetyl Lactate, Cocamidopropyl Pg-Dimonium Chloride Phosphate, Potassium Cetyl Phosphate, Disodium Edta, Xanthan Gum, Sodium Hydroxide, Panthenol, Cucumus Sativus Fruit Extract Camellia Oleifera Leaf Extract, Butylene Glycol, Menthol, Benzalkonium Chloride, Yellow 5, Green 5, Blue 1, Fragrance |
There are, of course, some salicylic acid cleansers that seem promising. But for the most part they're more expensive than the ones sold by Neutrogena and Clean and Clear. These options include:
CeraVe Renewing SA Cleanser (but note that the company doesn't list salicylic acid as an active ingredient or divulge its concentration)

Related reading
Note: This post uses affiliate links, which means that I'll receive a commission if you make a purchase after clicking a link (at no extra cost to you). See our
disclosure policy
.