This spot treatment includes some irritating ingredients that could make it too drying for some people with sensitive skin.
Who doesn't love a good spot treatment? I've tried many kinds over the years—ones that contain salicylic acid, others that use benzoyl peroxide, ones that are clear gels, others that are thick pastes—but I like the ones that contain sulfur the most (even though they smell the worst). Alba Botanica Fast Fix for a Pimple spot treatment is one such spot treatment, and it's also tinted. Let's take a closer look at the ingredients.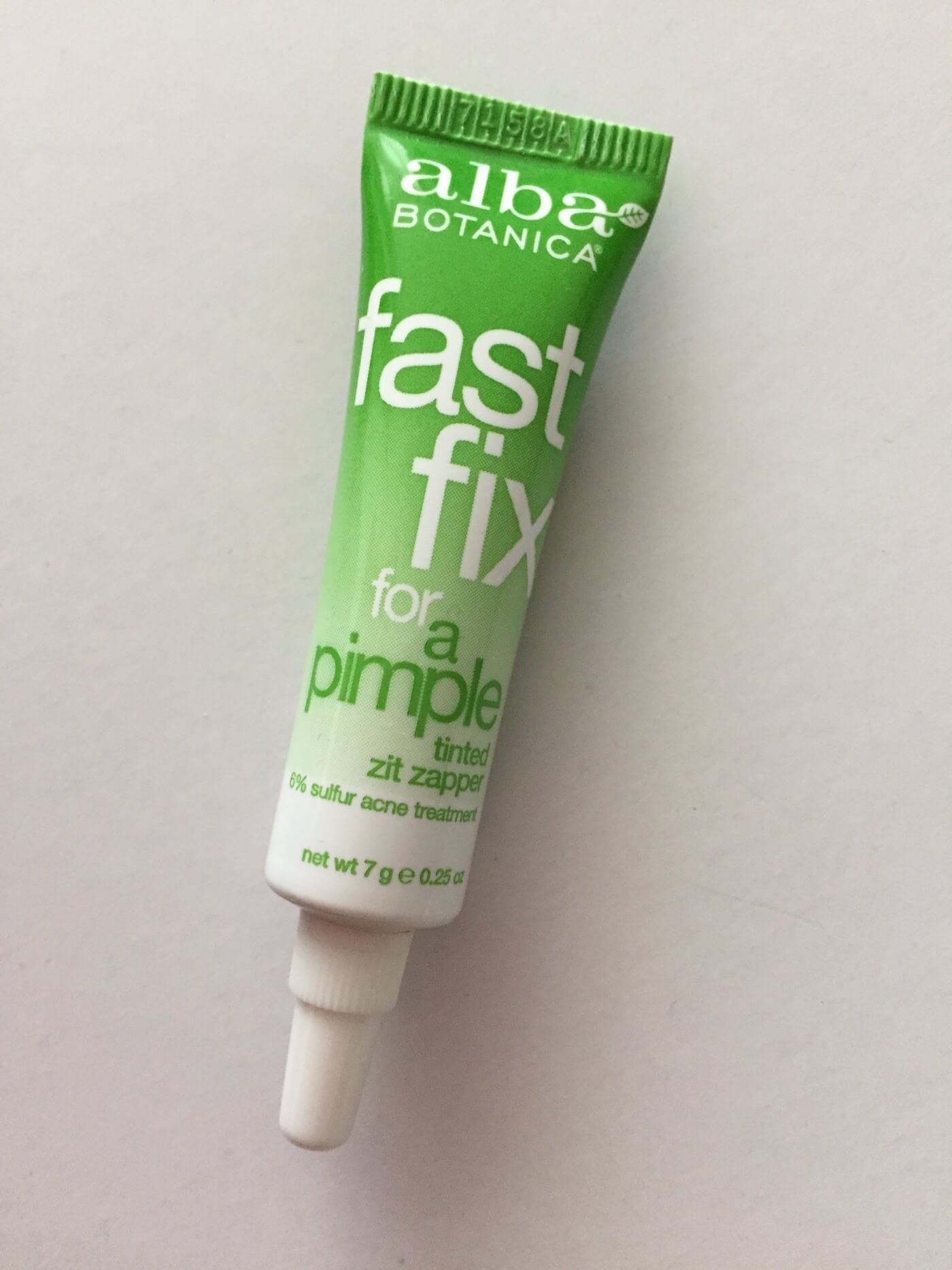 Alba Botanica Fast Fix for a Pimple spot treatment ingredients
active ingredient: sulfur (6.0%)

other ingredients: water, isoamyl laurate, caprylic/capric triglyceride, titanium dioxide, glyceryl stearate se, cetyl alcohol, stearyl alcohol, sorbitol, organic glycyrrhiza glabra (licorice) root extract, salix alba (willow) bark extract, alcohol, alumina, citric acid, glycerin, jojoba ester, saccharomyces ferment, silica, benzyl alcohol, potassium sorbate, sodium benzoate, iron oxides (ci 77491), iron oxides (ci 77492), iron oxides (ci 77499)
Sulfur is known to be useful as an antifungal and antibacterial treatment in dermatology. This spot treatment contains a pretty high percentage of sulfur—6% versus the 3.5% in AcneFree sulfur mask. The sulfur mask is designed to be a rinse-off product, so it's surprising that a leave-on spot treatment would be so potent. Aside from sulfur (which can dry out your skin quite a bit on its own), it also contains some other irritating ingredients like alcohol and benzyl alcohol, which has been identified as an allergen by the Contact Dermatitis Institute.
Licorice (glycyrrhiza glabra) extract is also an effective anti-acne treatment, and could be promising for fighting and preventing acne, according to this study.
Alba Botanica Fast Fix for a Pimple spot treatment
Alba Botanica Fast Fix spot treatment will help reduce the size of a gigantic pimple, but it may also irritate your skin. It also makes you smell horrible, so I don't recommend wearing it during the daytime, even though its tinted formulation helps reduce the redness of your pimple. I think I can only apply sulfur to my face if it's in wash-off form like AcneFree Sulfur Mask.
This spot treatment includes 6% sulfur versus the mere 3.5% in the AcneFree Sulfur Mask. Unfortunately, that, along with other irritating ingredients like benzyl alcohol, make this spot treatment a tad bit too irritating for my skin, so I eventually stopped using it. However, it does come in a tiny travel-friendly size that is perfect for throwing into your carry-on bag (much more portable than the AcneFree Sulfur Mask, which takes up quite a bit more real estate by contrast). If your skin doesn't easily get dried out, this spot treatment might be worth a shot.
Related reading
Note: This post uses affiliate links, which means that I'll receive a commission if you make a purchase after clicking a link (at no extra cost to you). See our
disclosure policy
.