This product is formulated with beneficial ingredients like licorice root extract, niacinamide, allantoin, and hyaluronic acid. Plus, how does it compare to Cetaphil's Redness Relieving Night Moisturizer?
I love red. After all, it's the color of Clifford the big red dog, fruit punch-flavored Starbursts, maraschino cherries, Icees at the mall, and Anne of Green Gables' hair. But I'm not such a fan of the post-acne redness I have on my cheeks. I know I could probably neutralize that redness if I learned how to use makeup, but I'm much more interested in finding a way to nourish and soothe my skin, not just cover up its imperfections. So when Dr. Dray recommended PROcure Rosacare Gel in one of her videos, I was intrigued.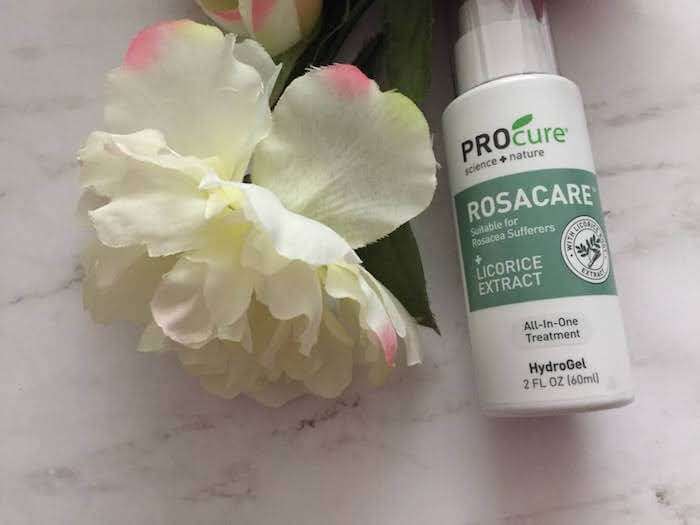 This product is available on Amazon for a reasonable price. I wouldn't say that it's extremely affordable, but it also won't break the bank. I love that it contains so many quality ingredients, and that it can double as a lightweight CC cream because it contains chromium oxide greens for neutralizing redness.
Unlike other CC creams, it's completely free of fragrances and other irritating ingredients. Even though IT Cosmetics CC+ cream doesn't list "fragrance" as an ingredient, it does contain citrus oils, like citrus aurantium dulcis (orange) peel oil, citrus aurantifolia (lime) oil, citrus medica limonum (lemon) peel oil, and citrus aurantium bergamia (bergamot) fruit oil, which can often be irritating for anyone with sensitive skin. Meanwhile, La Roche-Posay Rosaliac CC Cream with SPF 30 is designed to reduce redness from rosacea, but it's actually heavily fragranced, which I find very odd. Fragrance is a common trigger for rosacea, so I don't have any idea what the people at La-Roche Posay were thinking. I wonder if that product is being discontinued/reformulated, because I picked it up at TJ Maxx.
PROcure Rosacare Gel ingredients
water, aloe barbadensis leaf juice, glycerin, butylene glycol, glycyrrhiza glabra (licorice) root extract, dimethicone, dimethicone crosspolymer, cetearyl olivate, sorbitan olivate, dimethicone/vinyl dimethicone crosspolymer, c12-14 pareth-12, mica, titanium dioxide, tin oxide, dimethiconol, niacinamide, phenoxyethonol, ethylhexlyglycerin, allantoin, polyacrylamide, c12-14, isoparaffin, laureth-7, carbomer, cucumis satvus (cucumber) fruit extract, bisabolol, tocopheryl acetate, octyldodecyl oleate, chromium oxide greens, sodium hydroxide, hyaluronic acid
My Dad the Chemist's review of PROcure Rosacare Gel
I asked my dad how much licorice extract would have to be in PROcure Rosacare Gel for it to be effective for soothing irritated skin. I also asked him what he thought of this product overall.
Dear Emily, I would say the use level of Glycyrrhiza Glabra (Licorice) Root Extract should be in between 0.50-2.0% depending on the purity of this extract (they probably won't disclose the information). This formula looks like having enough active to be effective and contains a few great ingredients that help prevent irritation.

Love,
Dad
So it sounds like it only needs a small percentage of licorice root extract to be effective, but it depends on the purity of the extract. This ingredient was also in Cetaphil Hydrating Eye Gel Cream; in that review, my dad said that he likes licorice root extract because it "helps diminish the appearance of dark under-eye circles, discoloration and age spots." This in
He thinks that PROcure Rosacare Gel looks like a good formula and that it has some ingredients that should help prevent irritation. Licorice root extract has been shown to help treat hyperpigmentation and atopic dermatitis, though it's not specifically mentioned as a great ingredient by the National Rosacea Society.
PROcure Rosacare Gel vs. Cetaphil Redness Relieving Night Moisturizer
Cetaphil Redness Relieving Night Moisturizer contains many of the same ingredients as PROcure Rosacare Gel, such as glycerin, allantoin (a soothing ingredient), sodium hyaluronate/hyaluronic acid, and niacinamide. Cetaphil's formula also contains the addition of a ceramide. I was curious to see which one my dad liked better out of these two formulas. For context, here are the ingredients in Cetaphil Redness Relieving Night Moisturizer:
water, caprylic/capric triglyceride, glycerin, propanediol, pentylene glycol, helianthus annuus (sunflower) seed oil, sorbitol, dimethicone, butyrospermum parkii (shea) butter, cetearyl alcohol, behenyl alcohol, glyceryl stearate, sodium hydroxide, tocopheryl acetate, allantoin, dipotassium glycyrrhizate, sodium hyaluronate, ceramide np, panthenol, caffeine, citric acid, cetyl alcohol, ceteareth-20, glyceryl stearate citrate, disodium ethylene dicocamide peg-15 disulfate, niacinamide, caprylyl glycol, acrylates/cl0-30 alkyl acrylate crosspolymer, disodium edta, xanthan gum, bht
My Dad the Chemist's review of PROcure Rosacare Gel vs. Cetaphil Redness Relieving Night Moisturizer
I was curious to see if the Cetaphil moisturizer could deliver similar benefits at a lower price point, so I asked him how these two formulas compare. Here's what he said:
I think the other formula contains Glycyrrhiza Glabra (Licorice) Root Extract may work a little better for Rosacea than the formula below, they both work great as a moisturizing cream.

Love,
Dad
My dad thinks the PROcure Rosacare Gel is still the better choice—however, both moisturizers are good options to consider.
PROcure Rosacare Gel review
I have sensitive skin and post-acne redness on my cheeks, so I'm always looking for new, non-irritating moisturizers to try. PROcure Rosacare Gel intrigued me for both of these reasons.
I've been using it for about a month now, morning and night. The nice thing about this moisturizer is that it doubles as a lightweight CC cream because it contains chromium oxides greens for color correction. This is what gives it a slightly green tint, which helps color correct any redness. Of course, it doesn't completely cancel out the redness—the coverage is fairly light. If you normally wear makeup, this product won't probably provide as much coverage as you want. But I do like that it helps slightly neutralize any redness on my cheeks, and it's free of irritants like fragrances or harsh preservatives.
The consistency is very similar to a gel moisturizer. I would say it's slightly thinner than something like CeraVe Daily Moisturizing lotion. I love how it's packaged in a plastic pump with a cap. One pump is usually enough to cover my face and neck area.
It leaves a slightly sticky residue after application, but nothing too serious. I don't think it's hydrating enough for very dry skin. But if your skin leans more on the oily side like mine, it's perfect. I don't think it will be moisturizing enough for me if I'm in a dry climate or during the wintertime, but for summer/fall in more humid environments like NYC, it's great.
I can't personally attest to the effectiveness of this product for treating rosacea. According to the American Academy of Dermatology, dermatologists recommend avoiding the certain irritating ingredients if you have rosacea, including alcohol, fragrance, glycolic acid, and urea. This article also mentioned the importance of finding a good moisturizer, particularly one that contains ceramides, since they are known to help protect the skin barrier. Cetaphil Redness Relieving Night Moisturizer could be a good option because it contains a ceramide, and is free of the ingredients mentioned as common triggers of rosacea Plus, it comes in at a lower price point than PROcure Rosacare Gel. As such, it seems like it might be worth a try if you have rosacea. But if you're looking for something that contains beneficial ingredients and will help slightly color correct any redness, PROcure Rosacare Gel could be a better pick even though it's slightly pricier.
Related reading
Note: This post uses affiliate links, which means that I'll receive a commission if you make a purchase after clicking a link (at no extra cost to you). See our
disclosure policy
.