This spot treatment is a great way to fight a pimple as it's coming on. But some of the ingredients may be a bit harsh for sensitive skin.
When I feel stressed out and/or it's that time of the month, I'm approximately 15837% more likely to see a big, fat pimple pop up somewhere on my face. Though Differin has helped reduce my acne a lot, it still isn't 100% effective at preventing those angry pimples (usually whiteheads) from showing up every now and then. Usually I just fight the urge to pop the pimple (the acne scars on my face don't need more company), and hope it will subside on its own as quickly as possible. This time, I noticed a small blue vial of Origins Super Spot Remover in my medicine cabinet and decided to give it a try.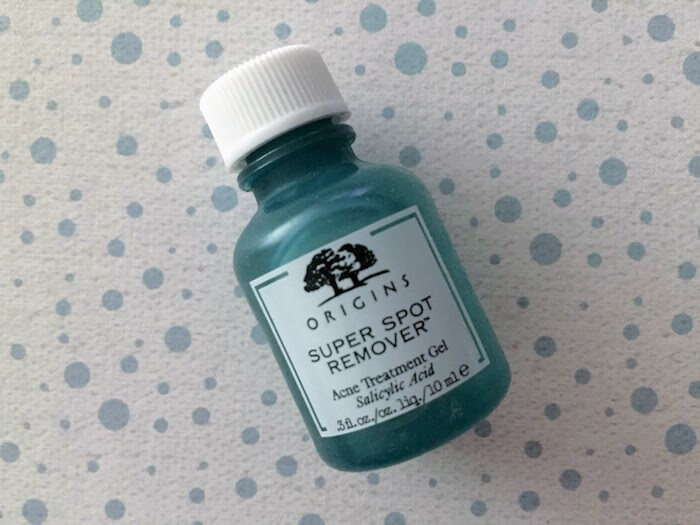 Origins Super Spot Remover ingredients
water, alcohol denatured, acrylates/c10-30 alkyl acrylate crosspolymer, salicylic acid, hamamelis virginiana (witch hazel), eugenia caryophyllus (clove) bud oil, origanum heracleoticum flower oil, eugenol, limonene, cucumis sativus (cucumber) fruit extract, pyrus malus (apple) fruit extract, scutellaria baicalensis root extract, algae extract, poria cocos sclerotium extract, laminaria saccharina extract, lactobacillus ferment, glycerin, caffeine, butylene glycol, tocopheryl acetate, magnesium ascorbyl phosphate, sodium hydroxide, phenoxyethanol
According to the product page, this spot remover contains 1.5 percent salicylic acid, a hydroxy acid that's well known as an effective way to treat acne. It has also been shown to deliver anti-inflammatory, anti-microbial, and anti-fungal benefits.
Origins Super Spot Remover Review
You may notice that denatured alcohol appears high in the ingredient list…even higher than salicylic acid—which means that, along with water and acrylates/c10-30 alkyl acrylate crosspolymer (a thickening agent), denatured alcohol could be present at greater than 1.5 percent concentration. The consistency of this spot remover is like a slightly runny gel. It dries clear and leaves the application area feeling slightly tighter, but not unbearably itchy. It has a medium herbal fragrance, but doesn't contain any synthetic fragrance in it.
Denatured alcohol is often used in cosmetics to provide a cooling sensation, to act as a solvent for active ingredients, and to make formulas feel less greasy. However, it can also be drying. This formula contains some soothing ingredients to offset the dryness of denatured alcohol, including witch hazel, cucumber fruit extract, and glycerin. However, it also contains limonene, which I recently learned is a common allergen, according to my dad. This ingredient is found in Ivory soap as well as Garnier Whole Blends Oat Delicacy Conditioner, which were both products that have irritated me in the past.
As such, I wouldn't recommend using this if you have sensitive skin or have found denatured alcohol to be very drying in the past. I personally didn't experience much irritation, but I made sure to only apply a tiny amount directly to the tip of the whitehead, while making as little contact as possible with the rest of my skin.
This super compact, 0.3-oz. bottle of Origins Super Spot Remover is small but mighty. It really did a great job at reducing the size of the huge whitehead on my face…overnight. I applied a tiny dab of it in the morning after washing my face, and it was looking much better within 48 hours. It also contains another interesting addition that might help play a part in removing the after-effects of that large pimple: algae extract. This study indicates that some algae extracts could help reduce melanin production (so it could be used to treat hyperpigmentation).
One caveat: I don't know if it would be able to work its magic on a pimple that isn't a closed comedone (whitehead). And if you have sensitive skin, I'd recommend looking into pimple patches instead, since those still get the job done without subjecting your skin to irritating ingredients like denatured alcohol and limonene. It's also pretty pricey, but I think it actually irritated my skin less—and was more effective than—benzoyl peroxide-based and tea tree oil-based spot treatments I've tried in the past, like Dr. Lin Acne Spot Corrector Review and Burt's Bees Blemish Stick Review. And it dried relatively quickly without any noticeable residue, making it a great spot treatment for day or night.
Related reading
Note: This post uses affiliate links, which means that I'll receive a commission if you make a purchase after clicking a link (at no extra cost to you). See our
disclosure policy
.