This overnight remedy helps acne heal without scarring/redness. Best of all, they prevent you from popping or touching your pimples.
My acne has significantly improved since I started using Differin 0.1% adapalene gel about a year and a half ago—but I do still get the occasional pimple from time to time. When it's a pretty big one, I've started using something I should have found out about a long time ago: acne spot patches, also known as round-shaped hydrocolloid bandages, cut to a size that fits conveniently over the entire pimple.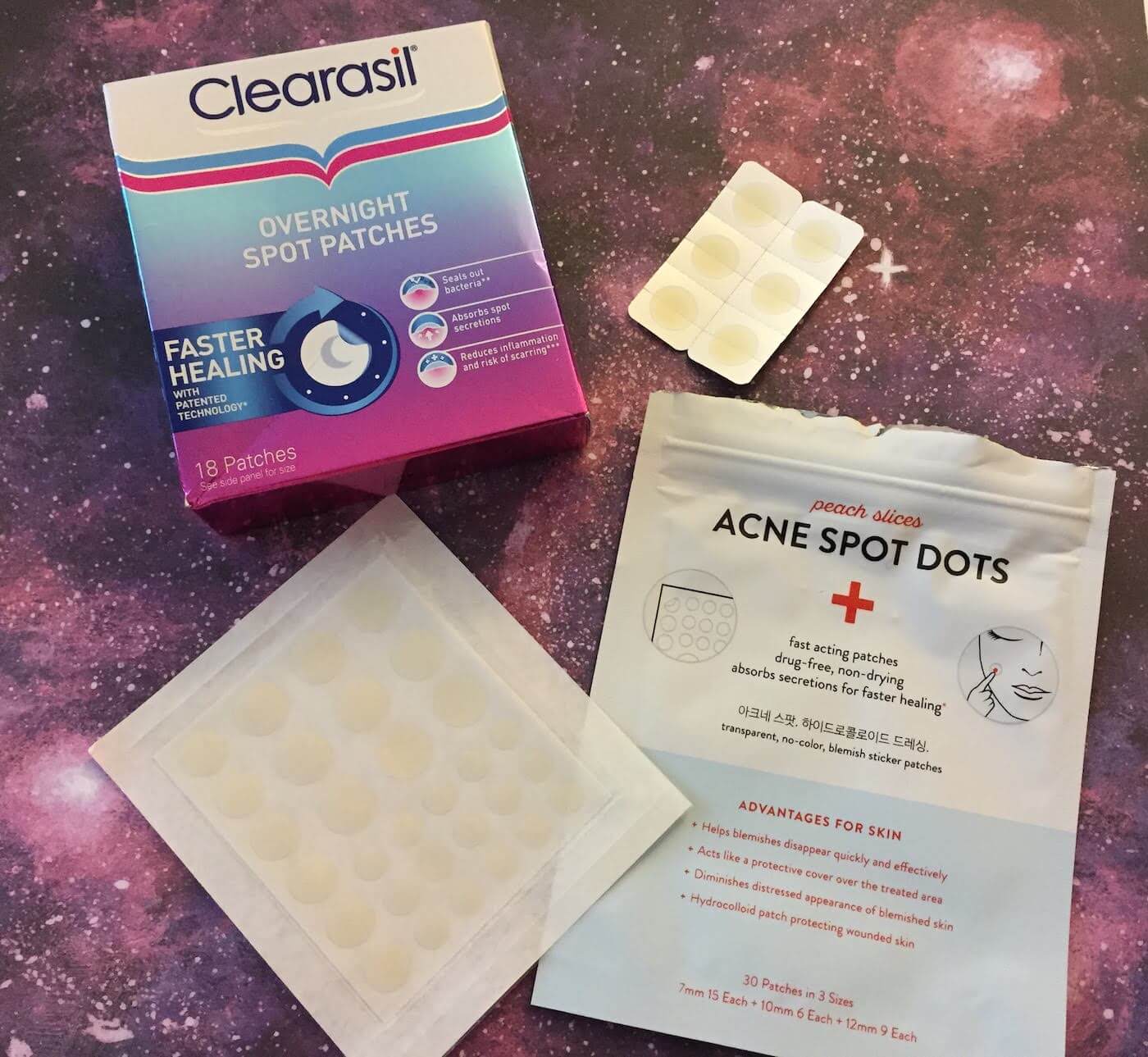 I actually bought a pack of Clearasil Acne Control Pimple Patches over a year ago, and I forgot all about them until recently. Now I'm all about the pimple patches. Not only are they alliterative, they're also great for people who lack self control. Basically, once you slap one of these on, it becomes impossible for you to touch, squeeze, and potentially aggravate a large pimple—and thereby reduces the chances that that pimple will leave redness or scarring in its wake.
In this post, we'll take a look at two types of pimple patches: one from Clearasil that uses "patented technology," and another one from Peach Slices (aka Peach & Lily) that comes in multiple sizes and doesn't include as many ingredients.
Hydrocolloid bandages + pimples: mortal enemies?
But first, let's take a brief look at the science behind pimple patches. PImple patches are essentially hydrocolloid bandages, which create a moist environment that helps seal out water, dirt, and bacteria, and promotes healing. They are often used for healing wounds and blisters, but they have also been repurposed for treating acne.
This study found that 3M hydrocolloid dressing helped improve "redness, oiliness, dark pigmentation, and sebum causal level" compared to patients who received regular skin tapes.
Clearasil Acne Control Pimple Patch Ingredients
18-pk available here on Amazon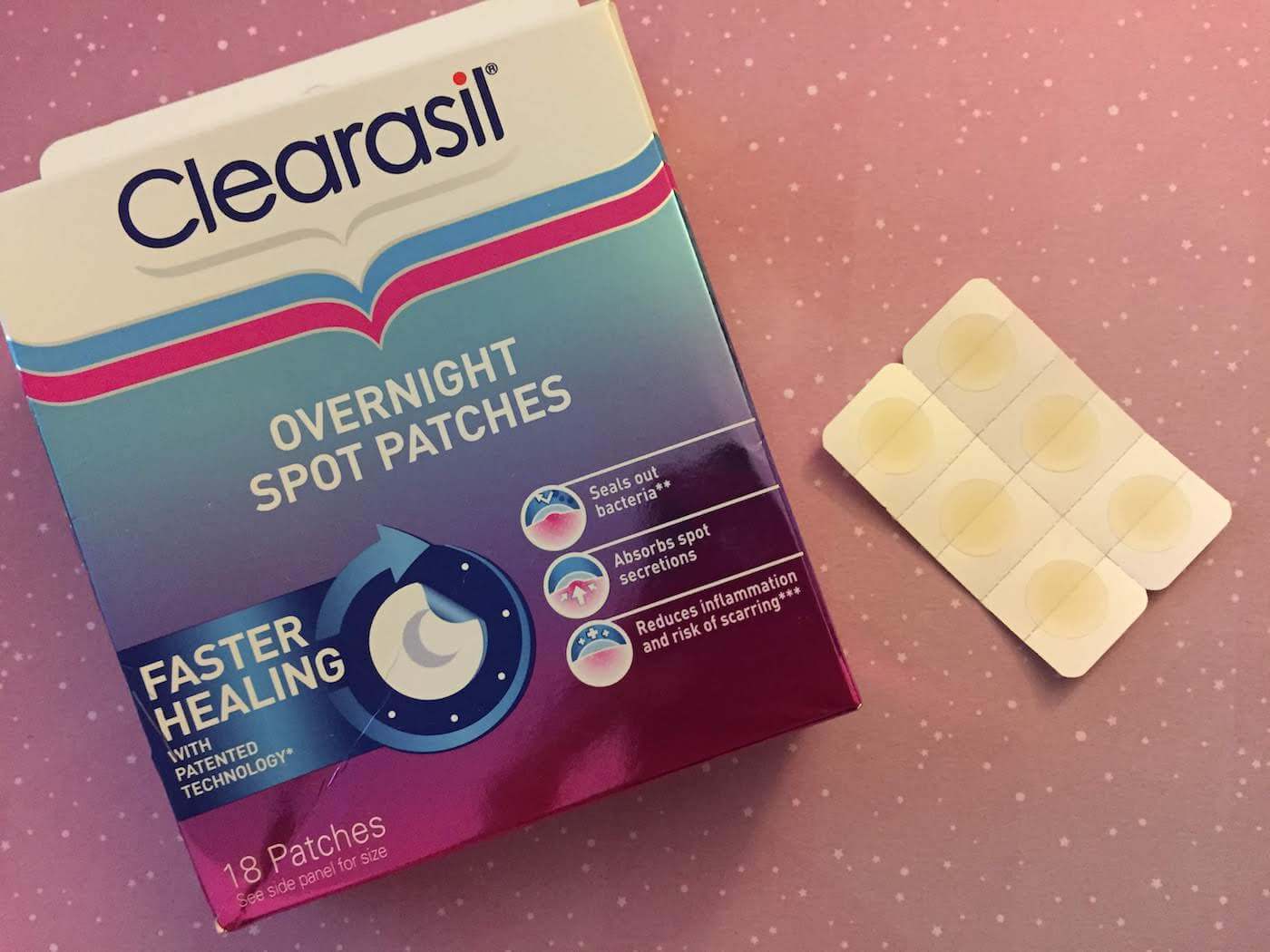 Ingredients: benzene, ethenyl-, polymer with 2-methyl-1,3-butadiene, resin acids and rosin acids, hydrogenated, esters with glycerol, cellulose, carboxymethyl ether, sodium salt, white mineral oil (petroleum)
This product claims that it helps kill off some bacterial strains and that it also reduces scarring and inflammation. Each patch in the 18-pack is about the same size, a few millimeters in diameter. It recently covered one of my monstrous pimples, so I think it fits most size pimples. I didn't notice a dramatic shrinking in pimple size the next morning, but I did notice that it looked slightly smaller and less red the following morning, after wearing this the whole night.
I tried it both with and without applying a benzoyl peroxide cream on the pimple first. Later, I noticed that the package said, "Do not use in conjunction with any other spot treatments." But when I used it with this Dr. Lin 5% benzoyl peroxide spot treatment, I didn't notice any issues. I did buy it three years ago, though, so the product might be expired. Maybe a full-powered (aka not expired) acne spot treatment + this Clearasil acne patch would be too much to handle.
The patch stayed on the whole night and didn't lose its stickiness, even though I applied it after putting on my normal nighttime moisturizer. What I liked about it most was that it prevented me from touching the pimple with my dirty fingers. It's a great product for people who don't have any self control when it comes to touching a huge zit.
This patch will definitely not be invisible on your skin, even though I would say that my skin tone is not all too different from the shade of these patches. You could maybe wear them in the daytime, if you had mad makeup skills, but I don't, so I only wear them at night, when nobody can see.
Now let's look at another more basic pimple patch product that I got at CVS.
Peach Slices Acne Patches Ingredients
30-pk in various sizes (available here at CVS.com)
Peach Slices is a Korean beauty brand from Peach and Lily that sells its products at select CVS stores and online at CVS.com. Peach Slices Acne Patches look quite similar to these COSRX acne patches on Amazon.
Ingredients: Cellulose Gum 30% - Acts as an Absorbent.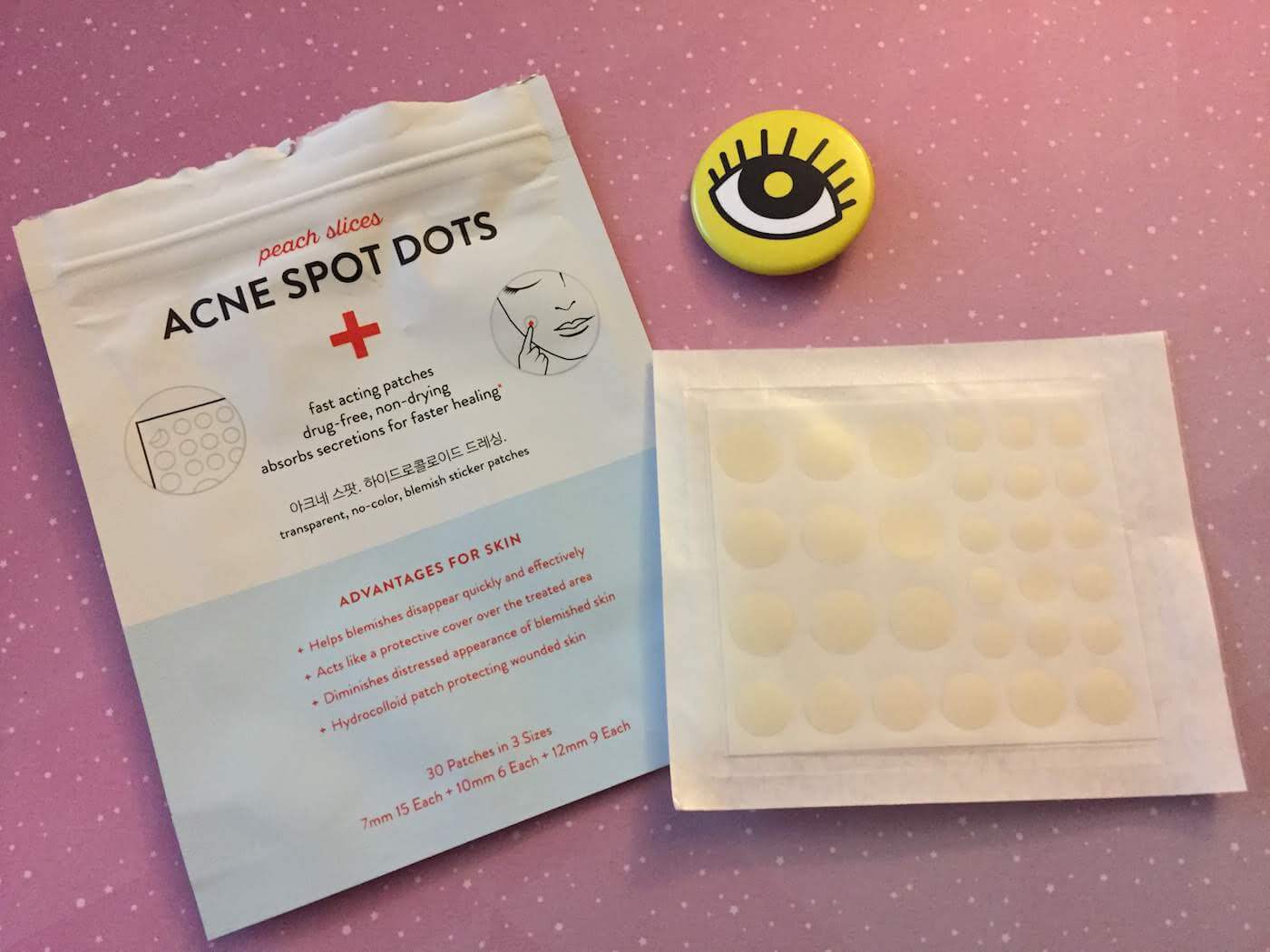 This product only has one "ingredient" in it: cellulose gum, which is a primary component in hydrocolloid dressing. It says it's 30 percent of the patch, so I'm not sure what the other 70 percent is, because nothing else was listed on the package.
One cool thing about these patches is that they come in several different sizes, so you're bound to find one that covers your pimple, no matter how large or small it may be. Look out of them at a CVS near you (or order them online here).
Keeping acne under control
Ever since I started using a pea-sized dollop of Differin 0.1% adapalene gel (not as a spot treatment) on my face every night or every other night, I've been able to keep most of those monster breakouts at bay.
But when the occasional whitehead pops up, I use an acne patch at night (I'm not quite brave enough to wear it in the daylight :P) and in the morning, I peel it off, and it usually looks much less red and angry. You'll get the best results if you put the pimple patch on a ripened whitehead (one that's pretty mature)—the patch may even shrink and/or drain out the whitehead so that it just looks red instead of white in the morning. Most of all, I love acne patches because they make it impossible to pick at my face with my germ-ridden hands. I'm not great at self-control, so these have been a godsend for me.
Further reading
Note: This post uses affiliate links, which means that I'll receive a commission if you make a purchase after clicking a link (at no extra cost to you). See our
disclosure policy
.