My dad shares three tips for determining whether you should save or toss your expired skincare products. Plus, a short review of Trader Joe's face serum.
Today's a bit of a special day because I'm going to write about a product that played a key role in the birth of this blog! My Dad the Chemist was partially inspired by the time my dad saw me trying to compare Trader Joe's face wash and serum—and, after taking a look at each ingredient list, he recommended the serum that I'm going to write about today.
I don't go to Trader Joe's very often, so I try to stock up on nonperishable products whenever I'm there. This includes skincare and the aioli garlic mustard sauce (SO GOOD). Anyhoo, I thought I had finished my last bottle of face serum, but lo and behold, I found one in the cabinet, unopened. Unfortunately it looked like it had expired several months ago. But it's been sitting unopened in a dark place. Dare I say that it might still be effective? Let's take a look at the ingredients and ask my dad for his opinion.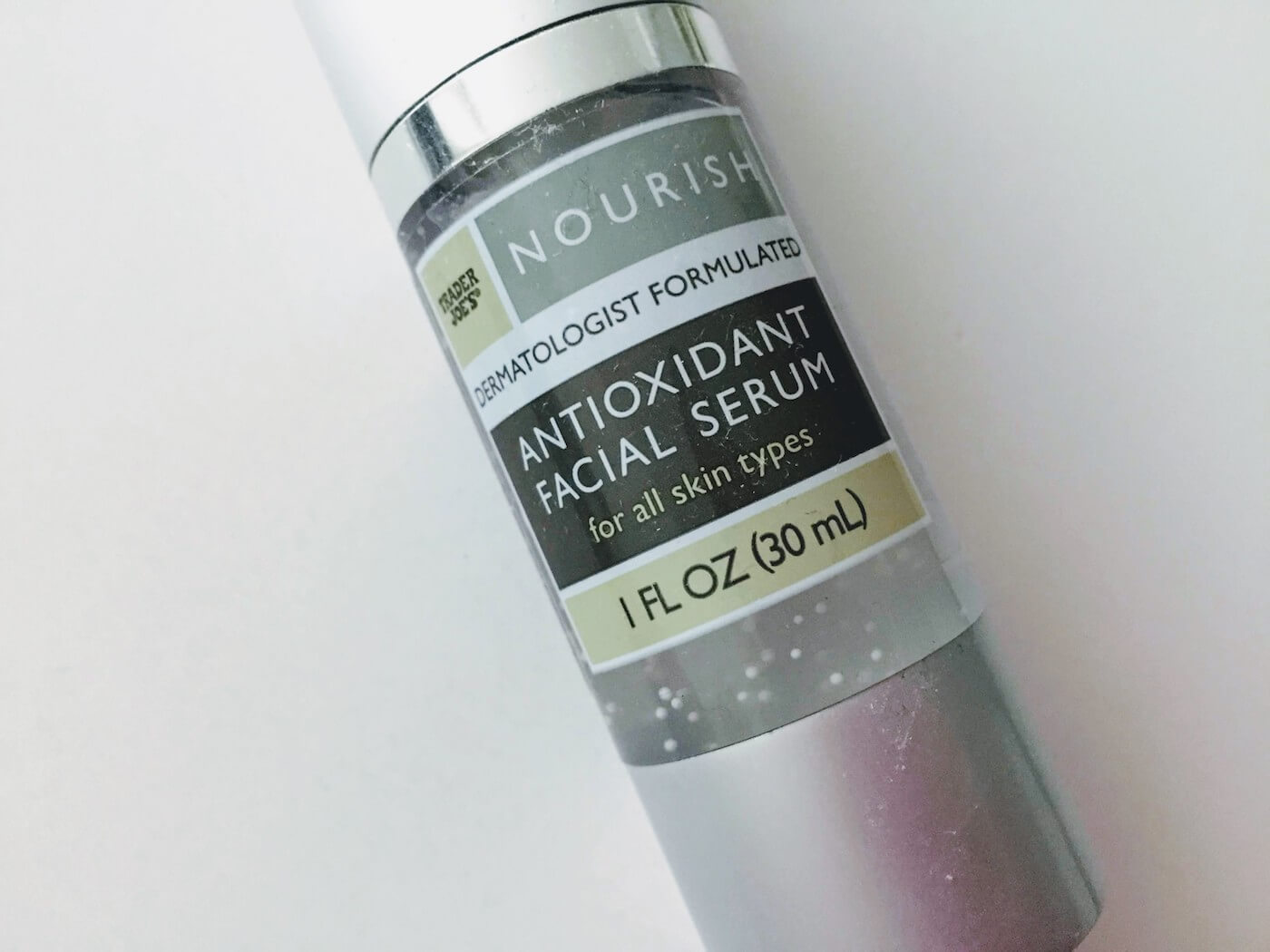 Trader Joe's Face Serum Ingredients
cyclopentasiloxane, dimethicone/vinyl dimethicone crosspolymer, tetrahexyldecyl ascorbate (vitamin C ester), ubiquinone (coenzyme q10), thioctic acid (a-lipoic acid), punica granatum (pomegranate) extract, phytonadione (vitamin k1), retinyl palmitate (vitamin a palmitate), cholecalciferol (vitamin d3), retinol (vitamin a), resveratrol, copper amino acid chelate (tripeptide-1), ascorbyl palmitate (vitamin c palmitate), coffea arabica (coffee) seed, chamomilla recutita flower/leaf (chamomile) extract, caprylic/capric triglyceride (plant derived), carnellia oleifera leaf (green tea) extract, ascorbic acid (vitamin c), jojoba esters, tocopheryl acetate (vitamin e acetate), citrus grandis (pomelo grapefruit) seed oil, panthenol (pro-vitamin b5), myrica cerifera (bayberry) fruit wax, myrica cerifera (bayberry) fruit extract, ginkgo biloba extract
Interesting. This serum contains the same type of vitamin C that's in the ultra-pricey Peter Thomas Roth Potent-C Power Serum: tetrahexyldecyl ascorbate, also known as vitamin C ester. That product costs about nine times more than this Trader Joe's serum. Of course, I have no idea how much of the vitamin C ester is included in each product.
Trader Joe's Nourish Antioxidant Face Serum also contains another form of Vitamin C: ascorbic acid. And most importantly, it does not contain any water—which is great, since ascorbic acid is not stable in the presence of water. See my vitamin C serum guide for more info.
Unfortunately, the first two ingredients are silicones, so this product is definitely unsuitable for people who don't react well to silicones. The silicones do, however, lend a velvety texture to this serum, and, because it's so glossy, it feels a little like it sits on top of the skin instead of soaking in. This may or may not be a good thing. The serum does not have a strong fragrance.
Considering how many antioxidants are included in this formula, I thought it would be a shame to just throw it out even though it expired a few months ago. So I decided to ask my dad if he thought it would still be ok to apply. Let's see what he had to say!
My dad the chemist's tips for evaluating expired skincare products
Dear Emily, this isn't water based product, usually is more stable sometimes may be 1 year passes the expiration date. The best one is look, smell then test the product to reconfirmed.

First, check the physical appearance is the same, no sign of product "broke down", such as separation, if no, then make sure the odor the same , no change, after that, test a small tiny area of your face for irritation, if nothing unusual, you should be able to use it all.

Love,

Dad
According to my dad, this serum might remain stable up to one year past the expiration date because it does not contain water. Good to know. If you're trying to evaluate an expired skincare product that contains water in the ingredient list, you should probably just buy a new one to be safe, instead of proceeding with the steps below.
1. Inspect the expired skincare product visually
First, he recommends visually inspecting the expired product—does it still look the same as it did before, and has it separated at all? If it looks fine, move on to the next check. From what I can remember, this serum is clear (shouldn't be yellow at all, which indicates that vitamin C has oxidized), and is very smooth and velvety, so it shouldn't look like it's separated at all.
2. Does the expired skincare product pass the sniff test?
Next, he recommends smelling the expired product to make sure that it doesn't smell different than it did in the past (before it expired).
3. Patch test the expired skincare product
If it passes the sniff test, the last step is to patch test on a "small tiny" (not large big) area of your face, and look for any signs of irritation. If it feels fine, then you should be able to keep using it.
These are great tips to keep in mind if you're ever as absent-minded as I am, and you manage to forget that you had an unopened jar of serum in your cabinet. Of course, this product only costs about $10, but I think I might still try to see if I can use it, because I'm don't like wasting things.
Have you ever used (or been tempted to use) an expired skincare product before? I'd love to hear about your experience!
Note: This post uses affiliate links, which means that I'll receive a commission if you make a purchase after clicking a link (at no extra cost to you). See our
disclosure policy
.