This light and airy sunscreen contains lots of natural moisturizing ingredients. But it doesn't provide protection against UVA2 rays.
Out of all the sunscreens in Sephora's Sun Safety Kit, I have to say that Supergoop Super Power Sunscreen Mousse has the friendliest packaging. But there's a reason it wasn't on my list of top six recommended sunscreens from Sephora's Sun Safety Kit—it doesn't provide as much broad-spectrum UV protection as I'd like. Let's take a closer look at this mousse in action, shall we?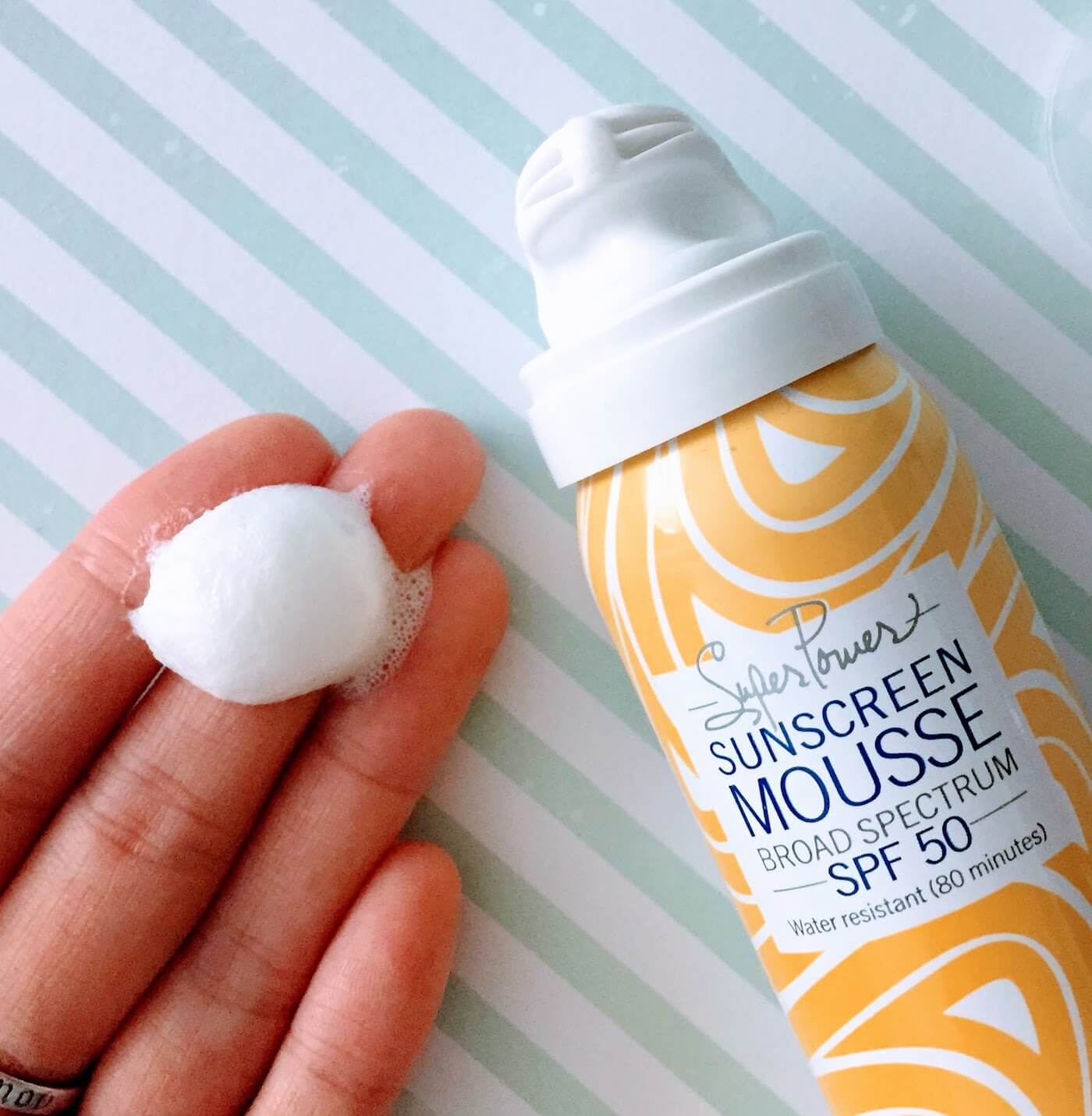 Supergoop! Sunscreen Mousse Ingredients
Active ingredients:avobenzone 3%, octinoxate 7.5%, homosalate 10%, and octisalate 5%
Inactive ingredients:aluminum starch octenylsuccinate, ananas sativus (pineapple) fruit extract, bis-hydroxyethoxypropyl dimethicone, butter extract, butyloctyl salicylate, butyrospermum parkii (shea) butter, c12-15 alkyl benzoate, cananga odorata flower extract, caprylic/capric triglyceride, caprylyl glycol, cetearyl alcohol, chlorphenesin, citrus aurantium dulcis (orange) peel extract, citrus grandis (grapefruit) fruit extract, citrus limon (lemon) peel extract, cocos nucifera (coconut) fruit extract, cocos nucifera (coconut) oil, coffea arabica (coffee) seed extract, crambe maritima leaf extract, cucumis melo cantalupensis fruit extract, cucumis sativus (cucumber) fruit extract, diethylhexyl syringylidenemalonate, disodium edta, glycerin, glyceryl caprylate, glyceryl stearate, glyceryl undecylenate, hydrofluorocarbon 152a, olea europaea (olive) fruit oil, panthenol, passiflora incarnata fruit extract, persea gratissima (avocado) oil, polyester-5, potassium cetyl phosphate, prunus amygdalus dulcis (sweet almond) oil, prunus amygdalus dulcis (sweet almond) seed extract, prunus armeniaca (apricot) fruit extract, pyrus malus (apple) fruit extract, rose extract, rubus idaeus (raspberry) fruit extract, santalum album (sandalwood) extract, simmondsia chinesis (jojoba) seed oil, tocopherol, trehalose, vanilla planifolia fruit extract, water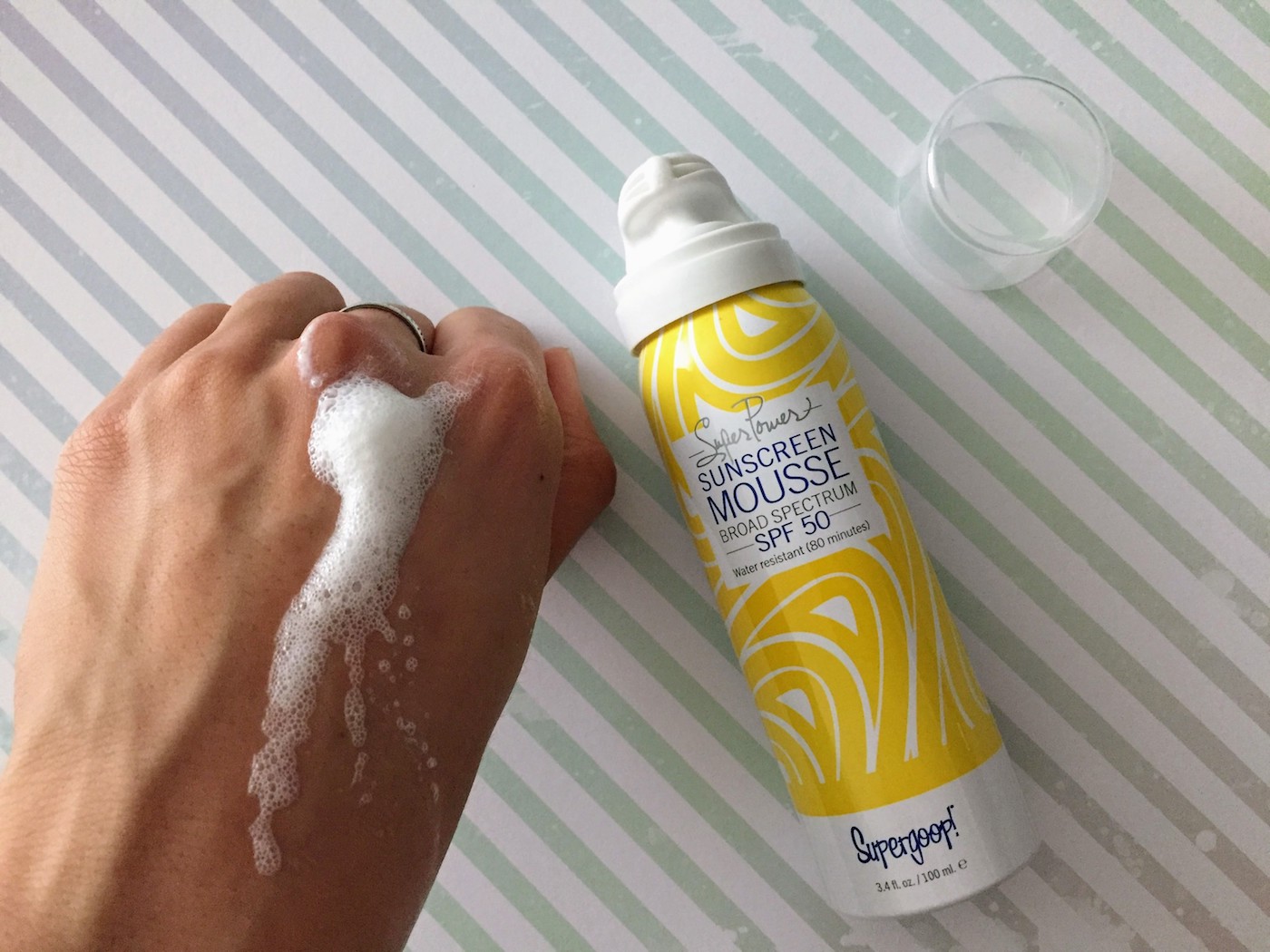 Supergoop Sunscreen Mousse Review
Supergoop! Super Power Sunscreen Mousse Broad Spectrum SPF 50
Ingredients I like:
- tocopherol (vitamin E), which helps increase the efficacy of SPF protection (see this study for more details)
- shea butter, for moisturizing the skin - glycerin, a beneficial ingredient that also moisturizes the skin
- cucumber fruit extract, which is a key ingredient in the Thayer's toner I've been using lately (review to come shortly)
Ingredients I don't particularly like:
- coconut oil (personally, this makes my face break out, so I know I won't be able to use this product on my face, only on my body)
Supergoop! Super Power Sunscreen Mousse is a chemical sunscreen that has a light, airy consistency that really resembles a lightweight hair mousse. I prefer using physical vs. chemical sunscreens on my face because chemical sunscreens tend to cause a burning sensation on the sensitive skin on my face. However, when I usually don't have a problem with applying chemical sunscreens to the rest of my body. Supergoop! Super Power Sunscreen Mousse contains many natural ingredients like oils and fruit extracts, as well as moisturizing ingredients like shea butter and glycerin. However, it may still cause a problem for you if you're typically sensitive to chemical sunscreens.
The good news:
Supergoop Sunscreen Mousse blends really easily into the skin. It requires almost no effort to rub completely into your skin, and it dries/absorbs really quickly, too. Plus, it doesn't really have a strong scent (and definitely not that typical "sunblock" fragrance).
The bad news: Supergoop Sunscreen Mousse provides broad-spectrum protection through four chemical sunscreen ingredients: avobenzone, octinoxate, homosalate, and octisalate. Avobenzone provides UVA1 protection, octinoxate, homosalate, and octisalate all provide UVB protection. This means that this sunscreen doesn't contain any ingredients that protect against the UVA2 spectrum. The only FDA-approved ingredients in the U.S. that protect against the UVA2 spectrum are: dioxybenzone, ecamsule, meradimate, oxybenzone, sulisobenzone , titanium dioxide, and zinc oxide. (See this resource for more info.)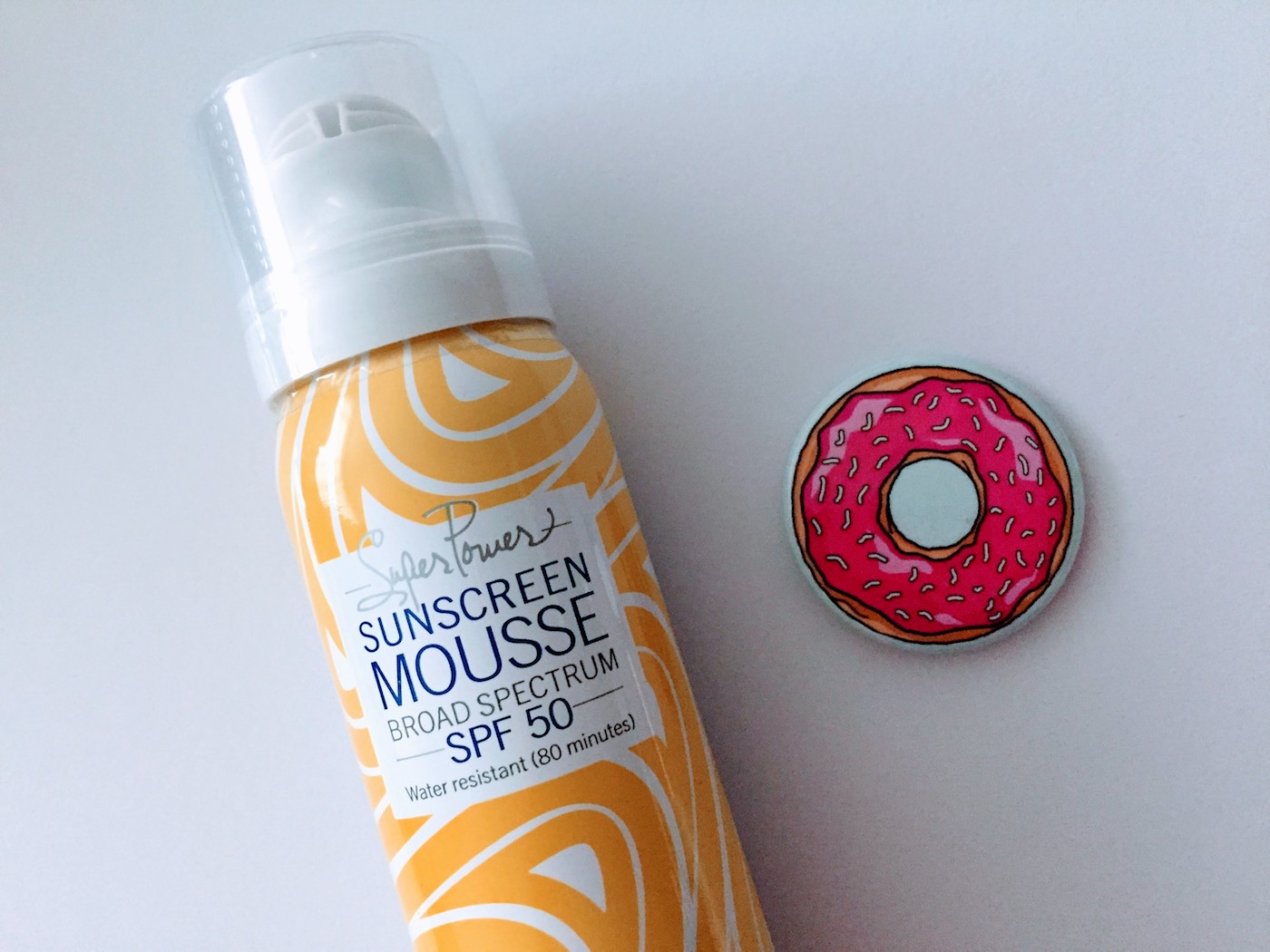 Supergoop Sunscreen Mousse final thoughts
I like the packaging of this sunscreen—it reminds me of something that Kathleen Kelly said in You've Got Mail: "Daisies are the friendliest flowers." This particular product definitely looks as close to a daisy as a sunscreen can get, packaged in a bright yellow aerosol can. It's a mousse, so it will appeal to the same clientele who would be interested in whipped sunscreen. I really like how easily and invisibly it blends into the skin. Despite the fact that it's a chemical sunscreen, it doesn't irritate my skin at all—but that's not to say that it won't irritate yours, if you tend to be react to certain chemical sunscreen ingredients.
Overall, it does have some deal-breaking drawbacks that prevent me from wanting to repurchase it:
- I hesitate to use it on my face, since it contains coconut oil, an ingredient that tends to make me break out.
- Although the formula includes moisturizing ingredients, I didn't feel as if it could displace my normal body moisturizer (CeraVe Moisturizing Lotion, in my case)—it's simply too lightweight to really serve as an effective moisturizer for dry skin.
- It doesn't include any active sunscreen ingredients that protect against UVA2 rays, so I don't consider it to be truly "broad spectrum" in my book.
- It's quite expensive.
Further reading
Check out other sunscreen product reviews here.
Note: This post uses affiliate links, which means that I'll receive a commission if you make a purchase after clicking a link (at no extra cost to you). See our
disclosure policy
.