This acne spot treatment has been discontinued and replaced with a new 'complexion' stick. Which one is better?
I love a good acne spot treatment. Sometimes I think it's more for psychological benefit than anything else—just completing the action of sticking something onto a big fat pimple is enough to temporarily make me feel better about that unwanted intruder. Even so, I have yet to come across a spot treatment that I love. AcneFree's sulfur mask is a rinse-off treatment that will do in a pinch, but I haven't been able to find a leave-on spot treatment that does the trick. A few years ago, I picked up an "all-natural" looking acne spot treatment: Burt's Bees Blemish Stick.
It looks like this blemish stick has apparently been discontinued and replaced with a similar "complexion stick" that contains many of the same ingredients).
Let's take a closer look at the ingredients in Burt's Bees (now discontinued) Blemish Stick and its new Herbal Complexion Stick.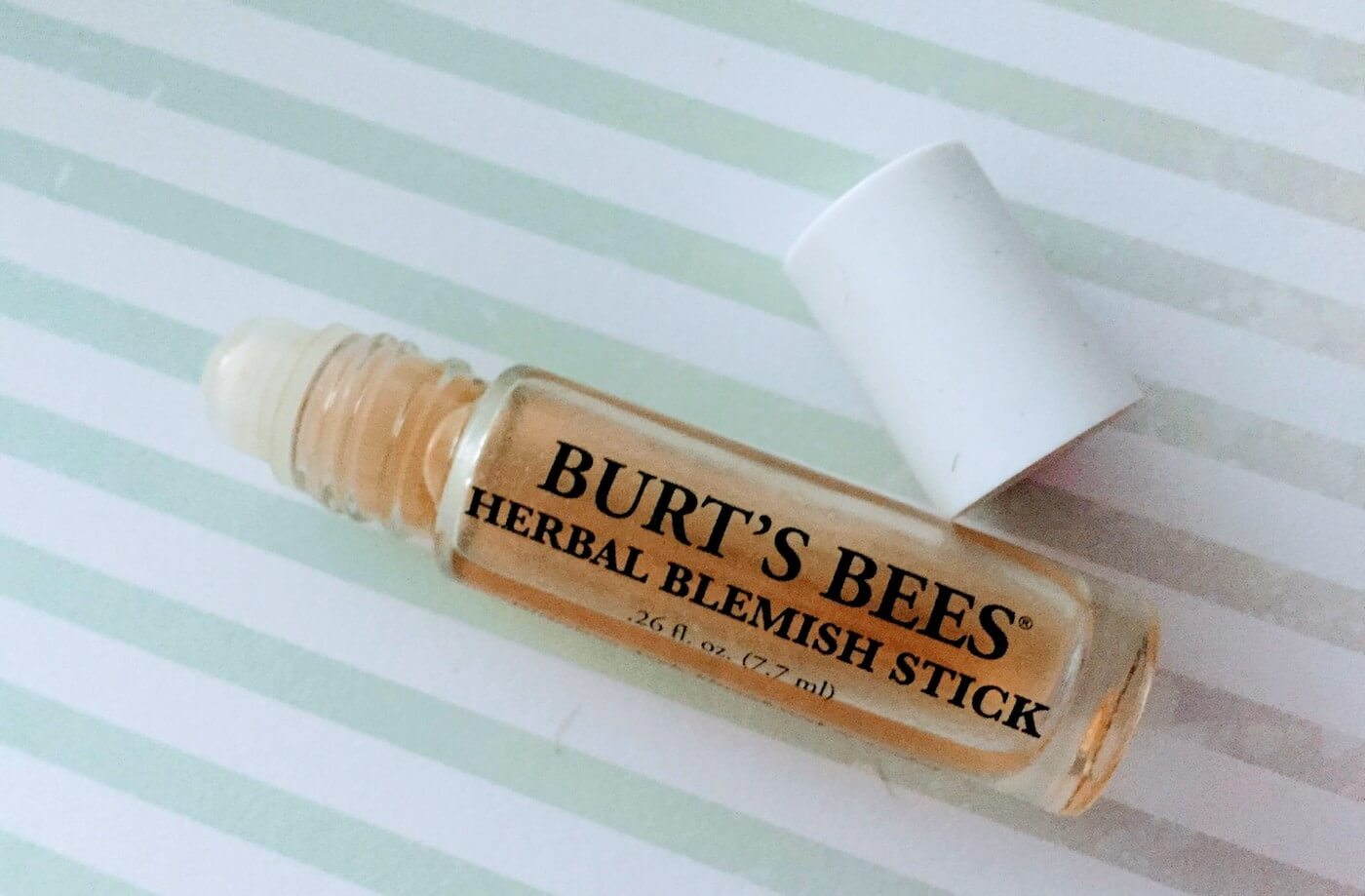 Burt's Bees Blemish Stick ingredients
SD alcohol 40-B (from yellow corn), calendula flower oil, borage seed oil, yarrow oil, parsley seed extract, willow bark extract, lemon oil, fennel oil, water, tea tree oil, juniper oil, eucalyptus oil
It's interesting that this product warns that it contains alcohol (and even lists alcohol as its first ingredient). I didn't notice this at the time (because I bought this way before I started looking closely at the ingredient labels of products). If I had noticed this, I might have decided not to buy it at all.
Burt's Bees Herbal Complexion Stick ingredients
alcohol denat., citrus limon (lemon) peel oil, calendula officinalis flower extract, borago officinalis (borage) extract, achillea millefolium (yarrow) extract, carum petroselinum (parsley) extract, water, foeniculum vulgare (fennel) oil, salix nigra (willow) bark extract, melaleuca alternifolia (tea tree) leaf oil, juniperus communis fruit oil, eucalyptus globulus leaf oil, citral, geraniol, limonene, linalool
Burt's Bees Blemish Stick vs. Herbal Complexion Stick
Both of these products start off with the same leading ingredient (albeit under different names)—SD alcohol 40-B and alcohol denat. are both otherwise known as denatured alcohol. Denatured alcohol is often used in cosmetics to provide a cooling sensation, to act as a solvent for active ingredients, and to make formulas feel less greasy. However, it can overly dry out your skin and irritate it. I did find that when I used the Burt's Bees Blemish Stick on a pimple, it left a really strong cooling sensation, which I attributed to the tea tree oil at the time. Little did I know that it was probably also due to the denatured alcohol in there (the first ingredient!).
The herbal complexion stick contains all of the ingredients that were in the blemish stick. Aside from the prominence of denatured alcohol, and the tea tree oil (which helps fight acne with its antimicrobial properties, I was particularly interested in learning about a new ingredient: yarrow. Yarrow is also known as Achillea, an herb that has been used for centuries for its wound healing and anti-inflammatory properties.
The complexion stick includes a few ingredients that weren't included in the old product: citral (for a lemony odor), geraniol (classified as an allergen), limonene (to provide an orangey fragrance), and linalool (used as both an antimicrobial ingredient and as a fragrance).
It seems to me that the new Complexion Stick probably has a more pleasing, citrusy fragrance than the older-generation Blemish Stick, but may also be more irritating because of the additional ingredients that lend fragrance (albeit through natural essential oils rather than traditional fragrance) to this product.
Burt's Bees Blemish Stick review
The Burt's Bees Blemish Stick is a very pretty product. It has a nice golden hue, which makes it feel very luxurious (like you're treating yourself to a jar of honey). The packaging also feels premium—it's a tiny little glass vial, with a rollerball applicator (like perfume). This means that you can apply it without squeezing it on your finger first, making it really convenient for on-the-go situations. If you've ever been worried about staining your clothes by applying a benzoyl peroxide acne spot treatment on your face, you won't have that problem with this product. It's about a very convenient size—about the same shape and dimensions as tube of lip gloss or mascara, so you should be able to carry it in your handbag without any issues.
I had high hopes for this spot treatment. I tried it out on a large pimple the day I bought it, and at first, I liked the way it made my face sting upon application—it felt like it was zapping my pimples right there on the spot. I could practically feel them shrinking—so I tried to ignore the accompanying itchiness and irritation. After applying it to my pimple, I went to sleep, hoping that my pimple would shrink drastically overnight.
Alas, it did not! When I woke up, the area around the pimple was dried out, inflamed, and still felt slightly itchy. I stopped using it after that because it didn't seem like it was very effective at shrinking my pimples. But from time to time, whenever I traveled, I would pack it in my TSA-approved bag as a backup option in case I felt like trying it out again.
This product didn't work for me, but it seems like it's gotten some pretty decent reviews on the Internet. That said, I think it's worth a try if you're looking for an acne spot treatment that doesn't rely on benzoyl peroxide or salicylic acid. And the packaging is very convenient for travel. However, before trying it out, make sure to keep in mind that it might have a very strong fragrance. The Blemish Stick had a very strong smell, almost so strong that I had trouble sleeping. Even though it doesn't contain any perfume or fragrance in the ingredients, the essential oils are essentially (ha!) serving the same purpose. The Blemish Stick smelled like a mixture of tea tree oil and licorice (probably because of the fennel oil). The Complexion Stick also contains both of these ingredients, so it may smell similar. However, I'm not sure—the new stick may have succeeded in masking the scent of tea tree oil and fennel oil/licorice with the addition of some more citrusy ingredients.
Other ways to combat blemishes (without irritating them)
You should avoid using the Burt's Bees Blemish Stick or Complexion Stick if you have sensitive skin that doesn't react well to denatured alcohol. I suggest using an acne spot patch instead of this stick—it will cause less irritation and be more effective at shrinking a huge pimple overnight. And if you're looking for a powerful OTC option that's not a spot treatment, and not based on benzoyl peroxide or salicylic acid, give Differin a try—it's the most effective way I've found to combat acne (without going to the dermatologist) over the long run.
Related reading
Note: This post uses affiliate links, which means that I'll receive a commission if you make a purchase after clicking a link (at no extra cost to you). See our
disclosure policy
.