This gentle cleanser exfoliates skin with salicylic acid, and includes ceramides, niacinamide, and other ingredients that help enhance your skin.
Lately I've come to realize that salicylic acid is an underrated over-the-counter ingredient. For a long time, I only associated salicylic acid with acne face washes, spot treatments, and the like. But it's actually a very versatile skin care ingredient that helps people who have psoriasis and keratosis pilaris ("rough and bumpy" skin). And it's classified as a beta hydroxy acid, aka a chemical exfoliant that helps improve the texture of skin and fine lines, without being as irritating as alpha hydroxy acids. I recently decided to give CeraVe Renewing SA Cleanser a shot, because it's formulated with salicylic acid and other skin-enhancing ingredients that are beneficial for your skin, whether or not you have acne.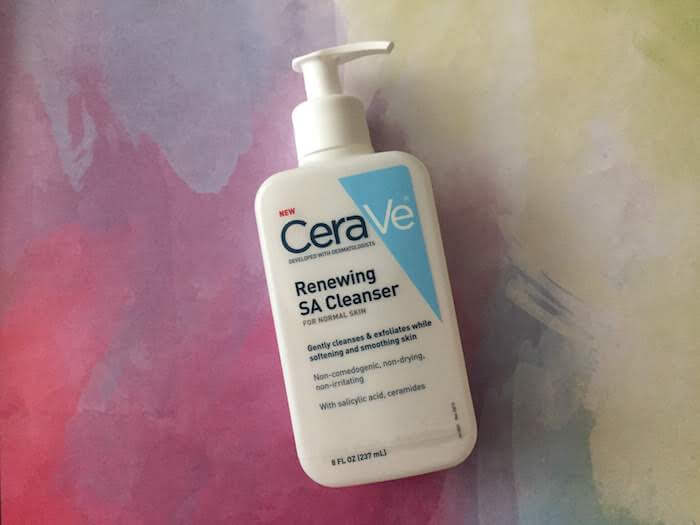 CeraVe Renewing SA Cleanser ingredients
water, cocamidopropyl hydroxysultaine, glycerin, sodium lauroyl sarcosinate, niacinamide, gluconolactone, sodium methylcocoyl taurate, peg-150 pentaerythrityl tetrastearate, salicylic acid, ceramide 6 ii, ceramide 3, ceramide 1, hyaluronic acid, cholesterol, sodium benzoate, zea mays oil, disodium edta, sodium lauroyl lactylate, cholecalciferol, phytosphingosine, xanthan gum, carbomer, sodium hydroxide
CeraVe Renewing SA Cleanser review
CeraVe Renewing SA Cleanser states on the label that it is fragrance-free and non-comedogenic, two of my favorite phrases to find on a skin care product! I also like that it contains some beneficial ingredients like niacinamide, ceramides, and hyaluronic acid. My dad is a cost-conscious person, so he has always cautioned me that it's more worth it to shell out cash for high-quality lotions and serums, rather than face washes, since most of the expensive, beneficial ingredients will literally end up going down the drain. I usually follow this advice by using inexpensive face washes like Whole Foods Gentle Skin Cleanser. However, my renewed interest in salicylic acid led me to purchase this bottle of CeraVe Renewing SA Cleanser.
I like a few things about this cleanser so far. It foams up more than the face washes I usually use (such as CeraVe Hydrating Facial Cleanser, Cetaphil Gentle Skin Cleanser, and Whole Foods Gentle Skin Cleanser). The foaming action helps my skin feel cleaner and more refreshed (but that's probably just psychological). And yet it doesn't irritate my skin any more than the gentle, non-foaming cleansers I usually use. I like that it doesn't leave my skin feeling tight, dry, or itchy afterward, unlike some acne-focused skin cleansers on the market.
This cleanser includes "SA" (salicylic acid) in its name but doesn't list it as an active ingredient on the label. Considering that the FDA only allows over-the-counter acne products to include between 0.5 percent and 2 percent salicylic acid as an active ingredient, it's possible that this cleanser contains less than 0.5 percent salicylic acid, since it doesn't list it as an active ingredient at all.
Many of the beneficial and hydrating ingredients in this cleanser are also found in CeraVe Hydrating Facial Cleanser, including ceramides, hyaluronic acid, phytosphingosine, cholesterol, and glycerin. However, there are a few differences between CeraVe Renewing SA Cleanser and CeraVe Hydrating Cleanser. For one, the Hydrating Cleanser uses parabens as the preservative, while the SA Renewing Cleanser uses sodium benzoate as a preservative instead.
CeraVe SA Renewing Cleanser also includes sodium hydroxide, the ingredient that was added in the new formula of CeraVe PM. This ingredient is often used in soaps so it might be what helps this cleanser foam up more nicely than the Hydrating Cleanser. However, if you reacted poorly to the new formula of CeraVe PM, it's possible that your skin does not get along with sodium hydroxide, so this SA Renewing Cleanser may not be right for you.
All in all, I think this is a solid cleanser that will help gently exfoliate your skin without over-cleansing it or stripping it of its moisture. It also might be a good option for anyone who has some minor acne but finds normal salicylic acid-based acne face washes to be too harsh and drying.
Related reading
Note: This post uses affiliate links, which means that I'll receive a commission if you make a purchase after clicking a link (at no extra cost to you). See our
disclosure policy
.