This rich moisturizing cream contains salicylic acid and urea to help treat psoriasis.
I live thousands of miles away from my family, so I've come to lean on Amazon Prime as a simple way to bridge the distance between us. Thanks to Amazon's 2-day shipping powers, it's easier than ever to send a gift that says, "Hey! I'm thinking of you," without having to run to the post office. A few months ago, I sent my mom a jar of CeraVe Psoriasis Moisturizing Cream, just because.
This was actually somewhat of a gamble. My mom is a notoriously difficult person to shop for, so I usually end up sending her a Sudoku book, because that's one of the few things I know she'll actually like. Since she has psoriasis, I thought I'd switch things up by buying this cream. Even though I had never tried this particular cream, I do love and trust lots of other CeraVe products. And you know what? My mom actually ended up liking this cream. Read on to learn more about what makes this a great moisturizing cream for treating and soothing psoriasis.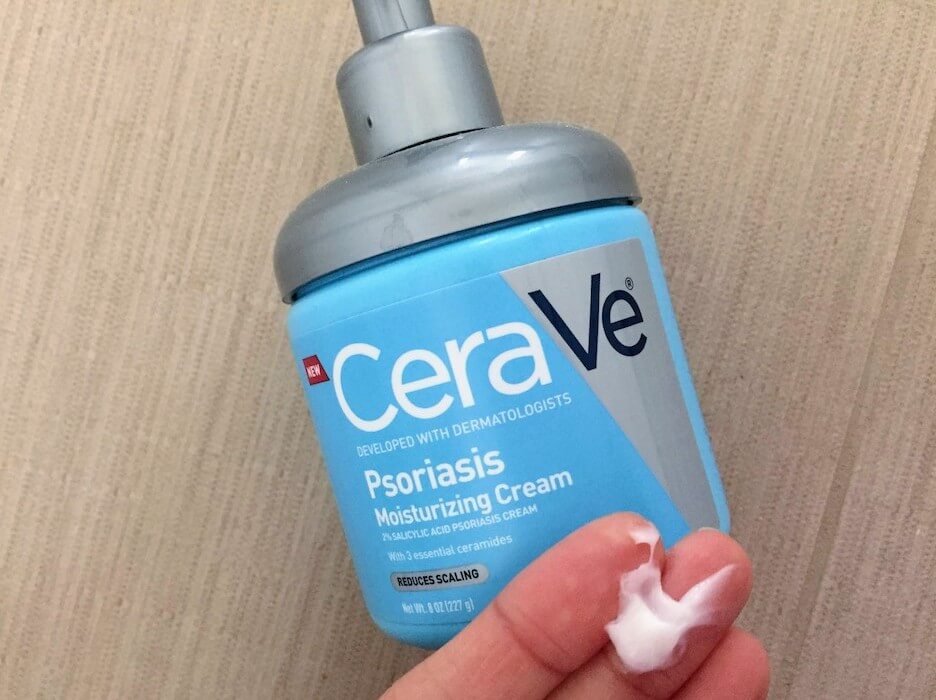 CeraVe Psoriasis Moisturizing Cream ingredients
Active ingredient: salicylic acid (2%)

Inactive ingredients: water, urea, glyceryl stearate se, cetearyl alcohol, butyrospermum parkii (shea) butter, glycerin, cetyl alcohol, niacinamide, laureth-9, limnanthes alba (meadowfoam) seed oil, peg-100 stearate, gossypium herbaceum (cotton) seed oil, behentrimonium methosulfate, 1,2-hexanediol, c12-13 alkyl lactate, dimethicone, tasmannia lanceolata fruit/leaf extract, ceramide 3, ceramide 6-ii, ceramide 1, phytosphingosine, cholesterol, tocopherol, hydroxyacetophenone, hydrogenated olive oil, glyceryl stearate, disodium edta, sodium lauroyl lactylate, xanthan gum, carbomer, sodium hyaluronate, sodium hydroxide
According to National Psoriasis Foundation, over-the-counter ingredients like salicylic acid, lactic acid, urea, and phenol can help relieve itch and reduce scaliness/flakiness caused by psoriasis. This can also help soothe itchiness.
Like Stridex Maximum Pads, this product contains 2% salicylic acid (the maximum concentration allowed in OTC products by the FDA) as the active ingredient. But whereas Stridex uses salicylic acid as an anti-acne treatment, CeraVe uses it to help treat psoriasis-related scaliness in this moisturizing cream. In fact, aside from salicylic acid, this cream contains another keratolytic ingredient, urea. Keratolytics have been shown to help treat dry, scaly skin caused by psoriasis. This cream also contains tasmannia lanceolata fruit/leaf extract, an anti-inflammatory ingredient. Psoriasis is an inflammatory skin condition, and has been shown to be associated with skin that has trouble responding to oxidative stress.
CeraVe Psoriasis Moisturizing Cream also contains beneficial ingredients like ceramides, shea butter, niacinamide, and sodium hyaluronate. Ceramides are naturally occurring in the skin, and have been shown to be lower in those with psoriasis, according to this study, pointing to the possibility that psoriasis patients have trouble producing ceramides naturally. Therefore, using a cream like this can help replenish ceramides and protect the skin barrier against moisture loss (which can help guard against psoriasis). Moisturizing is an important way to help relieve itchiness associated with psoriasis.
CeraVe Psoriasis Moisturizing Cream review
Approximately 125 million people have psoriasis, and my mom is one of them. It mostly affects her hands, and thankfully, it has somewhat improved over the past few years, but it still flares up from time to time. Like my hand eczema, hers gets very itchy and leads to dryness-related cracks in the skin, but her psoriasis tends to create scaly, thick patches that I don't get.
According to the National Psoriasis Foundation, limiting your exposure to hot water can also help reduce the chances of aggravating psoriasis. My mom usually stops the water while she's scrubbing in the shower, then turns it on again when she needs to rinse. This limits the duration of time her skin needs to come into contact with hot water.
I sent her this psoriasis cream because I know how much her psoriasis flareups can hurt and interfere with everyday activities. My mom's psoriasis hasn't been as bad recently as it has been in years past. We're not sure what led to her improvement (it can't be attributed to this cream alone), but I'm glad that she actually liked the way this cream felt on her skin. My mom's a pretty straightforward person—she'd rather tell the truth even if it hurts your feelings. If she doesn't like something, she'll tell you. So the fact that she said she liked this cream actually means a lot.
I recently made a trip home, so I was able to try out this cream for myself. Although I have eczema, not psoriasis, I thought it was quite soothing and I liked it quite a bit. It's extremely rich and seems to sink into the skin quite nicely. Note that it will leave some oily residue that makes it a bit too heavy for daytime use. Despite its oily finish, I think this cream is an effective moisturizer—not only for anyone who has psoriasis, but for anyone who has dry skin. It may seem like a large upfront investment, but contains a lot of beneficial (re: expensive) ingredients like ceramides, niacinamide, and sodium hyaluronate—and a little goes a long way, so one bottle will last you quite a long time.
If you have psoriasis, consult the NPF's guide for tips on selecting over-the-counter products to help treat psoriasis. Other than products that contain keratolytics like salicylic acid and urea, you should look for products that are fragrance-free and rich, moisturizing creams (rather than water-based lotions). If you'd like to send a friend or family member this psoriasis cream or another thoughtful gift with Amazon Prime's 2-day shipping, here's a 30-day free trial.
Related reading
Note: This post uses affiliate links, which means that I'll receive a commission if you make a purchase after clicking a link (at no extra cost to you). See our
disclosure policy
.