This physical sunscreen includes ingredients that claim to help smooth out your complexion and protect from blue light-related damage.
Have you heard? There's a new B word on people's lips these days…blue—as in Blue Light. It seems like everywhere I look, people are wearing blue light glasses to help prevent eye strain and fatigue from staring at screens all day. It turns out that blue light may also endanger your sleep by disrupting your circadian rhythm. And now, even sunscreens are stepping in to help protect your skin from this dreaded foe. Farmacy Green Screen Sunscreen claims to help protect your skin from blue light, not just ultraviolet light. Let's take a closer look at its marketing claims and see what my dad the chemist thinks about this product.
This sunscreen highlights two claims: - protects skin from blue light with a mixture of marigold and chokeberry extracts
- Echinacea GreenEnvy™: a patented echinacea variant that is supposed to help improve skin complexion
Farmacy Green Screen Sunscreen SPF 30 ingredients
Active Ingredients: titanium dioxide (2.40%), zinc oxide (5.82%)

Inactive Ingredients: water, ethyl macadamiate, cyclopentasiloxane, ethylhexyl palmitate, propanediol, c12-15 alkyl benzoate, polysorbate 80, glyceryl stearate, peg-100 stearate, echinacea purpurea root extract, aronia melanocarpa fruit extract, hydrolyzed verbascum thapsus flower, tagetes erecta flower extract, alteromonas ferment extract, 7-dehydrocholesterol, zea mays (corn) oil, helianthus annuus (sunflower) seed oil, carthamus tinctorius (safflower) seed oil, malic acid, tocopherol, myristic acid, cetyl alcohol, glycerin, hydrogenated lecithin, panthenol, stearic acid, polyglyceryl-6 isostearate, microcrystalline cellulose, alumina, behenic acid, stearyl alcohol, caprylyl methicone, dimethicone, cyclohexasiloxane, isohexadecane, triethoxysilylethyl polydimethylsiloxyethyl hexyl dimethicone, lauryl peg-9 polydimethylsiloxyethyl dimethicone, 1,2-hexanediol, behenyl alcohol, triethoxycaprylylsilane, polyhydroxystearic acid, sodium acrylate/sodium acryloyldimethyl taurate copolymer, cellulose gum, sorbitan oleate, butylene glycol, phenoxyethanol, caprylyl glycol, ethylhexylglycerin, sodium benzoate, potassium sorbate, sodium citrate, citric acid, sodium phytate
Antioxidants
Echinacea purpurea root extract
Farmacy Green Screen Sunscreen claims to contain a patented version of echinacea purpurea root extract called Echinacea GreenEnvy™. Farmacy sources this ingredient from farmers in Pennsylvania and the Catskills, and supposedly this ingredient has triple the amount of antioxidant levels of normal echinacea.
My Dad the Chemist's review of Farmacy Green Screen Sunscreen SPF 30
Dear Emily, I had no previous experience using those two key ingredients, I would say they're more more marketing story ingredients you'll probably never can tell the difference on complexion or blue light impact.

However, this formula is composed of so many ingredients also contains active/functional ingredients to be a decent SPF formula, but may be expensive and not delivering all other claiming benefits other than sun protection and moisturization.

Love,
Dad
My dad is skeptical that this sunscreen will truly deliver on the claims of protecting against blue light and improving your complexion. However, this may be because he never had access to the version of echinacea purpurea root extract that Farmacy claims to include in its formula. He also isn't familiar with the blue light-fighting claims listed on the label of this product. He thinks that it might be more expensive because it makes these unusual marketing claims, but overall, he does believe that it's a quality sunscreen that will deliver beneficial moisturizing properties.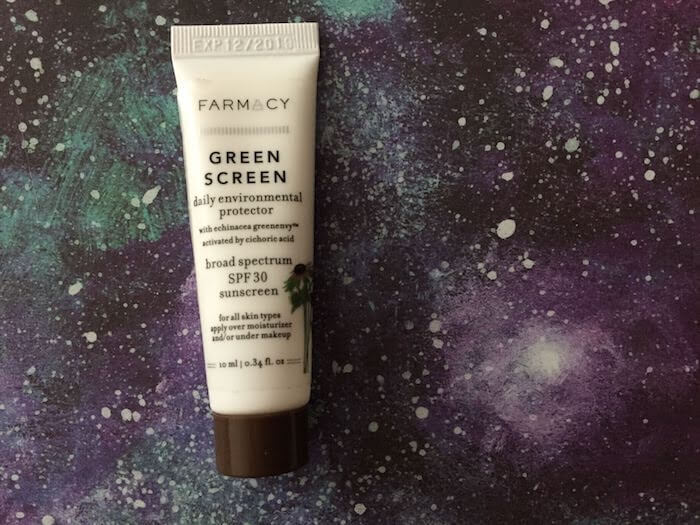 Farmacy Green Screen Sunscreen review
About Farmacy
What's in a name? When it comes to Farmacy, the name actually means something, since it sources organic ingredients from farms. The company is founded on a specific type of plant that was discovered in New York (and eventually patented as Echinacea GreenEnvy™).
Farmacy is committed to producing clean products that are free of synthetic fragrances and other potentially irritating ingredients. I don't believe in the necessity of banning parabens from beauty products, since I find that they don't personally irritate my skin, and according to a trusted dermatologist, these ingredients are "unfairly maligned" since there has not been any definitive research that indicates that parabens disrupt our endocrine systems, especially at the low levels included that are typically included in beauty products.
Although I'd be more comfortable believing the claims on this sunscreen if I saw hard studies about this patented GreenEnvy™ plant, I do find Farmacy's stance on clean beauty inspiring and compelling. This sunscreen was included in Sephora's Sun Safety Kit last year and was my first dose of Farmacy. I think I'm inclined to want to try more of their products in the future.
Farmacy Green Screen Sunscreen SPF 30 review
I think that Farmacy Green Screen Sunscreen provides a refreshing change of pace when it comes to physical sunscreens. This formula has a very nice consistency—not chalky or pasty at all, even though it contains zinc oxide. I love using physical sunscreens, but I have to admit that they're not always the easiest to apply, and they can leave you looking a few shades paler than when you began. Not so with this particular sunscreen: It glides on like a normal face cream or moisturizer. It doesn't smell sunscreeny at all—in fact, it doesn't smell like anything at all. It does leave your skin looking slightly paler, but I think this is unavoidable when it comes to just about any physical sunscreen, unless it's tinted.
I would prefer if this sunscreen offered higher SPF protection (30 is the minimum I feel comfortable with, but I'd prefer to use something 50+). It would also be nice if it was water-resistant, since summer is upon us, and I'd prefer not to sweat off all my SPF protection within five minutes of applying it. Other than those two wishlist items, it's exactly what I like to find in a sunscreen. I think it's a great choice for those of us with oily or combination skin, but it's not quite as mattifying as something like Australian Gold Botanical Tinted Sunscreen, which is still my top choice for oily, acne-prone skin.
Like my dad says, it's hard to say if Farmacy Green Screen Sunscreen can truly deliver on its blue light-fighting and skin complexion-improving claims. Still, even without those extra claims, you can't argue that Farmacy Green Screen Sunscreen is a solid option to introduce into your sunscreen rotation if you're looking for a physical sunscreen that won't irritate sensitive skin: It's fragrance-free, and packed with quality antioxidants and moisturizing ingredients—something you can't say about other run-of-the-mill physical sunscreen options out there.
Related reading
Note: This post uses affiliate links, which means that I'll receive a commission if you make a purchase after clicking a link (at no extra cost to you). See our
disclosure policy
.