This glycerin hand soap isn't available for sale, but it was provided by the Charter Hotel (by Hilton) in Seattle.
Do you remember the first time you visited someone else's house and realized that things were just a bit different from the way your family did things? It rocked my world that not everybody grew up in a shoes-off, liquid-soap kind of household, like I did. It's still hard for me to use bar soap in a hotel instead of my usual liquid, foaming hand soap. I was happy as a clam to see that one hotel in Japan provided a pump-style bottle of foaming face wash that doubled as a hand soap. It's probably not something that anyone else would notice, but to me, it made my stay all the more enjoyable and memorable.
A few months ago, I traveled to Seattle for a long weekend. We stayed in The Charter Hotel, a Curio Collection hotel by Hilton, located just a few blocks away from Pike Place Market. All of the hotel toiletries were provided by Imperial Barber Grade Products. I've written about this company's Fiber Pomade before, and I was excited to try out their non-hair products, like the bar soap.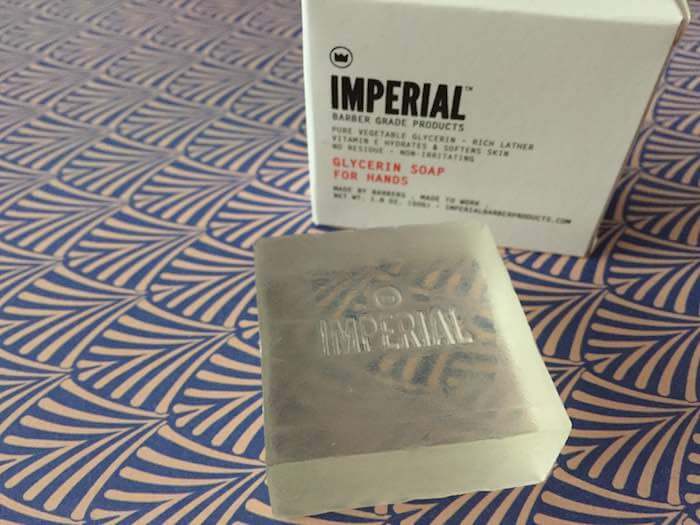 I can't find this soap for sale online, so maybe the company manufactures it exclusively for the hotel. Imperial Barber Grade Products does make a Glycerin Soap Puck for Shave & Face Use, but the ingredient list looks pretty different.
It seems that the company provided a "glycerin soap for hands" for the hotel. To a person who grew up using liquid hand soap (and still does), the small act of labeling this bar soap as "for hands" made it seem like more of a legitimate hand soap even though it was still a solid, not a liquid. I also used this soap on other parts of my body, since I prefer using a bar soap instead of body wash. The glycerin soap was also fragrance-free while the body wash was not..
A non-irritating hotel soap is hard to find
I think all hotels should provide an unscented soap option, so that those of us with sensitive skin don't have to suffer. If i had my way, they would also provide unscented hair products (in addition to scented ones), to support my fellow sensitive-skinned peeps. When you're traveling, your skin is already on edge, and dehydrated from the airplane. You don't need to be using products that contain potentially irritating ingredients like fragrances. The same goes for hospitals, where people go to get better, not worse. I came across this passage in my Book of the Month from a while ago: Ask Again, Yes, by Mary Beth Keane.
Neither George nor Peter ever answered the phone at the apartment because George said it was always people looking for money and if anyone really needed him they'd find him at work. Anne had never called, not one single time, though once every few months the social worker from the hospital left a message to let them know that Anne needed a sweater, or a pair of slippers, or a particular kind of soap because the hospital soap gave her a rash."
—Ask Again, Yes, by Mary Beth Keane
Imperial Barber Grade Products Glycerin Soap for Hands ingredients
water, sodium aliphatate, glycerin, sodium cocoyl glutamate, sodium lauryl ether sulfate, alkyl polyglucoside, polyalcohol, sucrose, limonene
alkyl polyglucoside, sodium cocoyl glutamate, sodium lauryl ether sulfate are surfactants that are commonly used as detergents. Polyalcohol and sucrose are in the sugar alcohol family. Remember that ingredients in this realm tend to be used to moisturize and soothe skin, such as in the case of xylitol included in the Shiseido Ultimune Eye Cream. Limonene is found in citrus peels and may have been added to lend a nice scent (in lieu of fragrance). It may be irritating (I've certainly gotten itchy from peeling oranges before, because something in the skin—not sure if it's limonene—triggers my eczema.) The package says that it contains Vitamin E, but I wasn't able to find any ingredients in this list that aligned with Vitamin E. It also says that it's non-irritating and won't leave any residue. The glycerin is derived from vegetable sources.
Imperial Barber Grade Products Glycerin Soap Puck for Shave & Face Use ingredients
coconut oil, palm oil, safflower oil, glycerin, water, sodium hydroxide, sorbitol, sorbitan oleate, vitamin E, soybean protein
This soap seems to be quite different from the Glycerin Soap for Hands that I got at the hotel. The packaging claims are quite similar though: "Vitamin E softens and hydrates skin" and "no residue" as well as the vegetable-derived glycerin and "rich lather." I think maybe they copied the vitamin E claim over to the hand soap's packaging label without double checking.
Imperial Barber Grade Products Glycerin Soap for Hands review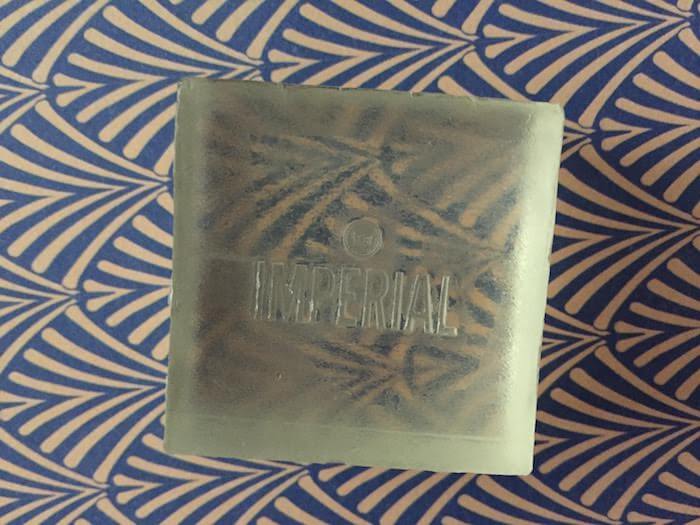 I love using a clear soap that's cut into a nice square block like this. I think it's pretty lovely, and I liked that it didn't have a heavy fragrance. The packaging was correct in claiming that it didn't leave any residue. I thought it foamed up nicely and left my skin feeling clean but a little bit more dry than I would prefer. The glycerin helped offset the dryness a bit, but not enough to make it suitable for long-term use. I think it was fine for a short-term stay of a couple nights, and it's still one of the better soaps (in terms of being non-irritating) that I've used in a hotel before. I would be interested in giving the Glycerin Soap Puck for Shave & Face Use a try someday, since it's unscented. However, since that one contains coconut oil, I probably wouldn't use it on my face, which is prone to breakouts when exposed to coconut oil.
Related reading
Note: This post uses affiliate links, which means that I'll receive a commission if you make a purchase after clicking a link (at no extra cost to you). See our
disclosure policy
.