Ever wonder what it would be like to move to Japan and start your own business? Read on to find out how this entrepreneur and YouTube creator forged her own path.
I'm supposed to be in Japan right now, but I'm not because (what else?)…we live in a post-COVID world. I look forward to the day I can return to Japan, but in the meantime, I'm happy to live vicariously through YouTube videos. Today, I'm happy to share a Q&A with Loretta Scott, an amazingly talented and creative entrepreneur who lives in Japan. I discovered Loretta through her KemushiChan YouTube channel.
Read on to learn more about how Loretta moved to Japan, what inspired her to start her own business, how she brainstorms new ideas and content, and her advice for anyone who dreams of starting venturing out on their own and diving into a new culture or country. Plus, she shares some fascinating observations about how skin care and beauty standards differ in Japan vs. the United States.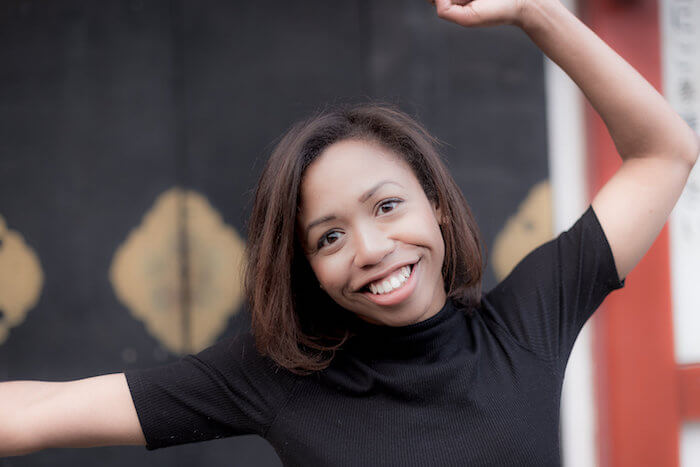 Here's Loretta's bio, in her own words: Loretta Scott is a New Yorker and Virginia native now living in Japan. After living in Japan off and on for a number of study abroad and research fellowship programs, Loretta finally moved back to Japan with her husband and dog (Lily, the Jack Russell Terrier!) in 2016. Since then, Loretta has graduated with a Masters in Business Administration from Yokohama National University, worked as reporter for over 3 years on NHK World and managed the popular YouTube channel, "KemushiChan," known for its Japanese-language mania and enthusiasm for travel and lifestyle in Japan.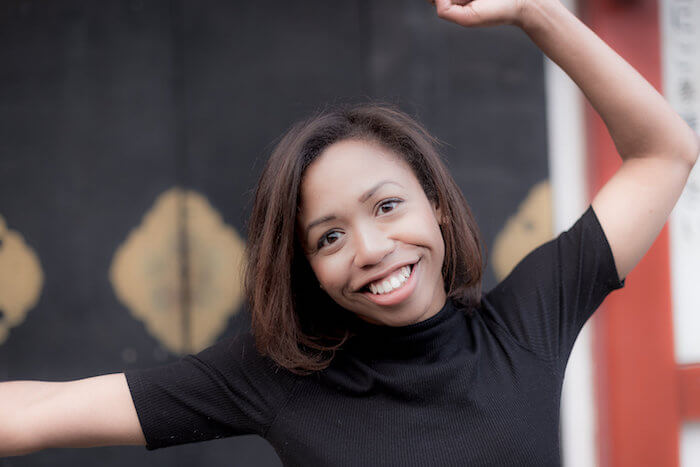 Q&A with Loretta Scott, entrepreneur
1. Could you tell me a bit about what inspired you to start your own business?
There are 4 kids in my family, and just like my parents, we're all entrepreneurs, crazy for figuring out solutions that excite other people. After University, I worked in New York for six years for an eclectic batch of IT startups, but in the evenings I especially loved going to pitch demos, startup competitions and branding meetings to hear how real ideas were coming alive. Turning ideas into a business is and always will be a personal passion for me, but now as a 32-year-old woman it's come to mean more about living a full life with flexibility.
2. Your website provides some great resources for learning Japanese. Did you design your own website or hire someone to help you? And are there any specific tools or services that helped you launch and design your website that you would recommend to other entrepreneurs?
Thanks! I'm currently working on a large makeover but this, and a handful of others I've kept previously, were all written and designed, line-by-line by yours truly. It's a bit of a long story, but when I was 10 (back in 1998!), my school piloted an elective course in coding (HTML, CSS, JAVA). A lot of us were young girls, and using sites like Lissa Explains back in the dot com age to build something from nothing fed right back into that itch for building big ideas. That being said, the internet has come so far from then, and there's no need to reinvent the wheel! With services like Squarespace, Wix, Wordpress you can start getting your ideas out there quickly and cleanly. That can be half the battle.
3. I love the range of content you put up on your YouTube channel. How do you come up with new ideas?
Talk to as many people as possible, and keep a notepad on you (digital or paper) at all times. I keep a Trello board going at all times organized with columns for Ideas → Planning → Filmed → Editing → Posted, and I whenever a new idea hits I dump it into the idea column and let it move (or not!) from there. I tend to read over this column a lot on the train.
I also have a bit of an advantage, seeing that my channel is Japan-related, I have access to double the amount of feedback of monolingual creators. In the English speaking community, a lot of video trends are recycled widely, but many topics from Japanese-language creators (including destinations, collaborations and more) never make it into English. Being able to watch both, it means I have twice the amount of creative input when looking for ideas.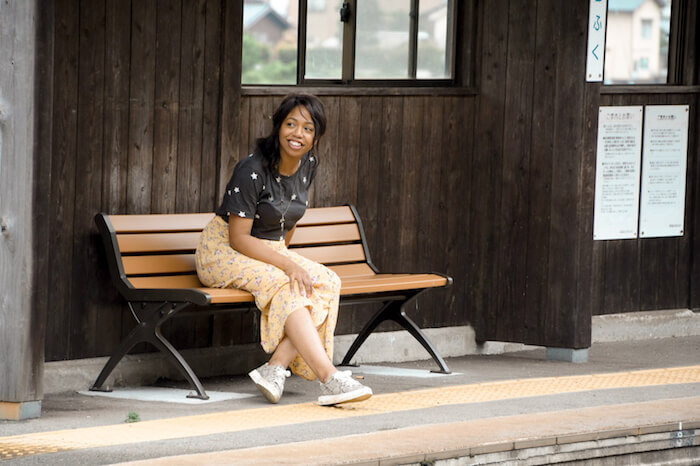 4. Do you have words of wisdom for anyone out there who's thinking about moving to Japan or starting their own business (or both!)?
Meet people. Talk to people. Go to meetups, meet up events, and always seek out your hobbies/talents in opportunities OUTSIDE of your job. This will lead you to friends, jobs, relationships, and just a generally easier time. It can be isolating to try and make lasting friendships here, but you can skip the awkward ice-breaking level by meeting people while doing something you love in common.
5. After moving to Japan, was there anything that surprised you about the types of skin care products available there? Did you discover any new favorites and/or encounter any challenges with finding products that you liked?
If not the most obvious difference, it can be tremendously difficult to find your shade (especially if your skin is very deep OR very fair) for tinted products. But in general, the way people talk about skin, your face, and how to take care of it is completely different. For example, there isn't really a word for "high cheek bones," or how many women will highlight their eyes in red instead of white/cream. Dewy is more trendy then matte, and skin care will always trump makeup. Even more men invest in skincare!
Thankfully, I have always had very easy-to-live-with skin, but since moving here I can't help trying the many different lightly scented (yuzu!) evening face masks. You will find free samples in magazines, handed out at storefronts or sometimes sitting on your desk keyboard after your coworker's latest business trip. Face masks have become a fun aromatherapy for me, and just like all the candy and food trends, there's also a completely new design, fragrance or formula to get excited for each season.
One note for the Americans out there, I will say that it's common culture to run to the drug store for all of your skin care needs. In Japan, a lot of skin care and long-term solutions are covered by insurance, so knowing when NOT to take dermatology into your own hands (and ask a professional!) can often be the cheapest, fastest way to really care for your skin. Even if it's just a checkup, it's a lot more normal to see a dermatologist in Japan, and prescriptions are often cheaper than what you can find over the counter.
6. What are some of your favorite beauty and skin care products (either at the moment, or all-time favorites)?
I am a very simple being. St. Ives Apricot Scrub for cleansing. For moisturizing, SOME BY MI yuja mask and akaran gel (they're both clear, buildable gels that absorb quickly, and the yuja mask has an amazing citrus smell to wake you up). In the summer especially I prefer bigansui as a toner (as women will say on online reviews, get the "men's" blue bottle! It smells fresher and costs less for the same formula!). I also love the SK-II line but only buy the travel set to keep it pocket-friendly, in all senses of the word.
This may have been my ignorance, but I never understood the creams and moisturizers my friends used back in the states. A lot of what was readily available felt heavy handed and always led to a breakout, but in Japan I find that the standard brands, even in drug stores, are incredibly effective while staying light and fresh.
7. Many people in the U.S. are envious of the range of sunscreens available in Japan, since the FDA has been slow to approve some of the newer active sunscreen ingredients. Are you a sunscreen user, and if so, can you recommend any stellar Japanese sunscreens or U.S. sunscreens?
I actually only use sunscreen as an additive of my makeup! I am curious now to explore some of Japan's sunscreens now, though! I look forward to any recs YOU may have!
Arigatou gozaimasu, Kemushichan
I had a blast learning more about one of my favorite YouTube creators. I really respect all the work that Loretta put into her business and YouTube channel, allowing her to get to where she is today. I also loved hearing her advice for exploring interests outside of work (couldn't agree more) move to Japan. It was also interesting to hear that in Japan, more skin care concerns are covered under insurance, which helps make it easier for everyone to benefit from going to the dermatologist for their specific needs. And it was funny to hear that even in Japan, men's products tend to cost less even though they're
Whether you're looking to move to a new country, learn a different language, start a business, or create engaging content, I hope Loretta's journey and experience helped you get a better idea of how to move closer to your goals. Thanks for the words of wisdom and positivity, Loretta!
Check out Loretta's YouTube channel here and her website here.
P.S. Are you an entrepreneur, blogger, artist, or other type of human who would be interested in participating in a Q&A like this? Get in touch with me here!
Note: This post uses affiliate links, which means that I'll receive a commission if you make a purchase after clicking a link (at no extra cost to you). See our
disclosure policy
.