Are powdered face cleansers the future? Maybe, but this particular cleanser didn't impress me that much. On the plus side, It's travel-friendly and foams up nicely once you add water.
I just discovered the quirks of Basic Economy on United Airlines. Usually economy tickets allow you to take a personal item (a handbag or briefcase) as well as a larger carry-on bag (in my case, usually a large backpack). However, Basic Economy tightens these restrictions even further, by only allowing you to bring one personal item on board. Any other carry-on bag must be checked like regular luggage at a cost of $30. On a recent flight, I had to stuff everything into my backpack and hope for the best. Thankfully, it worked—they allowed me to carry my backpack on the plane. This experience made me realize that I need to be even more of a minimalist when I travel. For anyone who detests checking luggage—much less paying $30 to check a small bag—carrying solids rather than liquids seems like a good idea for several reasons:
They're less likely to spill

They don't take up valuable real estate in your quart-sized, TSA-approved bag of liquids/gels

They appeal to your inner chef: Just add water to achieve your desired consistency

I always pack face cleanser on vacations/trips—usually, in the form of a travel-sized liquid cleanser. One time I tried using a bar cleanser, but it ended up being a bit too drying for my skin. Powdered cleansers never even crossed my mind until I received a Sephora sample of AMOREPACIFIC Treatment Enzyme Peel Cleansing Powder. After I thought about it more, though, I realized that it makes perfect sense—powdered laundry detergent has been around for ages, after all.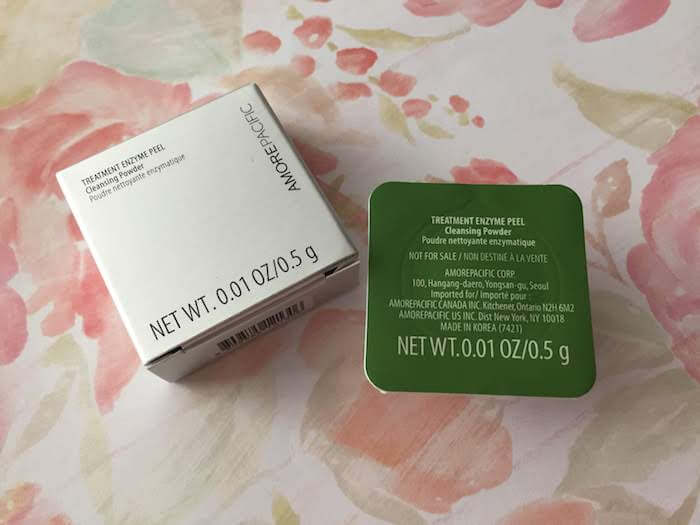 AMOREPACIFIC Treatment Enzyme Peel Cleansing Powder ingredients
mannitol, sodium cocoyl glycinate, sodium lauroyl glutamate, zeolite, silica, betaine, allantoin, potassium laurate, polycaprolactone, fragrance, zea mays (corn) starch, peg-75,dipotassium glycyrrhizate, disodium edta, trehalose, water, butylene glycol, papain, lactobacillus ferment lysate, yellow 5 (ci19140), zingiber officinale (ginger) root extract, zizyphus jujuba fruit extract, camellia sinensis leaf extract
AMOREPACIFIC Treatment Enzyme Peel Cleansing Powder review
AMOREPACIFIC Treatment Enzyme Peel Cleansing Powder markets itself as a foaming cleanser that removes makeup and exfoliates skin. I found that it was pretty successful at removing my tinted physical sunscreen, which is great. It also foamed up really nicely. contains plant-based enzymes like probiotics (lactobacillus ferment lysate, to be exact). This cleansing powder also contains camellia sinensis leaf extract (tea extract), which is rich in antioxidants.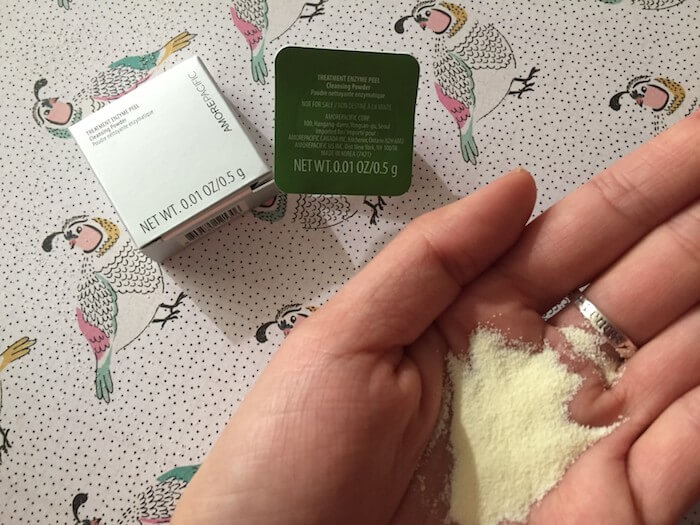 Speaking of tea, this formula contains a surprising number of other food-related ingredients: mannitol is a sugar alcohol, trehalose is a sugar, and corn starch is an ingredient commonly used to thicken sauces. And it contains papain, or papaya extract, which AMOREPACIFIC says helps deliver more radiant skin.
However, I tend to be skeptical of any sort of beneficial ingredients in face cleansers, since they only make contact with the skin for a very short amount of time before they're rinsed off. I don't ask a lot from my face wash: just something that will effectively remove sunscreen without irritating my skin. For that reason, I am not usually easily swayed by fancy ingredients or unnecessary ones (like the fragrance or yellow dye included in this formula). Look how yellow this face cleansing powder is. I'm not sure why they decided to make this product bright yellow for no apparent reason…
On the plus side, it contains allantoin, which is a soothing ingredient. As far as AMOREPACIFIC's products go, this cleansing powder is a step up from the AMOREPACIFIC Treatment Cleansing Foam, which also did a decent job of removing makeup/sunscreen, but contained triclosan, which is a no-no for the environment and for sensitive skin.
I like the idea of cleansing powders—they have a lot of potential. At the same time, it seems to be a less popular category, which means that not a lot of options exist (that I know of, anyway). I don't like this particular cleansing powder enough to use it on an everyday basis, or even to pack on my carry-on bag.
The amount included in this sample (0.01 oz.) seemed like a lot for one use, but the package said to use the whole amount at a time. I think you could get away with using half that amount each time, unless your face has an unusually large surface area. This helps offset the premium price point of this product. Even so, I don't want to shell out for this product since it has a noticeable fragrance and didn't sufficiently wow me enough to convince me to stop using my normal everyday gentle cleansers. Still, I would be interested in trying out other face cleansing powders in the future, especially ones that are successful at cutting down on plastic packaging.
Related reading
Note: This post uses affiliate links, which means that I'll receive a commission if you make a purchase after clicking a link (at no extra cost to you). See our
disclosure policy
.