This mineral sunscreen is affordable, moisturizing, and doesn't leave a heavy cast. Plus, it's not only suitable for babies but also adults with sensitive skin!
I can't believe it's already been five months since my last post. My timing is a little off because we're already well into autumn, but I'm going to share this post anyway: my favorite sunscreen find of the year! Drumroll please…it's Baby Bum Mineral Sunscreen SPF 50! I've tried one of Sun Bum's chemical sunscreens in the past, but it had a strong fragrance that turned me off. Earlier this year, I tested out the mineral formula for babies ("Baby Bum"), and since then, it has become my go-to everyday sunscreen.
A lot has changed over the past year. First, I moved to California, which means more beach time (yay)—along with the need for more sunscreen. Today's product review also provides a hint about the other big change in my life…I had a baby! My baby is still too young to wear sunscreen, but someday I'm sure we'll be slathering it on together. When big changes happen in my life, I kind of just focus on those things and drop everything else. I'm not good at juggling a lot of things at once. So that's why I haven't really been posting on here as much as I would like to. As I continue to adjust to life as a mom, I hope I'll be able to keep writing more posts when time allows, but we'll see! Plus, this means I'll have even more reasons to review baby products that work for babies and adults…my favorite kinds of products! Without further ado, let's dive into all the reasons why I love Baby Bum Mineral Sunscreen SPF 50.
Baby Bum Mineral Sunscreen SPF 50 ingredients
Active ingredients: zinc oxide (20%)

Inactive ingredients: water, cocos nucifera (coconut) oil, butyloctyl salicylate, diheptyl succinate, methyl dihydroabietate, butyrospermum parkii (shea butter), capryloyl glycerin/sebacic acid copolymer, sodium stearoyl glutamate, cetearyl alcohol, theobroma cacao (cocoa) seed butter, sodium hyaluronate, bisabolol, tocopherol, coco-glucoside, microcrystalline cellulose, cellulose gum, cetyl alcohol, arachidyl alcohol, behenyl alcohol, arachidyl glucoside, polyhydroxystearic acid, sodium gluconate, phenoxyethanol, ethylhexylglycerin, citric acid
My Dad the Chemist's review of Baby Bum Mineral Sunscreen SPF 50
Dear Emily,

This is a nice formula and I like all the ingredients, but certainly without try myself, I can't say whether is a nice water restaurant formula that I love to use. However, water resistance test is not including "rubbing", just after applying, test panel is in and out from (the movement in)the pool, after xx minutes must maintain Efficacy.

A nice formula will formulate with an appropriate amount of polymer so that the sunscreen may meet the water resistance claim while being washout through soap , water and rubbing.

To test it, you may test any formula with water resistance claim, apply on one of your palm for 15 minutes then put it under the running faucet, the sunscreen should stay without being flushed off your skin to qualify to be a water resistance formula, but if too much polymer is in the formula, it may make it very difficult to wash off even through rubbing.

Based on your experience, sounds like this formula is just right compared to many other mineral base sunscreens in the market.

Love,
Dad
Baby Bum Mineral Sunscreen SPF 50 Review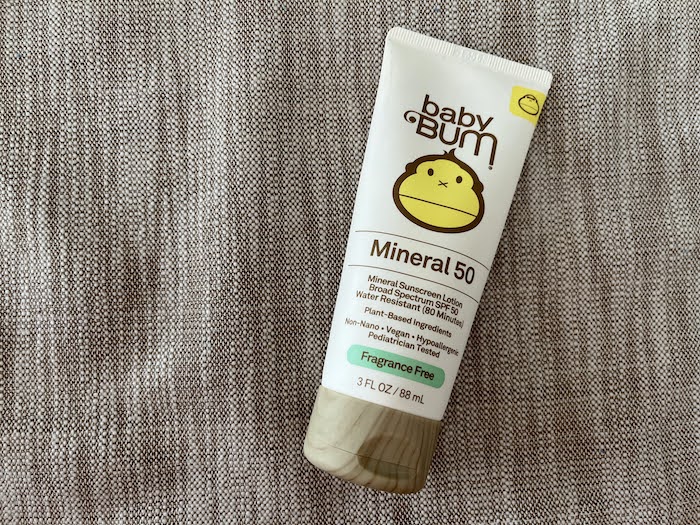 I've tried a lot of mineral sunscreens in my day, so it's safe to say that I've spent my fair share of time walking around with a pale, ghostly face. I feel like I'm always searching for mineral sunscreens that work without making my skin look too pale. The other common problem with mineral sunscreens is that they're often very difficult to wash off, particularly when they're formulated to be water resistant. A part of me understands that this makes sense—you don't want your water resistant sunscreen to wash off too easily, right? But as my dad confirmed, this does not have to be the case. And that's good news for us mineral sunscreen lovers!
A good water resistant sunscreen should not be easy to rinse off with water alone, but it also shouldn't be too hard to wash off if you intentionally rub it off with water and soap. I've found that the latter isn't the case with a lot of physical sunscreens. Usually, even after trying to rinse off the sunscreen with a fair amount of rubbing, water, and soap, I have to resort to scratching off the waxy residue, which defeats the purpose of using a mineral sunscreen in the first place (to avoid irritating my sensitive skin). See this review for an example of one of the worst offenders! According to my dad, this probably means that the formula contained too much polymer in it.
In comparison to many other mineral sunscreens, Baby Bum Mineral Sunscreen SPF 50 is a dream to apply (fairly creamy, not too thick or pasty) and it's also very easy to wash off. I've noticed that the ease of application and cleanup have helped ensure that I actually use the correct amount needed to offer sufficient protection, which is a win. It does still leave my face looking noticeably paler, but I don't think anyone will ever be able to create a zinc oxide-based sunscreen that leaves no white cast at all.
Here's a picture that helps illustrate how creamy it is: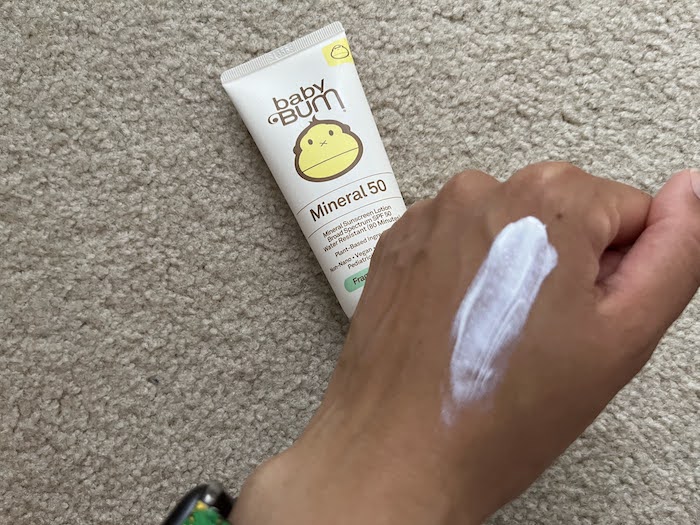 And another picture to show the slight white cast it leaves behind after you rub it in: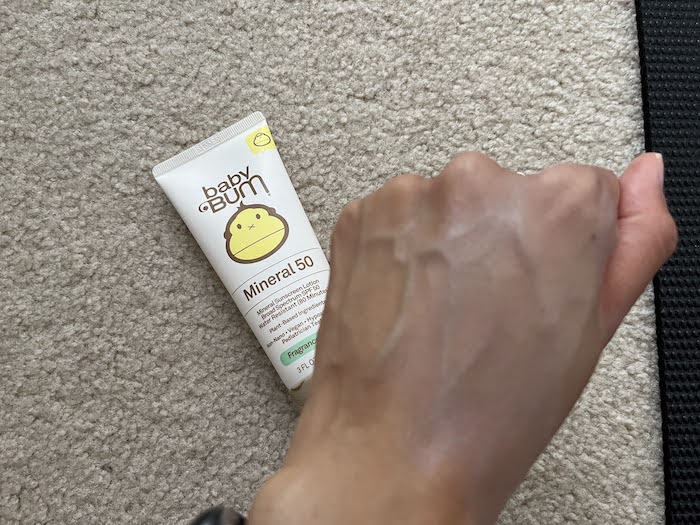 This sunscreen also contains a lot of beneficial ingredients that pull double duty as a moisturizer, such as shea butter, sodium hyaluronate, and bisabolol. I was worried that the coconut oil would be a problem for my acne-prone skin. I can't say that this will be the case for everyone, but in my case, it didn't cause any breakouts, which is a nice plus.
Related reading
Note: This post uses affiliate links, which means that I'll receive a commission if you make a purchase after clicking a link (at no extra cost to you). See our
disclosure policy
.