This sanitizer claims to leave hands feeling soft. What ingredient(s) back this up?
In the times of yore, hand sanitizer was something we only thought about once in a while. Until 2020, it probably wasn't something the average person used every day. Now that it has become more of a go-to item in our everyday lives, it makes sense to look at this type of product under a more critical lens, just like any other skin care product. Fun/slightly embarrassing fact: I've always liked the smell of rubbing alcohol, aka isopropyl alcohol, ever since I was a kid. Perhaps that's why I don't mind using hand sanitizer—it's kind of nice to feel like you're doing something to ward off germs, y'know? But there is one thing I don't like about hand sanitizers: they inevitably dry out your skin. The active ingredient is alcohol, which can be very drying. As such, a burgeoning subcategory of hand santizer is "moisturizing" hand sanitizer, made by companies like Bath & Body Works and Dove.
One day, I noticed that the label of my bottle of Purell said that it "leaves hands feeling soft." In this post, we'll take a closer look at the ingredients list and ask my dad how Purell hand sanitizer backs up that claim.
Purell Hand Sanitizer ingredients
Active ingredients: ethyl alcohol (70%)

Inactive ingredients: water, isopropyl alcohol, caprylyl glycol, glycerin, isopropyl myristate, tocopheryl acetate, acrylates/c10-30 alkyl acrylate crosspolymer, aminomethyl propanol, fragrance
My Dad the Chemist's review of Purell Hand Sanitizer
Dear Emily,
Yes, glycerin, isopropyl myristate (moisturizers) and tocopheryl acetate (vitamin E) will leave hands feeling soft, however using this type of hand sanitizers better rinse your hands with water or wipe your fingers clean before grabbing foods to eat especially if formulas contain isopropyl alcohol or/and isopropyl myristate.

Love,
Dad
Purell Hand Sanitizer review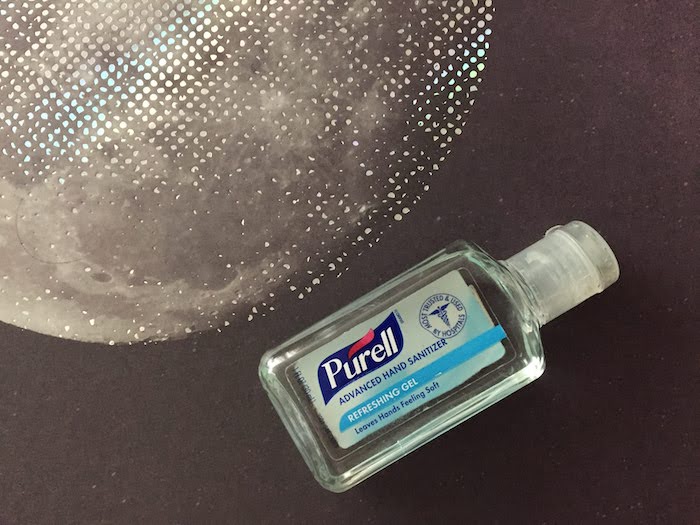 Purell's website highlights glycerin as the inactive ingredient that is meant to help keep skin soft even with frequent usage. But I learned from my dad that isopropyl myristate is also considered a moisturizer, and the addition of vitamin E helps, too. It also contains Acrylates/C10-30 Alkyl Acrylate Crosspolymer to help thicken it into a gel. Other hand sanitizers, such as Dr. Bronner's Lavender Hand Sanitizer, are packaged as a spray, so they're much runnier. I still prefer washing my hands with soap and water whenever possible, but when I can't get to a sink, Purell hand sanitizer has been my product of choice for on-the-go cleanups.
My dad also makes another interesting point about hand sanitizer. He suggests rinsing off before eating food if you're using a product that contains isopropyl alcohol or isopropyl myristate. The FDA recommends letting hand sanitizer dry completely before wiping it off. Therefore, in order to safely eat after using this product, you should apply it, let it dry, and then wipe it off with a water wipe or something similar.
When it comes to the golden standard of hand sanitizers, you're not going to find one that's more widespread than Purell. It's so well known that you can often just say "Purell" and people will know you're talking about hand sanitizer. (Kind of like how you can just say "Kleenex" instead of "tissue.") It seems to be the sanitizer of choice at doctor's offices and hospitals, which serves as a testament to its credibility. There are now many, many types of hand sanitizers on the market, but it's probably safest to go with a well-known brand like Purell because of contamination issues that have plagued the market. The FDA has compiled a list of hand sanitizers that are not safe to use; check it out here. I'm pretty pleased with Purell hand sanitizer so far. Even though it contains fragrance, the smell is not overpowering and it hasn't irritated my skin that badly, though I still try to limit my use to times when I absolutely need it.
Related reading
Note: This post uses affiliate links, which means that I'll receive a commission if you make a purchase after clicking a link (at no extra cost to you). See our
disclosure policy
.