Yet again, a baby product comes to the rescue for this adult's eczema flareups.
I never quite know what's going to trigger an eczema flareup, but I do know that treating the early signs of a flareup makes a huge difference for me. Whenever I start getting small cracks in my hands, I know I can't just follow my regular regimen (slathering on Vaseline Intensive Care Lotion at night and rarely moisturizing throughout the day) and expect things to miraculously get better. I need to up my game so that my skin doesn't start to freak out.
After moving to California, I had to stock back up on my regular hand eczema products. One of the products that I recently fell in love with again was a pair of cotton gloves from CVS. They make you feel ridiculous, like Mickey Mouse, but I consider them a must-have item in any hand eczema army. The second product that helped with my most recent flareup was something new: a jar of Pipette Baby Balm that I luckily packed on a whim in my carry-on bag when I moved from NYC to California.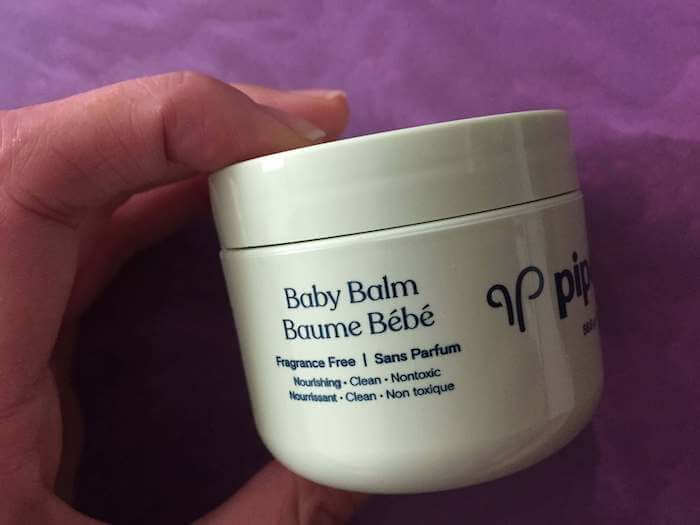 Pipette Baby Balm ingredients
squalane, hydroxystearic/linolenic/oleic polyglycerides, jojoba esters, rhus verniciflua peel cera, glyceryl behenate/eicosadioate, punica granatum (pomegranate) sterols, tocopherol
Pipette sources its squalane sourced from sugarcane. The website lists a description of every ingredient in every one of its products. In case you were wondering, rhus verniciflua peel cera is berry wax.
My Dad the Chemist's revie of Pipette Baby Balm
Dear Emily, I like all the formula ingredients, especially squalane, hydroxystearic/linolenic/oleic polyglycerides, jojoba esters, they're very effective emollients derived from plants. Squalene may squeeze into spaces between skin cells and make your skin feel smoother.

Love,
Dad
My dad likes the emollients in this formula, and thinks that squalane is particularly helpful for moisturizing and smoothening the skin. Indeed, this product not only helped moisturize my skin but also helped reduce the roughness of the lizard-like patches on my palms. I really noticed an improvement after a few nights of using the balm + gloves combo, so I highly recommend trying it out if you haven't had luck with just regular old Vaseline.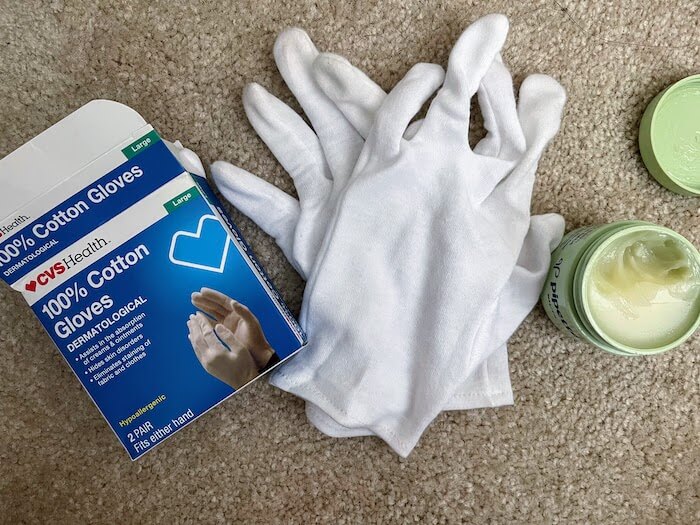 Pipette Baby Balm review
Pipette Baby Balm comes in a cute little plastic jar that's easy to throw into a carry-on or purse. However, it's probably way too greasy to use during the daytime, unless you use a very thin layer of the stuff or don't mind leaving fingerprints everywhere throughout the day. I opted to use it at night with a pair of CVS cotton gloves, so I wouldn't stain my sheets. However, the gloves are probably too hot to work during the summertime unless you love to crank up the air conditioning. You might need to find some lighter weight gloves for summertime use or just give in to the idea that you're going to stain your sheets in the name of helping your hands heal.
I decided to try out Pipette Baby Balm on a whim after a few nights of Vaseline lotion + Vaseline ointment + gloves didn't seem to make a dent in my hand eczema. I was still experiencing very dry, itchy skin, which was frustrating. After just one night of using Pipette Baby Balm, I noticed that some of the cracks in my hands had reduced in size, and my hands felt smoother and less rough.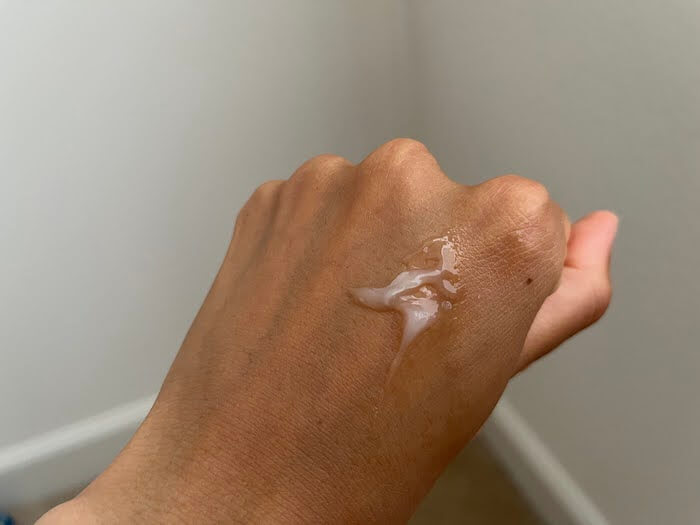 The texture of Pipette Baby Balm is pretty similar to Vaseline, but not quite as thick. Like Vasline, it's fragrance-free, so it just ends up smelling like whatever ingredients it contains. In this case, I think it smells slightly nicer than regular Vaseline, but that's probably subjective. I also noticed that interestingly the top of my balm hardened, while the bottom was still creamy, kind of like when you leave a stew in the fridge overnight and have to skim off the fat that's hardened on top. A little of it goes a long way, so I'm pretty sure this jar is going to last me for quite a while.
This product is designed for use as a balm for babies' dry, sensitive skin, but it's also very effective for adults who have the same needs. It has also been accepted by the National Eczema Association. I highly recommend checking out this balm if you have every dealt with eczema. It is just a tad greasy, which makes it unpleasant for daytime moisturization, but you can definitely find a way to work it into your nighttime regimen with white cotton gloves.
Further reading
Note: This post uses affiliate links, which means that I'll receive a commission if you make a purchase after clicking a link (at no extra cost to you). See our
disclosure policy
.