This lightweight zinc sunscreen isn't just meant for babies. Anyone with sensitive skin should consider checking it out because it's fragrance-free and formulated with moisturizing ingredients like squalane and glycerin.
If you have sensitive skin, it's usually a good idea to look out for products targeted to babies. Though they can sometimes be more expensive, baby products tend to be formulated with less irritating preservatives and ingredients so as not to aggravate babies' delicate skin (or parents' concerns). When I first came across Pipette SPF 50 Sunscreen on Target's website, I was intrigued. You might have noticed that I have a weird obsession with trying out all the zinc-based sunscreens on the market. Needless to say I was curious to see how this one would stack up against all the other ones I've tried in the past. Spoiler alert: It's wonderful. The only downside? It's not water resistant, which could make it a non-starter for hot summer days.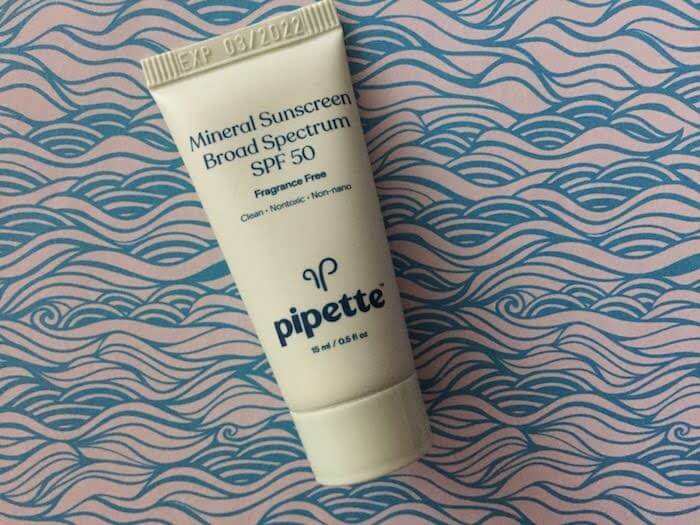 Pipette SPF 50 Sunscreen ingredients
Active ingredient: zinc oxide (20%)

Inactive ingredients: water, caprylic/capric triglyceride, squalane, glycerin, cetearyl alcohol, methyl dihydroabietate, sorbitan olivate, cetyl palmitate, coco-glucoside, ethyl ferulate, caprylyl/capryl glucoside, lecithin, bisabolol, physalis angulata (wild gooseberry) extract, xanthan gum, acacia senegal gum, sodium gluconate, isostearic acid, polyhydroxystearic acid, 1,2-hexanediol, polyglyceryl-3 polyricinoleate, hydroxyacetophenone, caprylyl glycol
My Dad the Chemist's review of Pipette SPF 50 Sunscreen
I sent my dad the list of ingredients and asked him for his thoughts. I also asked him to speculate why it would result in a less white-than-normal application, compared to other zinc-based sunscreens. Here were his thoughts:
Dear Emily, this formula looks like a nice formula containing mostly nature or plant derived ingredients with Zinc Oxide and still not being too white on the skin.

I think the primary factor is the particle size of Zinc Oxide, it must be very small but still much bigger than Nano size (1 nm), therefore, the smaller the particle size, the less whiter it will appear on the skin.

Love, Dad
So my dad's guess was that perhaps the company was using smaller-sized zinc oxide particles (though not so small as to be classified as "nano-sized" of course).
This got me thinking—can zinc oxide-based sunscreens reduce their whiteness by strategically including a mix of other, well-blended inactive ingredients, or is the "whiteness" of a zinc sunscreen mostly determined by the particle size of the zinc oxide used in the formula? Here's what he said:
Dear Emily, Particle size of Zinc Oxide may be the most probable factor , but the second probable factor is the particle size of macroemulsion (Zinc Oxide isn't soluble in neither water nor any other solvents in this formula). The type and the amounts of emulsifier and solvent(s) also play a big role of the resulting particle size of the macroemulsion.

If the diameter of this macroemulsion is on the lower end, then during application it will be less white upon rubbing comparing to other many other brands with mineral sunscreens (more white on the skin)

It may be just the Zinc Oxide or the second factor alone, and could also be the combination of both.

Love,
Dad
It sounds like the ghostly pallor you get from certain zinc oxide sunscreens might come froma combination of two factors: the size of the zinc oxide used in the formula, and the success of the macroemulsion—how well the company was able to emulsify the particles in the solvent.
Pipette SPF 50 Sunscreen review
Pipette was having a great Friends & Family sale a few weeks ago, so I ordered my Pipette SPF 50 Sunscreen as part of a Day to Night package, which meant that it came with an Overnight Brightening Mask that I'll review in the coming weeks. I'm really happy with the way this sunscreen goes on so smoothly and effortlessly. It almost feels like a moisturizer rather than a sunscreen.
Pipette SPF 50 Sunscreen is formulated with sugarcane-derived squalane, as well as glycerin and soothing bisabolol. These are all high-quality ingredients you'd find in a decent moisturizer, whether you're moisturizing baby skin or adult skin. The high percentage of zinc oxide (20 percent) is also a plus for anyone who feels slightly dubious about sunscreens that have very low percentages of active ingredients (though a high concentration of active sunscreen ingredients isn't always theoretically required to achieve a high SPF rating).
Here's how the sunscreen looked midway through application: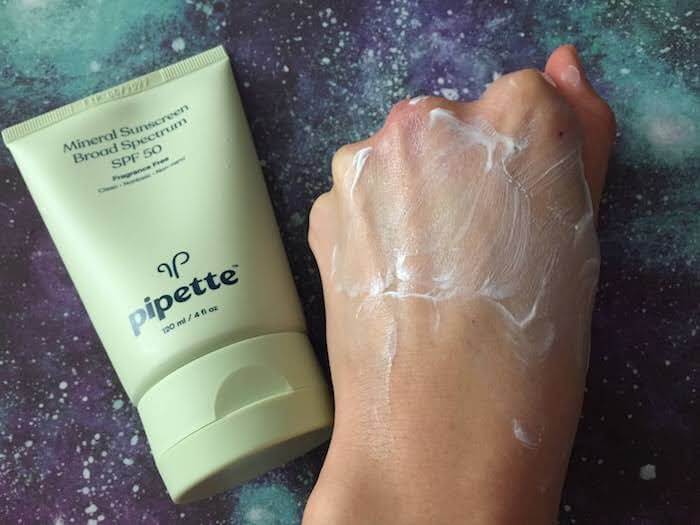 And here's how it looked after I finished blending it in, just a few seconds later: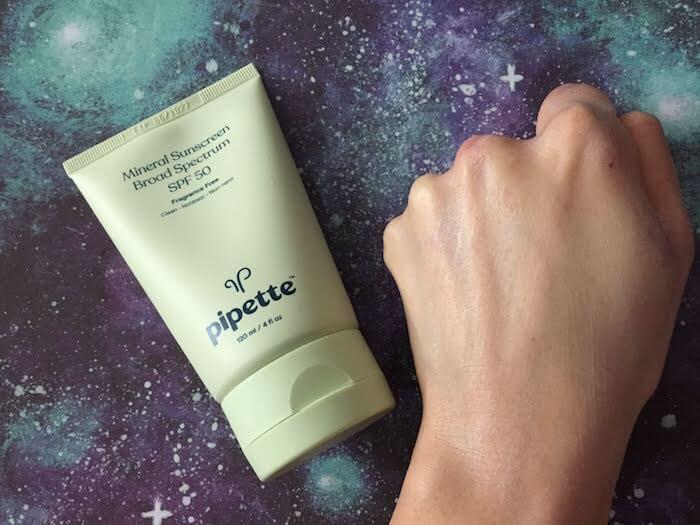 Other zinc oxide sunscreens typically take a few minutes to rub in. I'm thinking of Neutrogena Sheer Zinc Face Sunscreen SPF 50 and Aveeno Positively Mineral Sunscreen SPF 50, though those are slightly higher at 21.6% zinc oxide. And after you're done rubbing them in, you kind of still look like you just rubbed your face with a powdered sugar doughnut.
This one, however, feels like a lightweight moisturizer rather than a clunky sunscreen. I love the creamy consistency and how easily it blends in. In terms of consistency, it feels very similar to EltaMD UV Clear Sunscreen SPF 46, though EltaMD's was a mix of zinc oxide and octinoxate, and didn't contain nearly as much zinc. This makes the transparency and creaminess of this Pipette formula even more impressive.
It also has no noticeable odor and doesn't leave a greasy residue on my face or fingertips after application. My only qualm with this sunscreen is that it feels like it would easily sweat off, so I don't think I would feel comfortable using it instead of a water-resistant sunscreen in the middle of summer.
Related reading
Note: This post uses affiliate links, which means that I'll receive a commission if you make a purchase after clicking a link (at no extra cost to you). See our
disclosure policy
.