This basic bar soap is designed to gently cleanse your face without drying it out.
About a year into this pandemic, I appreciate the beauty and simplicity of a no-frills bar soap more than ever. Soap is an amazing thing, if you think about it. It can help save lives! Though I tend to remain loyal to my favorite moisturizers and hand lotions, I'm more likely to experiment with face washes. Bar soaps have always intrigued me because of how beautiful they look. Whether it takes the form of a nicely shaped cube or elegant curve, I love it all the same. My favorite kind is translucent, though, which is why I was so attracted to the product I'm reviewing today: Neutrogena Fragrance-Free Facial Cleansing Bar.
Neutrogena's "Original Formula" Facial Cleansing Bar is pale orange and translucent, and takes the form of a rectangular block. It comes in regular and fragrance-free versions, so of course I got the fragrance-free one.
If you read on, you'll learn what ingredients cause this soap to boast its distinctive orange color (without any added dyes), what makes it translucent, and why it seems to get used up faster than any other bar soap I've tried in the past.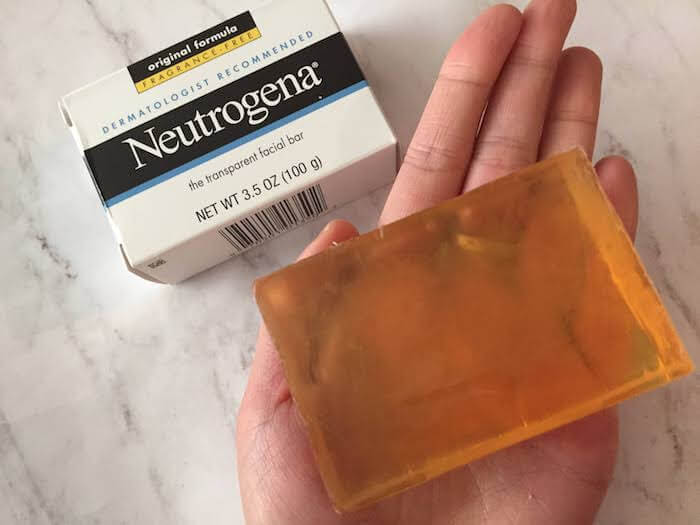 Before I proceed with the rest of the review, let's read a bit of literature about soap.
"Mister, you come in here singing riddles. You say this junk—whatever it is—needs a truck ride to the airport even though it's the size of a bar of soap. That it's got to be clean *like* soap, that it might even *be* soap. Do I look stupid enough to run around for a bar of soap?" "You could buy three million dollars' worth of suds with it. Give or take a few dollars. If it's in good shape," the Irishman said. —Deacon King Kong, James McBride
Neutrogena Fragrance-Free Facial Cleansing Bar ingredients
triethanolamine, tea-stearate, sodium tallowate, glycerin, sodium cocoate, water, sodium ricinoleate, sodium oleate, cocamide mea, disodium cocoamphodiacetate, sodium stearate, bht, tocopheryl acetate, tetrasodium etidronate, trisodium hedta, sodium metabisulfite
My Dad the Chemist's review of Neutrogena Fragrance-Free Facial Cleansing Bar
When I saw the beautiful orange color of this bar soap, I was intrigued and wanted to see if my dad could validate Neutrogena's claim that this soap does not contain any dyes. Here's what he said:
Dear Emily,

If this soap is translucent, then it's true that they didn't add any dye, while making translucent bar soap (instead of regular opaque white soap), the difference in process is excessive amount of triethanolamine Is added to overneutralize the fatty acids, and as a result, the soap becomes translucent, therefore the other two ingredients containing slight colors , tocopheryl acetate and Disodium Cocoamphodiacetate May show slight orange color in this translucent bar soap.

I think it should be very mild for all skin types.

All ingredients are mild and very commonly used for making bar soap, should not be harsh for washing face. tocopheryl acetate May be slightly yellow @100% ( never saw orange) but when added to a bar soap or other personal care formulas (without added dye, usually are white base or translucent)will not impact the final color unless is added at a large portion into a translucent base.

Love,
Dad
According to my dad, a large amount of triethanolamine (listed as the first ingredient!) is added to overneutralize the fatty acids, resulting in a translucent soap. The orange color is due to the mildly yellow/orange ingredients, tocopheryl acetate and disodium cocoamphodiacetate, which normally would not show any color in an opaque bar soap.
My Dad the Chemist on why this bar seems to get used up quickly
Dear Emily, good thinking!

I think the primary reason is this soap is produced by using triethanolamine to neutralize the fatty acids ( such as TEA Stearate, sodium Tallowate, Sodium Oleate), therefore it's softer (hardness)and gentler for the skin. Adding more glycerin will provide more moisturization while using up more quickly.

I don't like too much that Triethanolamine (TEA) is listed as #1 ingredient, and because Diethanolamine (DEA) is a byproduct from the manufacture, therefore there is always residual amount of DEA in TEA, CA is trying to regulate the threshold value of DEA in TEA to decide whether TEA requires to be listed on Proposition 65.

It's an important ingredient for the personal care industry, so the TEA suppliers may develop a process to reduce the amount of DEA to avoid being put on the Proposition 65 list.

Love,
Dad
My dad makes an interesting point here. Triethanolamine (the first ingredient on this bar soap ingredient list) is being used to create soap by neutralizing fatty acids (namely TEA-stearate, sodium tallowate, and sodium oleate). This creates a softer bar soap that is likely to get used up quickly. It also results in a formula that is gentler on skin. Though glycerin also helps moisturize your skin, it also causes bar soap to get used up more quickly.
My dad suggests avoiding personal care products that list triethanolamine as the first or second ingredient because diethanolamine (DEA) is a byproduct of manufacturing that ingredient, so there may be some DEA in there even if it's not listed in the ingredients.
Triethanolamine also appears in these other products I've reviewed:
Banana Boat Sport Cool Zone Sunscreen SPF 50

Dove DermaSeries Eczema Relief Body Lotion

My Beauty Diary Aloe Vera Face Mask

NO-AD Sport Sunscreen SPF 50

Peter Thomas Roth Max Sheer All Day Moisture Sunscreen

Vaseline Intensive Care Advanced Repair Lotion (2018)

Imperial Barber Grade Fiber Pomade

The Ordinary Azelaic Acid Suspension 10%

HADA LABO Goku-Jyun Milk

Harry's Shave Gel

CeraVe SA Cream for Rough & Bumpy Skin

Palmer's Coconut Oil Body Lotion

Clinique Dramatically Different Moisturizing Lotion

Skinceuticals Vitamin C serum

Dr. Brenner Vitamin C serum

Suave Silkening Lotion with Baby Oil

Coppertone Water Babies Sunscreen SPF 50

Gloves in a Bottle Lotion

Vaseline Intensive Care Advanced Repair Lotion (2020)

What is diethanolamine?
I searched and it seems that this isn't the first time we've covered the topic of diethanolamine. It also appeared in the ingredient list for Harry's Shave Gel, where my dad said that he didn't like the addition of that ingredient and didn't think it was necessary. Diethanolamine is one of the 400 ingredients that Brandless bans from its personal care products. This ingredient has been shown to be harmful when inhaled, and irritating when applied to the skin, according to the Environmental Protection Agency. In animal studies, it was shown to burn/irritate skin, and negatively affect vision when exposed to the eye area. It's strange that it's included in this shave gel, especially when it's going to be applied to sensitive areas of the body (your face, next to your eyes and nose).
Neutrogena Fragrance-Free Facial Cleansing Bar review
I enjoyed using Neutrogena Fragrance-Free Facial Cleansing Bar, but I did notice that it got used up super quickly. A lot more quickly than my regular bar soap, Dove Sensitive Skin Beauty Bar. If you look on the product page, you'll see that it claims it was formulated without any "hardeners," which may help explain why it gets used up so quickly. So the combination of not including any hardeners, including a large amount of moisturizing (but easily soluble) glycerin, and the process by which this soap was produced (using triethanolamine to neutralize the fatty acids) help explain why this soap is not as hard as normal bar soap and therefore will "melt" away more quickly.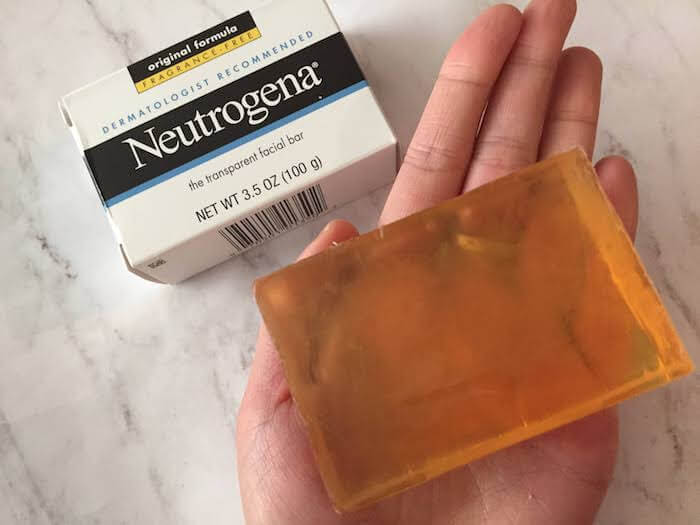 This soap does not foam up as aggressively as Dove Sensitive Skin Bar Soap. Instead, if you apply it to your hands, you'll feel more of a slick surface, with almost a sap-like feel to it. It actually reminded me a lot of another fragrance-free, glycerin-based soap I tried in the past: Whole Foods 365 Glycerin Soap.
Pros:
gentle and does not dry out skin, as promised. However, it's important to note that I don't have very dry skin, so I tend to tolerate facial bar soaps better than people who might generally find them to be too drying or harsh.

fragrance-free and truly doesn't smell like anything

easy to pack for travel (doesn't need to go in your TSA-approved bag of liquids)

includes glycerin for moisturizing skin

Although I bought a three-pack of Neutrogena Fragrance-Free Facial Cleansing Bar, I don't think I will repurchase it once I use up the other two bars, because each bar gets used up so quickly. It's also interesting that each bar is not just packaged in a paper box, but also wrapped in another layer of plastic.I also am not sure if I want to buy products that contain a large amount of triethanolamine for the reason my dad stated (the possibility of diethanolamine (DEA) being present as a byproduct). My dad has suggested that I avoid products that list triethanolamine as the first or second ingredient, though he thinks it's fine to use products that list this ingredient further down.
Related reading
Note: This post uses affiliate links, which means that I'll receive a commission if you make a purchase after clicking a link (at no extra cost to you). See our
disclosure policy
.