This moisturizer hydrates skin without weighing it down—but it may not be rich enough for very dry skin.
If you're using Differin or some other treatment that leaves you skin dry, flaky, and irritated, moisturizer becomes more important than ever. So it makes sense that Differin expanded beyond its anti-acne adapalene treatment gel to also offer complementary products like the Differin Restorative Night Moisturizer I'm reviewing today. Oftentimes, fragrance-free or basic moisturizers don't include many premium ingredients like caffeine, niacinamide, or sodium hyaluronate, but I was excited to see that it seems to deliver on all fronts without the price tag of a premium product.
Differin Restorative Night Moisturizer ingredients
water, caprylic/capric triglyceride, glycerin, propanediol, pentylene glycol, helianthus annuus (sunflower) seed oil, sorbitol, dimethicone, butyrospermum parkii (shea) butter, cetearyl alcohol, behenyl alcohol, glyceryl stearate, sodium hydroxide, tocopheryl acetate, cetyl alcohol, ceteareth-20, glyceryl stearate citrate, disodium ethylene dicocamide peg-15 disulfate, niacinamide, caprylyl glycol, caffeine, allantoin, dipotassium glycyrrhizate, panthenol, acrylates/c10-30 alkyl acrylate crosspolymer, disodium edta, xanthan gum, bht, sodium hyaluronate, ceramide np, citric acid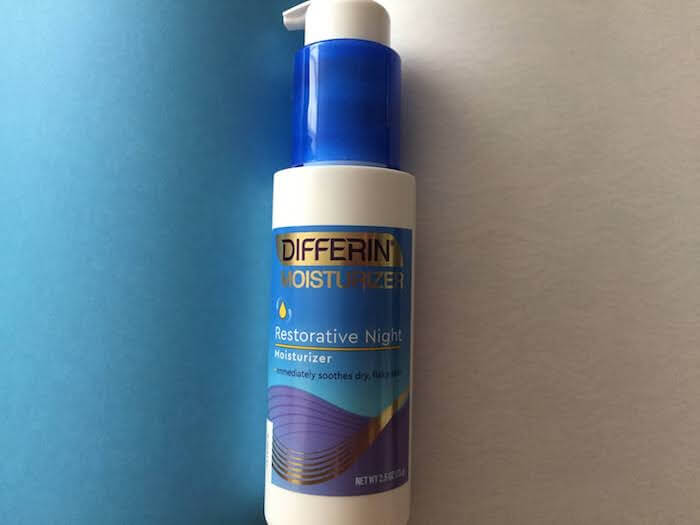 My Dad the Chemist's review of Differin Restorative Night Moisturizer
I like all the ingredients in this formula, it contains lots of moisturizers and humectants, I particularly like the following functional ingredients: -Niacinamide -Ceramides NP -Butyrospermum Parkii (Shea) Butter - Sodium Hyaluronate (Hyaluronic Acid) There are other necessary ingredients that are necessary to construct the formula, I don't see any ingredient that I dislike.
My dad's a fan of this moisturizer and doesn't see any unnecessary ingredients in there. The note about unnecessary ingredients is key—I can't stand it when brands include unnecessary, potentially irritating ingredients that aren't necessary for the functional purposes of the product (e.g., fragrance compounds or dyes). My dad confirmed that, aside from the star ingredients mentioned, the other ingredients were all necessary to help construct the formula. For example, acrylates/c10-30 alkyl acrylate crosspolymer—an ingredient that is often used in hair products but also appears in other moisturizers like Cetaphil Moisturizing Lotion—is added to help thicken the formula. I'm a fan of the texture (not too watery, not too thick or pasty), so I think they added just enough of this thickener.
Differin Restorative Night Moisturizer review
Differin Restorative Night Moisturizer really lives up to its name: It's truly restorative, with ingredients like shea butter, ceramide NP, sodium hyaluronate, dimethicone, and glycerin. But I don't think it's only suitable for nighttime use—you should also feel free to use it in the daytime, along with sunscreen. Differin also makes a daytime moisturizer with SPF, but that one doesn't include any ceramides or niacinamide, so I prefer this one.
In addition to the heavy-hitting moisturizing ingredients, this moisturizer also includes other goodies that are normally found in more expensive/premium products, like caffeine (commonly found in eye creams because it is an antioxidant that helps liven up your skin by stimulating blood circulation), allantoin (a soothing ingredient), and niacinamide (which helps improve skin texture and appearance).
Differin Restorative Night Moisturizer is packaged in a travel-friendly bottle—the kind where you turn the nozzle to lock and unlock it. This bottle style reminds me of CeraVe PM, but the shape of this one is much easier to fit in a TSA-approved bag because it's not so tall. It's also slightly smaller, at 2.5 oz. instead of 3 oz. for CeraVe PM. At the same time, it's I usually need about three pumps to moisturize my face and neck. The texture is pretty lightweight, and not too oily at all. I think it's a great option for oily skin. If you have extremely dry skin, you might need to use more pumps of it or layer on another thicker, cream-based moisturizer on top of this one. Though the label claims that it "immediately soothes dry, flaky skin," I don't think it's contains enough dimethicone to quench the thirst of very dry skin. It is, however, a great option for those of us with oily or combination skin. It hydrates skin without feeling oily at all. At the same time, it's not watery or thin—more like a light creamy consistency. If I had to compare it to another drugstore brand option, I'd say that it feels pretty similar to Cetaphil Moisturizing Lotion.
I suspect that Differin recently changed its formula, because the product page now says it includes licorice extract, which wasn't in the ingredient list that appeared on my bottle. Licorice extract is great, but I hope they didn't remove any of the other good ingredients in the new version of the formula. I'll keep an eye out and update this post if I try a newer version of the product.
Related reading
Note: This post uses affiliate links, which means that I'll receive a commission if you make a purchase after clicking a link (at no extra cost to you). See our
disclosure policy
.