This menstrual cup wash is a gentle cleanser that can double as a hand wash or body wash. And the bottle has lasted me for just about a year, so it's a great deal.
Working from home is great for many reasons, but here's one that might not have crossed your mind, particularly if you're not in possession of a uterus: now is the time to finally try a menstrual cup, in the safety of your own home. One thing that always held me back from taking the plunge was the (perhaps irrational) fear of dropping it on the ground in the restroom at work. There's no need to fear such a thing when you're working from home. Hallelujah.
Unlike single-use tampons and pads, one small inconvenience introduced by a menstrual cup is that it requires you to rinse and clean it out during and between cycles. The Saalt Cup Wash is designed to help prolong the life of the Saalt Cup and clean it without disrupting your body's natural pH.
So what's in the Saalt Cup Wash, and do you have to buy it if you're using the Saalt Cup, or can you use a different cleaner? Let's take a closer look at the ingredients.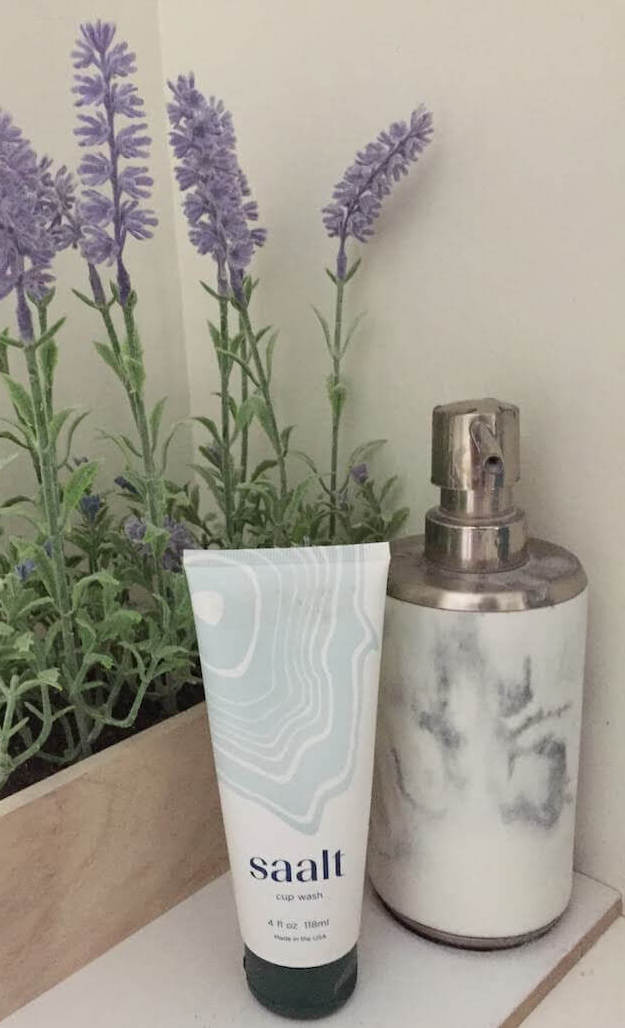 Saalt Cup Wash ingredients
water, sodium methyl cocoyl taurate, glycerin, cocamidopropyl betaine, acrylates/c10-30 alkyl acrylate crosspolymer, polysorbate 20, benzyl alcohol, citrus aurantiumdulcis (orange) oil, phenoxyethanol, sodium hydroxide, panthenol, xanthan gum, phytic acid, tocopheryl acetate, dehydroacetic acid
One ingredient that stuck out to me as potentially irritating was the citrus oil. Some people are also irritated by tocopheryl acetate (vitamin E). It says it "contains 1% or less" of each ingredient that appears after cocamidopropyl betaine, but it's still a potential concern for anyone who may be sensitive to those ingredients.
I asked my dad to weigh in and also wanted to get his thoughts as to whether it would also perform double duty as a hand soap or body wash, since it occurred to me that I should also be using a gentle hand soap when dealing with the Saalt Cup.
My Dad the Chemist's review of Saalt Cup Wash
Dear Emily, it's a good and mild soap formula, and yes I think you may also use as a hand soap or a body wash.

Love,
Dad
So it seems like you can use the Saalt Cup Wash to wash your cup and your hands. Great! What about other options—are there other cleansers you can use if you're not interested in buying the Saalt Cup Wash?
Is there a good alternative to Saalt Cup Wash?
Saalt's FAQs page advises that you should clean your Saalt cup with the Saalt Cup Wash or a gentle cleanser that does not irritate skin. It recommends avoiding vinegar, tea tree oil, peppermint oil, dishwashing soap, oil-based soap, castile soap, Dr. Bronners, coconut oil, and baking soda.
I searched high and low for a cleanser that could meet these requirements, and I thought I found a good option in Vanicream Free and Clear Liquid Cleanser, which contains the following ingredients:
purified water, glycerin, sodium lauroamphoacetate, sodium lauroyl sarcosinate, PEG-120 methyl glucose dioleate, sodium chloride, citric acid, sodium laurate, bis-PEG-18 methyl ether dimethyl silane, potassium sorbate, tetrasodium EDTA
I sent this list of ingredients along with my question to Saalt, and here was their response:
Thank you for reaching out to us. The only soap that we have tested and can say with confidence is both safe for the cup and compatible with your vaginal microbiome and pH is our Saalt Wash. Sorry we can't be of more help!
And then they offered me a coupon code. I understand. I really do. They want to sell more of their cup wash. But I was really hoping that they would help me determine if this was a suitable option for anyone looking for an alternative that didn't contain citrus oil as an ingredient.
I have a hunch that this cleanser would probably be fine to use instead of the Saalt Cup Wash, but I've just decided to keep using the official wash because I'm a sheep and it requires less thought. Plus, it hasn't really irritated me, and the citrus smells kind of nice—it's not overpowering.
What is the pH of the Saalt Cup Wash?
I asked Saalt about the pH of the Saalt Cup Wash, and they told me it was around 4.9 on average:
Each batch of Saalt Wash must test within the range of 4.96-5.64 to meet quality standards and the average batch is around 4.9. Let us know if you have any more questions!
Saalt Cup Wash review
Saalt's customer service reps (or customer "gurus" as they like to call them) responded very quickly to all of my questions. I wasn't thrilled that they couldn't confirm whether the Vanicream wash would serve as a suitable alternative to Saalt Cup Wash, but I do appreciate the fact that they responded to my question.
Overall I'm quite pleased with the Saalt Cup and the Saalt Cup Wash. The wash is packaged in a flip-top plastic container, and it takes the form of a clear, slightly thick gel that foams up slightly, but not too much. I find that I only need to use a small amount of it to wash my cup each time. I wash the cup 3-5 times a day during my cycle, which typically lasts up to a week.
I'm only now reaching the end of my first bottle of Saalt Cup Wash, so it has lasted me about a year. I also sometimes use it as a hand wash, but not very often—I started using my fragrance-free Dove soap as a hand soap instead, to help stretch the life of this Saalt Cup Wash. All in all, it's a pretty good deal.
I've looked at a bunch of other menstrual cup washes, and they either contain some sort of citrus oil as well, or they contain ingredients like oils, which goes against Saalt's cup washing recommendations. Keep in mind that it's a 4-oz. bottle, so it won't pass TSA guidelines for liquids in carry-on baggage. However, I have taken it on the train before (packed in a ziploc bag just in case) and it didn't leak at all.
Related reading
Note: This post uses affiliate links, which means that I'll receive a commission if you make a purchase after clicking a link (at no extra cost to you). See our
disclosure policy
.