This serum contains two forms of vitamin C to help brighten skin, but I'm not sure if it lives up to its claims and it's very expensive.
If you've been reading for a while now, you may have noticed that premium skin care products are not really my thing. Actually, premium anything is not really my thing. Kiehl's is one of those high-endish brands that does a great job of marketing itself, but doesn't really impress me much. If you actually take a close look at the ingredients, everything seems pretty similar to whatever you'd find on a regular drugstore shelf. Of course, it's definitely possible that Kiehl's uses better suppliers for the same ingredients, but we have no way of knowing for sure. As such, I typically would never splurge on a Kiehl's product like the one I'm going to be reviewing today, but the skin care gods granted me this and a whole bag of other samples at a Nordstrom launch party a while ago. It initially stuck out to me because of its name: Kiehl's Powerful-Strength Line-Reducing Concentrate 12.5% Vitamin C Serum. I couldn't believe how many adjectives they packed onto the label.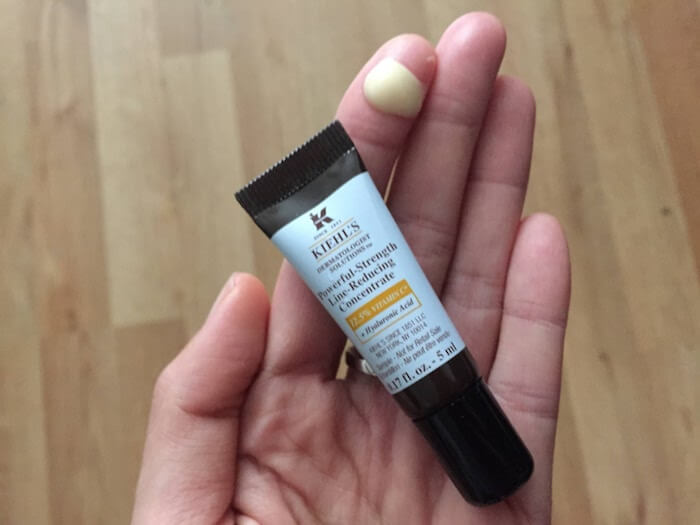 In this review, I'll share my thoughts on this sample, and why I don't love Vitamin C products in general, including this one.
Kiehl's Powerful-Strength Line-Reducing Concentrate 12.5% Vitamin C Serum ingredients
propylene glycol, dimethicone, glycerin, ascorbic acid, ethylhexyl palmitate, cetyl peg/ppg-10⁄1 dimethicone, dimethicone crosspolymer, ascorbyl glucoside, cyclohexasiloxane, hydroxyethylpiperazine ethane sulfonic acid, lauroyl lysine, acrylonitrile/methyl methacrylate/vinylidene chloride copolymer, polysilicone-11, adenosine, hydrolyzed hyaluronic acid, limonene, isobutane, citrus aurantium dulcis (orange) peel oil, citrus limon peel oil/lemon peel oil, citral, pentaerythrityl tetra-di-t-butyl hydroxyhydrocinnamate
It says it contains 10.5% L-Ascorbic Acid and 2% Ascorbyl Glucoside, for a total of 12.5% Vitamin C.
My Dad the Chemist's review of Kiehl's Powerful-Strength Line-Reducing Concentrate 12.5% Vitamin C Serum
Yes, looks like a good formula that may lighten the skin and reduce the appearance of fine line and wrinkles, but may need to test on a small area first to find out if it causes any irritation issues. Ascorbyl Glucoside will convert into L-Ascorbic acid to help fade dark spots and furthermore, is used to help prevent those spots.

Love,
Dad
Kiehl's Powerful-Strength Line-Reducing Concentrate 12.5% Vitamin C Serum review
My dad is a proponent of the formula and thinks that it may live up to its claims, at least based on its list. If you read Vitamin C guide, you know that a good Vitamin C serum should:
not mix ascorbic acid with water (ascorbic acid is not stable in water-based formulas, so it won't be as effective and do what it claims to do if it's mixed with water)

be packaged in a dark/opaque container to reduce potential light exposure
not contain colors or dyes that help mask potential oxidation

Kiehl's Powerful-Strength Line-Reducing Concentrate 12.5% Vitamin C Serum performs well against these three criteria, and it's very lightweight and doesn't feel oily when applied to your skin. It also didn't irritate my skin very much, although it did cause slight redness on those winter days when my face felt particularly dry, which is to be expected. I think it also helped make my skin feel smoother temporarily because of the silicones in the formula. The bottle was small, but it lasted me about a month and a half of nightly usage. I only applied a small amount to my face each time. If you take that into consideration, maybe it isn't quite as expensive as it seems at first glance.
Now onto the things I didn't like so much about this serum. I can't say that I've ever been impressed with the "brightening" qualities of any Vitamin C serum I've tried, but I've also never tried the really expensive one that everyone recommends (Skinceuticals). I don't think it made my skin any worse, but I didn't really notice it brightening my skin or reducing my hyperpigmentation. It did, however, deliver some psychological benefits—I felt like I was pampering my skin every night as I patted it in. It was nice, but I wouldn't say that it's enough of a reason to go out and buy it at full price.
This formula contains a few ingredients that don't strike me as necessary, including several types of citrus oils that are probably in there to help lend a nice fragrance to the product. It's like skin care manufacturers think that—since consumers automatically associate Vitamin C with oranges—it has to smell like oranges or people won't believe that it actually contains Vitamin C. Unfortunately, these types of citrusy oils can often be irritating for those with sensitivities. It also contains limonene and citral, two fragrance ingredients that may contribute to irritation as well. Last but not least, it contains propylene glycol as the first ingredient, which probably helps lend a silky texture, but is also known to be irritating for sensitive skin (it was even named the American Contact Dermatitis Society's Allergen of the Year in 2018). This product is actually pretty similar to Kiehl's Midnight Recovery Concentrate in that both contain essential oils and fragrance components, though this serum contains fewer culprits than that one.
This formula reminds me of L'Oreal Paris Skincare Revitalift Derm Intensives 10% Pure Vitamin C Serum, which has a slightly lower concentration of active ingredients (10% vs. the 12.5% in this Kiehl's product), but doesn't contain any unnecessary fragrances or fragrance components. Give that one a try if you're looking for a less expensive, water-free Vitamin C serum.
All in all, I think if you're truly looking for a powerful, line-reducing product, you should just use sunscreen. If you're looking for a lightweight, water-free Vitamin C formula that combines two forms of Vitamin C and you're not sensitive to citrus oils or fragrances, this may be the right choice for you—but for the majority of people, I don't think I'd recommend buying it, though I wouldn't dissuade you from trying it if you obtained a free sample.
Related reading
Note: This post uses affiliate links, which means that I'll receive a commission if you make a purchase after clicking a link (at no extra cost to you). See our
disclosure policy
.