Don't expect this product to condition your hair, but it's a great option if you're searching for an affordable, fragrance-free shampoo. Plus, my dad shares the ingredients you should look for in a good 2-in-1 conditioning shampoo.
Sorry for the long hiatus, folks. This blog is not dead. The past few months have been a bit unusual—not just because I have never gone this long without seeing my immediate family in person, but also because of the undeniable, all-encompassing cause behind it: all the craziness going on in the world. Despite the part of me that longs to descend into the dark spiral of wondering how much longer the world can keep going like this, I must admit that there are still sources of joy in the world, still things to be grateful for. One of those things is books. The New York Public Library's Overdrive app deserves an award. It's thanks to this app that I was able to read—and thoroughly enjoy—Mindy Kaling's Why Not Me? a few weeks ago. It was just the lighthearted-yet-heartfelt read I needed to get through a couple of particularly dreary winter days. She makes a really great point about shampoo in the book, which I'll share here (and then after that, I'll explain how this is related to today's review, I promise!).
On top of which, have you tried buying shampoo lately? I mean, good luck to you. Good luck finding anything that says on the label, simply, shampoo. There are shampoos for dry but oily hair and shampoos for coarse but fine hair, and then there are the conditioners and the straighteners and the volumizers. How damaged does your hair have to be to qualify as "damaged"? Why are some shampoos for blondes? Do the blondes get better shampoos than the rest of us? It's totally dizzying, shelf after shelf of products, not one of them capable of doing the job alone.
—Why Not Me?, Mindy Kaling
It's true…there are shampoos for every hair personality out there. In addition to shampoo for blondes, I have also seen shampoo for brunettes, but so far, haven't had any luck finding shampoo for faded-black-haired Asian ladies like myself. Yes, you read that right. My hair is faded black (not exactly gray but definitely not jet black). It's more of a dark charcoal color, if I had to describe it. I have accepted my fate and understand why shampoo companies don't make products catered to my less-than-inspiring hair color. But I digress. Despite the plethora of options available for every hair type, I usually find that there are incredibly few fragrance-free options.
So I was delighted to discover a fragrance-free shampoo at Target—and it's actually a 3-in-1 product: Suave Kids 3-in-1 Shampoo, Body Wash, and Conditioner.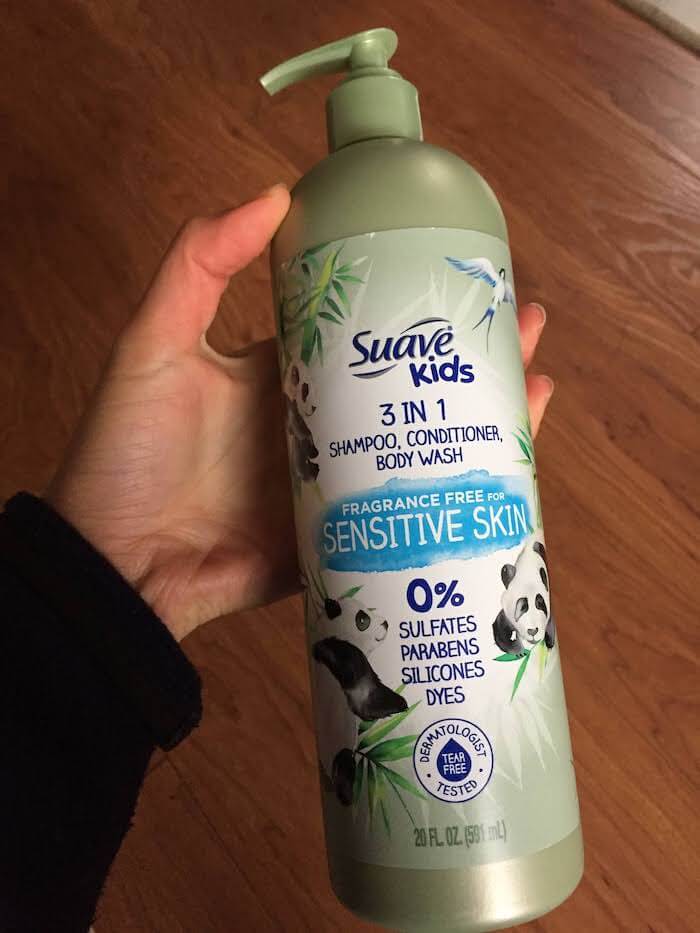 Suave Fragrance-Free 3-in-1 Shampoo, Body Wash, and Conditioner ingredients
water, cocamidopropyl betaine, sodium chloride, sodium methyl cocoyl taurate, sodium benzoate, citric acid, coconut acid, stearamidopropyl dimethylamine, polyquaternium-10, disodium edta
My Dad the Chemist's review of Suave Kids Fragrance-Free 3-in-1 Shampoo, Body Wash, and Conditioner
Dear Emily,

it's a cheap shampoo thicken with good amount of sodium chloride (salt), therefore, it would irritate eyes if got into and may irritate people have sensitive skin Or already have issues. Even though It contains small amount of Polyquaternium 10 that may not leave sufficient conditioning effect on hair/skin after rinse-off.

if it claims tear free and not too viscous may be it doesn't have too much sodium chloride. For the conditioning part, try just use it alone first and if you're happy with it, that means they have sufficient Polyquaternium -10 left on hair after rinsing. polyquaterium 10 will have some residue left on hair after rinsing, because it's water soluble, therefore mostly would be flushed away, it works better in leave in conditioner.

For conditioning shampoo, it works better with the one of combination of following ingredients: Dimethicone, Argania Spinoza Kernel Oil (Argan Oil),, jojoba oil, coconut oil, some other esters. In order to condition perfectly without weighing down the hair will be the appropriate amount(s) of this Ingredient(s) in the formula.

Love,
Dad
Suave Fragrance-Free 3-in-1 Shampoo, Body Wash, and Conditioner review
As much as I applaud Suave's efforts to create a fragrance-free product for kids (and adults) with sensitive skin and scalps, I think this product went just a tad too far in claiming to be a conditioner. It does function as an acceptable shampoo and body wash, though I still prefer to use bar soap instead of body wash. It doesn't foam up as much as conventional shampoos, probably because it's sulfate-free, but we've already established in the past that foaming ability is not equal to cleansing ability, so this shouldn't be construed as a knock against this product's cleansing capabilities. I think it does make me use more of the product, though, just to make sure I've distributed it across my entire scalp. I use about 8 pumps at a time just as a shampoo.
My dad and I are in agreement about the fact that this is a cheap shampoo, and cannot be considered a conditioner unless you have very nice, healthy hair already (hair that doesn't need to be smoothed, strengthened, or detangled). If so, lucky you! This is truly a good 3-in-1 product for you if you're looking for something fragrance free.
My dad noted that it was thickened with sodium chloride, indicating that it could be irritating to anyone with sensitive skin. He notes that they use Polyquaternium 10 as the conditioning ingredient, which allows them to slap the third use on the label (conditioner), but it doesn't leave much residue on hair after rinsing, meaning that its conditioning capabilities are limited. Most of its properties are rinsed away, so he thinks this ingredient is more suitable for use in leave-in conditioners.
Since this product doesn't contain any other conditioning ingredients, you should probably use a dedicated hair conditioner in addition to this shampoo. I used The Seaweed Bath Co. Moisturizing Unscented Argan Conditioner in combination with this shampoo and it worked great like that.
I think this product is actually a pretty affordable fragrance-free shampoo, but it's a bit thick (or "viscous," in my dad's chemist jargon) for my liking, which makes me suspicious that Suave used a lot of sodium chloride to thicken up the formula. Still, I can't complain about the price, and I appreciate that it's free of sulfates and fragrances. I wasn't able to find a link to this fragrance-free 3-in-1- product on Amazon, but you can probably find it at your local Target like I did.
I didn't dislike or love this shampoo, butI think I still prefer other fragrance-free shampoos from Cloud Island and Whole Foods 365 Everyday Value.
What should you look for in a 2-in-1 conditioning shampoo?
So we know that polyquarternium-10 is a conditioning ingredient, but it leaves behind minimal conditioning benefits when it is rinsed off, so it's more suitable for use in a leave-in conditioner. So what should go in a good 2-in-1 conditioning shampoo? According to my dad, you should look for a "combination of [the] following ingredients: Dimethicone, Argania Spinoza Kernel Oil (Argan Oil),, jojoba oil, coconut oil, some other esters. In order to condition perfectly without weighing down the hair will be the appropriate amount(s) of this Ingredient(s) in the formula." So in addition to looking for certain conditioning ingredients like oils and silicones that are likely to remain even after rinsing off, it's important for the formula to have the right amounts of those ingredients so that the product won't weigh down your hair too much.
Next time you're in the market for a 2-in-1 conditioning shampoo product, make sure to look for a combination of the ingredients stated above. Polyquarternium-10 alone will probably not do the trick unless you already have perfect hair. Suave also makes another 3-in-1 product that contains coconut oil and shea butter—but unfortunately that one contains fragrance, so I probably won't be trying it.
Related reading
Note: This post uses affiliate links, which means that I'll receive a commission if you make a purchase after clicking a link (at no extra cost to you). See our
disclosure policy
.