This is my favorite fragrance-free conditioner to date. It contains argan oil, coconut oil, and other great extracts and silicones to help heal damaged hair.
I was a picky eater as a kid, but these days I like most kinds of food—except coconut. I hate coconut, and I probably always will. I hate how it tastes, I hate how it gets stuck in your teeth, and I hate the distinctive "coconut" fragrance that is used in so many personal care products. I have heard about the many benefits of coconut oil for hair, so I've been meaning to try more hair products that contain coconut. The problem is, most coconut-based hair products also feel the need to add a ton of fragrance to communicate their "tropical"-ness. A long time ago, I mistakenly bought a hair conditioner that left me smelling like coconut all day, to my chagrin. I never bought another product without smelling it or confirming that it was fragrance-free first.
I finally found a fragrance-free conditioner that includes coconut oil, but doesn't smell like coconut: The Seaweed Bath Co. Moisturizing Unscented Argan Conditioner. It also contains one of my personal favorite ingredients for hair: argan oil.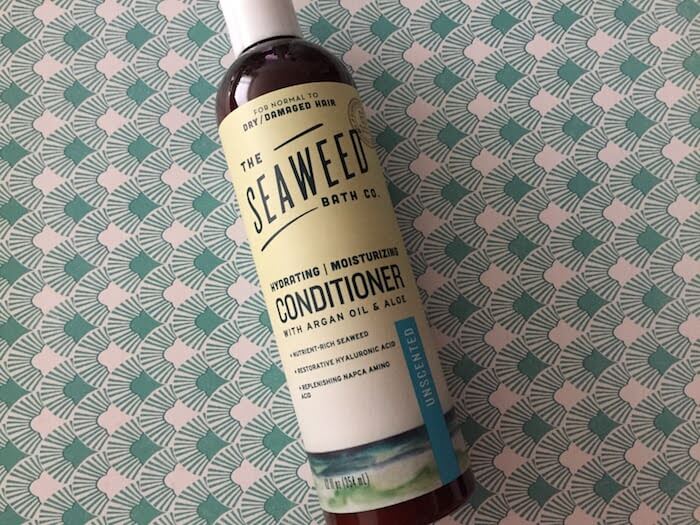 The Seaweed Bath Co. Moisturizing Unscented Argan Conditioner ingredients
water, fucus vesiculosus (bladderwrack seaweed) extract, chlorella vulgaris extract, cetearyl alcohol, aloe barbadensis (aloe vera) leaf juice, glycerin, stearalkonium chloride, argania spinosa kernel (argan) oil, glyceryl stearate, persea gratissima (avocado) oil, caprylic/capric triglyceride, simmondsia chinensis (jojoba) seed oil, sodium dehydroacetate, citric acid, potassium sorbate, panthenol, sodium hyaluronate, sodium pca, hydrolyzed barley protein, cocos nucifera (coconut) oil, caesalpinia spinosa gum, amodimethicone, sodium benzoate, olea europaea (olive) fruit oil, tocopherol
My Dad the Chemist's review of The Seaweed Bath Co. Moisturizing Unscented Argan Conditioner
Dear Emily, Yes, based on most of the ingredients in the formula, they are safe and botanical conditioning extracts, should work well.

Love,
Dad
The ingredient list has a lot to like in it, including argan oil, seaweed extract, jojoba oil, panthenol (the vitamin that gives Pantene Pro-V its name), and coconut oil. It even contains sodium hyaluronate in it, which is more commonly used as a moisturizer for skin. Out of all these ingredients, coconut oil probably has the most data to back its benefits for hair. See this study and this study for details on how coconut oil has been shown to help damaged hair.
The Seaweed Bath Co. Moisturizing Unscented Argan Conditioner review
I typically enjoy using argan oil hair products, so I had high expectations for The Seaweed Bath Co. Moisturizing Unscented Argan Conditioner. So far, it's living up to those expectations. It does a great job of conditioning my hair and making it feel somewhat silky without weighing it down (no small feat). I have dry, slightly frizzy hair, and an oily scalp, so it can be hard to find products that address my hair woes. This conditioner really does a nice job of moisturizing my hair without making it feel excessively oily.
The texture is creamy, almost like a body lotion. I find most hair conditioners to be overly perfumed, so I was relieved to find that this one was not only "unscented" but fragrance-free. (They're not always the same thing.) I do have to admit that it has an unappealing "chemical" smell to it, but that smell fades away after it's rinsed out, so it's not really a concern for me. If you're sensitive to unappealing smells, you might not want to use this product.
Aside from botanical extracts, this product contains amodimethicone, which is a silicone that helps condition the hair. Other hair products that also contain amodimethicone include:
These are all great products, but they contain fragrances (except for the Whole Foods shampoo). I really loved the Suave one in particular, but that one irritated my ears so I had to stop using it.
I'm so happy to have found a fragrance-free hair conditioner that works! And it's affordable, too. I highly recommend The Seaweed Bath Co. Moisturizing Unscented Argan Conditioner if you're looking for a fragrance-free hair conditioner that contains coconut oil and other beneficial ingredients—without the coconut (or any discernible) fragrance.
Related reading
Note: This post uses affiliate links, which means that I'll receive a commission if you make a purchase after clicking a link (at no extra cost to you). See our
disclosure policy
.