This overnight mask is a great intro to the world of acids, but it contains an allergen that may be problematic for anyone with sensitive skin.
What do we do overnight, other than dream? Well, one thing you can start doing is improving your skin with an overnight mask! Pipette is a company that primarily makes products for babies, but you know how I love my baby products, because they tend to be less irritating/formulated for sensitive skin. And maybe this is just psychological, but I feel like companies put more thought into formulating baby products because they're more likely to come under such scrutiny from the public—after all, we all want the best for our babies! Luckily for the rest of us, Pipette also makes products for the rest of the family. One such product is the Overnight Brightening Mask I'll be reviewing today. Unlike other masks, you don't need to rinse this off after a specific time period—you can just deal with it in the morning. This is a big plus in my book—I always forget to rinse off a mask after the specified time period, and I feel guilty for leaving it on too long. Not a problem when it comes to this product.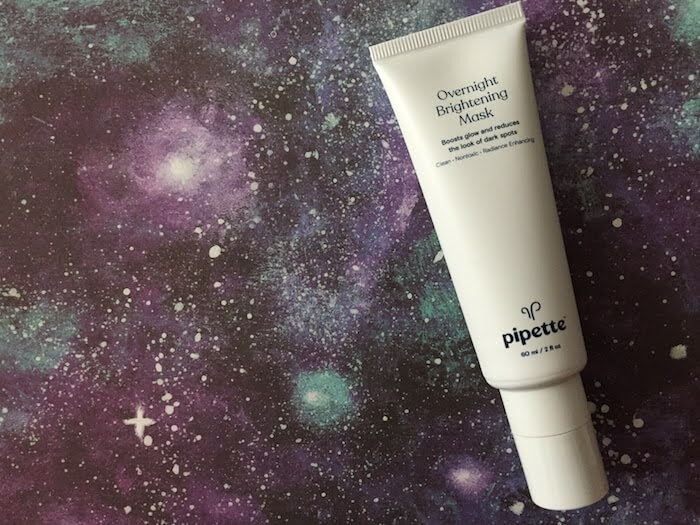 Pipette Overnight Brightening Mask ingredients
water, lactic acid, squalane, caprylic/capric triglyceride, glycerin, avena sativa (oat) bran extract, sodium hydroxide, butyrospermum parkii (shea) butter, malic acid, benzyl alcohol, citrus aurantium dulcis (orange) peel extract, xanthan gum, citrus sinensis (orange) peel extract, sodium hyaluronate, sodium phytate, dehydroacetic acid, astaxanthin, citrus nobilis (mandarin orange) peel oil, limonene
Contains 10% Lactic Acid and 2% Malic Acid.
My Dad the Chemist's review of Pipette Overnight Brightening Mask
Dear Emily, I like the actives, 10% Lactic Acid, 2% Malic Acid and Sodium Hyaluronate, squalane and all other extracts.

If no irritation occurs in the morning, then you may start to observe and evaluate the efficacy in a few days.

Love,
Dad
My dad likes the extracts included in this formula, as well as the percentage of actives used. He always warns me to patch test any sort of potentially irritating product like this before slathering it all over my face. Good advice.
Pipette Overnight Brightening Mask review
The Pipette Overnight Brightening Mask provides a beginner-friendly way to dip your toe into the world of acids. My favorite part is that you don't have to rinse it off after 10 minutes (or whatever stated time is on the label). You can just apply it after washing your face, leave it on overnight, and rinse it off in the morning. I like to apply moisturizer on top after waiting at least 10-15 minutes for the mask to soak in. This mask contains shea butter, squalane, and oat extract, which are all soothing, moisturizing ingredients that can help offset the potential irritation of the acids.
The mask is packaged in a tube but has a pump-style dispenser. I usually just use one pump's worth of product at a time. The directions state that you can use it two to three times a week.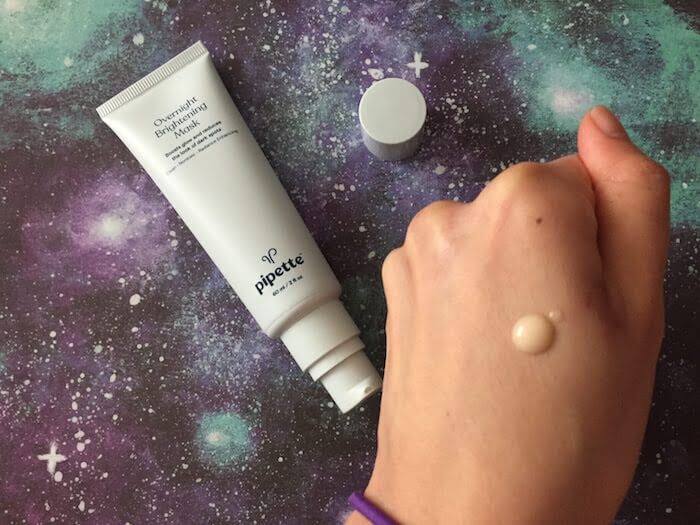 Like glycolic acid, lactic acid is an alpha hydroxy acid that helps exfoliate the skin and has been shown to help treat hyperpigmentation. Since alpha-hydroxy acids have been proven to increase your skin's sensitivity to UV radiation, remember to be extra careful about staying out of the sun and/or using plenty of sunscreen after using this mask.
If you are new to acids, I would definitely recommend patch testing this first on a small area of your skin and waiting to see if any irritation occurs. Even if you have used acids before, you should probably still patch test it because it contains a few potentially irritating ingredients. Orange peel oil tends to be irritating to sensitive skin, while limonene is a "famous allergen," according to my dad. If you typically tend to be sensitive to fragrances, this product may not be suitable for you, even though it doesn't list "fragrance" as an ingredient.
That said, I'm happy to report that I personally didn't notice much irritation with this product. It left a slight tingling sensation that dissipated after about 30 minutes. After applying moisturizer on top, I was basically good to go. It hasn't had much of an effect on my acne scars, but it does make me feel like my skin it a little smoother and brighter the next day after using it. Not sure if that's psychological, but even if it is, it's nice to get that little boost of confidence.
I really like Pipette's products so far. I've also tried the sunscreen and baby shampoo/body wash. So far, two thumbs up from me on everything. The company has site-wide sales from time to time (up to 40 percent off everything), so I'd recommend subscribing to their newsletter so you can try out one or more of these products during their next sale.
Related reading
Note: This post uses affiliate links, which means that I'll receive a commission if you make a purchase after clicking a link (at no extra cost to you). See our
disclosure policy
.