This body lotion contains lots of different types of oil, shea butter, cocoa seed butter, and even some food-like ingredients. But it may be too oily for some people.
I must preface this review by saying that I absolutely detest coconut. I hate eating it and I also hate smelling it. One time I made the mistake of buying shampoo without smelling it first; I realized that it smelled like coconut while I was already using it, so I had to smell the coconut scent on my hair all day long. I never made that mistake again. I'll try to put aside my bias for the sake of this review, since today I'm focusing on a coconut-heavy lotion: Palmer's Coconut Oil Body Lotion.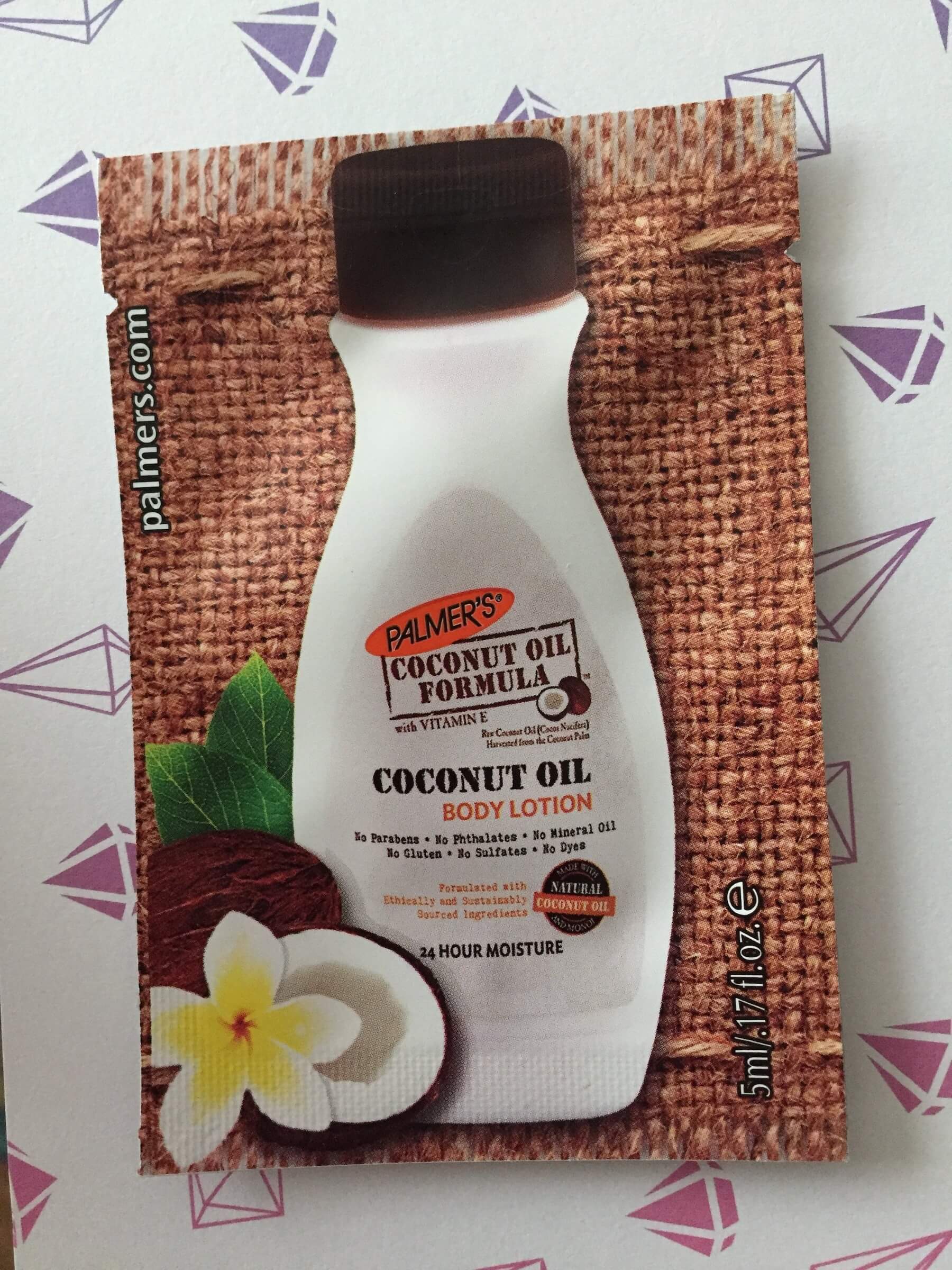 This body lotion includes coconut fruit extract and coconut oil, as well as the same signature ingredients included in other Palmer's products, like shea butter and cocoa seed butter. Let's take a closer look at all the ingredients in this lotion. Spoiler alert: Some of these ingredients are expected, while others are puzzling.
Palmer's Coconut Oil Body Lotion ingredients
water, cocos nucifera (coconut) fruit extract, glycine soja (soybean) oil, butyrospermum parkii (shea) butter, stearic acid, isopropyl myristate, propylene glycol, cetyl alcohol, cocos nucifera (coconut) oil, theobroma cacao (cocoa) seed butter, tocopherol, helianthis annuus (sunflower) seed oil, gardenia tahitensis flower extract, macadamia ternifolia seed oil, prunus amygdalus dulcis (sweet almond) oil, aloe barbadensis leaf juice, nonfat dry milk (sine adipe lac), triethanolamine, phenoxyethanol, ethylhexylglycerin, carbomer, glycerin, peg-40 stearate, pentylene glycol, tetrasodium edta, decylene glycol, 1,2-hexanediol, stearyl alcohol, fragrance, benzyl alcohol, benzyl benzoate, coumarin
My Dad the Chemist's review of Palmer's Coconut Oil Body Lotion
Dear Emily, I don't know why this formulation contains Coumarin, it's a drug for treating fluid retention , and isn't allowed to be used in food product.

Otherwise, the formula has a lot of oils it may provide longer moisturization, but depending on how the formulation put together, the feel may be ok or it may be too greasy, which I will not like it personally.

Love,
Dad
Although Palmer's Coconut Oil Body Lotion includes lots of other food-like ingredients, including cocoa seed butter, coconut oil, sweet almond oil, sunflower seed oil, nonfat dry milk, and macadamia seed oil, it contains coumarin, which is an ingredient that the FDA has banned from food products. It looks like coumarin is sometimes used in cosmetics as a fragrance. This lotion also lists "fragrance" as an ingredient, which is also included in Palmer's other more traditional cocoa butter formula lotions. Another troubling ingredient is benzyl benzoate, which is actually used as an insect repellent, and can potentially irritate skin. Benzyl alcohol is another potentially irritating ingredient, and is listed as an allergen in the Contact Dermatitis Institute Allergen Database.
My dad notes that the oils in this formula will provide nice moisturizing benefits, but they may make it feel too greasy, unless it has been formulated well.
Palmer's Coconut Oil Body Lotion review
I received a sample of Palmer's Coconut Oil Body Lotion from CVS, and I was happy to give it a try. I like the texture quite a bit. My dad is right—it's not a great feeling to use a lotion that feels overly greasy, even if it does moisturize your skin. This lotion is really creamy, but not greasy. It is actually slightly less greasy than Vaseline Intensive Care Lotion Advanced Repair lotion, my favorite hand lotion. It sinks into the skin really nicely and doesn't leave any oily residue, which makes it suitable for daytime use, not just nighttime slathering.
I personally dislike the fragrance—and not just because it smells like coconut oil. It also has a slightly artificial fragrance to it, and I can also detect a whiff of artificial sweet almond smell (similar to almond extract, but not as pleasant). It may be the fragrance, or the coumarin, or the combination of the coconut smell with other strong smells, but I don't think I would use this lotion because of its overly aggressive scent. I think many people would find this scent to be a plus, though, since it does give off a tropical vibe, as if you've been transported to the beach.
I think that Palmer's Coconut Oil Body Lotion has the potential to moisturize very dry skin, as long as you don't mind the fragrance or the idea of using something that contains an ingredient that is actually banned from food products (I imagine many preservatives in cosmetics are also banned from food products, so this is probably not such a big deal). However, I am generally less likely to buy lotions that contain fragrance (which now extends to include "coumarin"), since they may irritate my eczema-prone skin instead of soothing it. I think I'll be sticking with Vaseline Intensive Care Lotion Advanced Repair Lotion for now, or O'Keeffe's Working Hands Hand Cream. These are
Further reading
Note: This post uses affiliate links, which means that I'll receive a commission if you make a purchase after clicking a link (at no extra cost to you). See our
disclosure policy
.