This moisturizer contains 63% pomegranate fruit extract, and is packaged in a cute glass jar that's perfect for gifting.
A chill has descended upon NYC lately. ❄️ On the way back home from work today, I had to periodically jog just to keep myself warm. In the winter, I need to moisturize my skin more to help protect it from harsh wind and bitter cold. I recently picked up a jar of Frudia Pomegranate Nutri-Moisturizing Cream at my local TJ Maxx, so I decided to give it a try since I remember liking the Frudia Citrus Brightening Cream quite a bit. Fun fact: my review of Citrus Brightening Cream was the first article ever published on this blog!
Like the Citrus Brightening Cream, Frudia Pomegranate Nutri-Moisturizing Cream is follows Frudia's catchphrase ("derived from fruit")—it contains pomegranate (punica granatum fruit) extract at a very high concentration—63 percent, to be exact.
Frudia Pomegranate Nutri-Moisturizing Cream ingredients
punica granatum fruit extract (63%), glycerin, butylene glycol, caprylic/capric triglyceride, cyclopentasiloxane, diisostearyl malate, pentaerythrityl tetraethylhexanoate, dimethicone, cyclohexasiloxane, 1,2-hexanediol, trehalose, glyceryl stearate, peg-100 stearate, sorbitan stearate, water, glyceryl caprylate, peg-240/hdi copolymer bis-decyltetradeceth-20 ether, polyglyceryl-3 methylglucose distearate, hydroxyethyl acrylate/sodium acryloyldimethyl taurate copolymer, chlorphenesin, sodium polyacrylate, dimethicone/vinyl dimethicone crosspolymer, fragrance, ethylhexyl stearate, coco-caprylate/caprate, sucrose cocoate, adenosine, glyceryl acrylate/acrylic acid copolymer, disodium edta, polysorbate 60, sorbitan isostearate, prunus armeniaca (apricot) kernel oil, vitis vinifera (grape) seed oil, trideceth-6, citrus paradisi (grapefruit) seed oil, mangifera indica (mango) seed oil, punica granatum seed oil, solanum lycopersicum (tomato) seed oil, ci 14700, tocopherol
The star ingredient in this moisturizer is the punica granatum fruit extract (derived from pomegranates). Pomegranates are a superfruit, renowned as a rich source of antioxidants. Pomegranates have also been shown to help treat UV-damaged skin. On the product page, Frudia states that this product sources its pomegranates from Goheung, Korea.
My Dad the Chemist's review of Frudia Pomegranate Nutri-Moisturizing Cream
Should be a great moisturizing formula with a few nice fruits/vegetables extracts, other necessary chemicals also safe and good for skin care.

Love,
Dad
My dad is a fan of the fruit and vegetable extracts included in this formula. He also doesn't see any unsafe chemicals in the ingredient list, which is a plus. This moisturizer has quite a few fruit-derived oils in common with the Citrus Brightening Cream: mango seed oil, tomato seed oil, grapefruit seed oil, grape seed oil, and apricot kernel oil. Both products also contain pomegranate seed oil (punica granatum seed oil), as well as vitamin E (tocopherol). Unlike the Citrus Brightening Cream, however, the Pomegranate Nutri-Moisturizing Cream does not contain niacinamide. :( But you can always treat your skin to niacinamide via a dedicated serum like this one.
Frudia Pomegranate Nutri-Moisturizing Cream review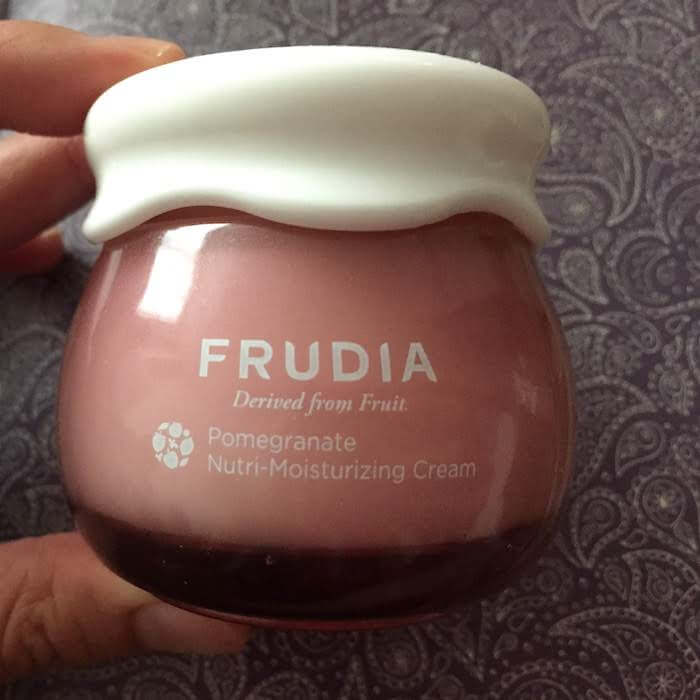 I've been using the Frudia Pomegranate Nutri-Moisturizing Cream over the past week or so, and it seems like a very nice moisturizer for the winter. Frudia describes this product as having "pudding-like" consistency, and I think that's pretty accurate. It's kind of similar to tofu pudding, if you've ever tried/seen that before.
One interesting note: the Pomegranate Nutri-Moisturizing Cream lists water slightly further down the ingredient list compared to the Citrus Brightening Cream. I did notice that this cream seemed to be slightly thicker than the citrus one, so maybe it's a bit richer since it's targeted to dry, aging skin, whereas the Citrus Brightening Cream is marketed toward dull skin and maybe doesn't need to be quite as rich.
I have been mixing three drops of The Ordinary Rose Hip Seed Oil (review here) into this moisturizer at night, and I think it helps it feel even richer and more velvety on my skin.
Overall, I still prefer Frudia's Citrus Brightening Cream, mainly because I like the citrus fragrance more. I also like the idea of getting niacinamide in my moisturizer instead of including it as a separate step. The pomegranate version leaves out this ingredient for some reason.
The fragrance in this moisturizer was not overpowering, but it definitely wasn't mild. Even though the product page says it has completed irritation testing and is suitable even for use on "tender" skin. I'm not sure if I agree with the idea of applying it without patch testing first, especially if your skin tends to be sensitive to fragrance.
I think this moisturizer is a great option for gifting to a K-beauty lover this holiday season, mostly because it's just so darn cute. It's packed in a glass jar with a plastic lid that looks like honey or icing dripping down the sides. It also comes with a plastic spoon that you can use to scoop some of the product out. Although I prefer to use my trusty NIOD stainless steel spoon, it's still a great accessory for anyone who doesn't already have a skincare spoon. To get the best deal, keep your eyes peeled for this product next time you're at your local TJ Maxx.
Related reading
Note: This post uses affiliate links, which means that I'll receive a commission if you make a purchase after clicking a link (at no extra cost to you). See our
disclosure policy
.