This lotion is heavily fragranced, which means it's probably not an ideal choice for anyone with sensitive skin. It's also very watery, which makes it less
When I was at my parents' house about a month ago, I noticed an open bottle of Suave Silkening Lotion with Baby Oil in the bathroom. My last experience with a Suave product did not go so well, so I've been wary of using any product that contains DMDM Hydantoin and/or fragrances ever since then. However, I can never resist the opportunity to try out a new hand lotion, so I decided to try out just a little bit. TL;DR, this lotion is a really great option for anyone who loves the scent of baby powder/baby lotion/baby products—it has a distinctive "baby powder" scent that overpowers anything else. All in all, it contains some potentially irritating ingredients (a strong fragrance and a preservative known as DMDM Hydantoin) that make it a less-than-ideal option for those with sensitive skin.
Suave Silkening with Baby Oil Body Lotion ingredients
water, glycerin, stearic acid, mineral oil, glycol stearate, dimethicone, glyceryl stearate, triethanolamine, cyclopentasiloxane, fragrance, cetyl alcohol, magnesium aluminum silicate, dmdm hydantoin, carbomer, peg/ppg-20⁄15 dimethicone, disodium edta, iodopropynyl butylcarbamate, stearamide amp, vanilla planifola fruit extract, euterpe oleracea fruit oil, passiflora incarnata flower extract, methylparaben, titanium dioxide (ci 77891)
This lotion contains pretty standard moisturizing agents like glycerin, mineral oil (aka baby oil), and dimethicone, as well as fatty acids like stearic acid and cetyl alcohol. Unfortunately, fragrance is pretty high up in the ingredient list.
Suave Silkening with Baby Oil Body Lotion review
Suave Silkening with Baby Oil Body Lotion comes packaged in a standard pump-style lotion bottle. The first thing I noticed about this product was the strong scent. The second thing I noticed was that it had a very runny consistency—much more like a thin lotion than a luxurious cream. And the more you try to rub it in, you'll notice that your hands feel strangely moist (like you washed your hands and didn't dry them very well afterward) instead of moisturized.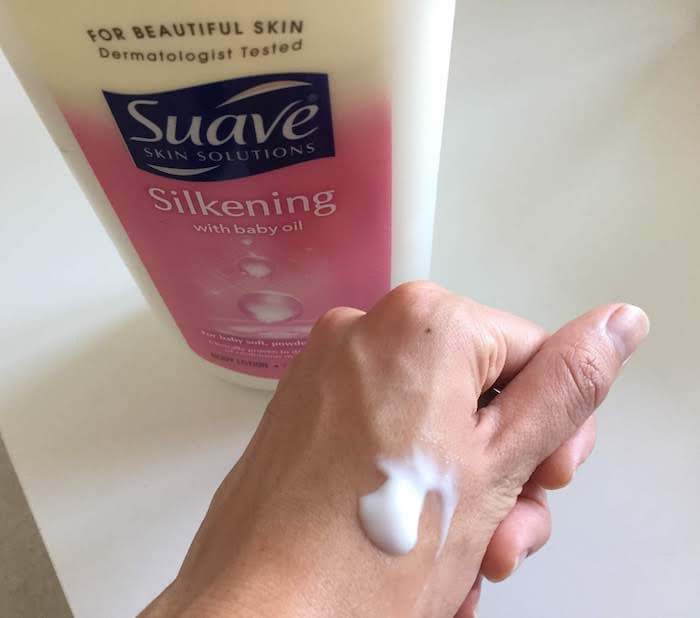 Although this lotion didn't irritate my hands to the point of causing a burning sensation (thank goodness), it didn't do a great job of moisturizing my dry hands. The lingering fragrance was tough to get used to; it smelled heavily of baby powder, so if that's up your alley, then this is definitely the lotion for you. Based on my experience with similarly fragranced lotions in the past, I also suspect (though I haven't confirmed) that this lotion would aggravate an active eczema flareup instead of soothing it.
I'd much rather prefer to use CeraVe Moisturizing Lotion in combination with Vaseline instead of this heavily fragranced, runny "silkening" lotion. Every time I apply Vaseline on a dry patch before heading to bed, it does a pretty astounding job of softening and silkening my skin by the time I wake up. Though this Suave Silkening Lotion contains mineral oil (pretty much the same thing as Vaseline), it also contains potential irritants that make it less appealing than other options like Vaseline or a fragrance-free cream or lotion.
Related reading
Note: This post uses affiliate links, which means that I'll receive a commission if you make a purchase after clicking a link (at no extra cost to you). See our
disclosure policy
.