This magical sheet mask contains allantoin, sodium hyaluronate, and vitamin C. Plus, it makes your skin look shimmery (like a unicorn!) for a while.
When I signed up for the Walmart Beauty Box a few months ago, I wasn't sure what to expect. I've only received two Walmart Beauty Boxes so far, but both of them have included sheet masks, along with a handful of other beauty samples. It seems like Walmart Beauty Box is a good fit for anyone who wants to get introduced to fun new sheet masks along with other beauty products they wouldn't find otherwise. Since sheet masks generally cost about $2.50 to $3 a piece (unless you buy them in bulk), the value of the masks already makes up for the price of the box (well, the box is "free" but you pay $5 for shipping). In my first box, I received an interesting sheet mask I would never, ever buy for myself: Soo'ae Unicorn Glow Hologram Sheet Mask. tl;dr: I'm glad I got to try it out, since it made me feel like a mythical magical creature for 15 minutes—but I'm not sure if I would repurchase it for myself.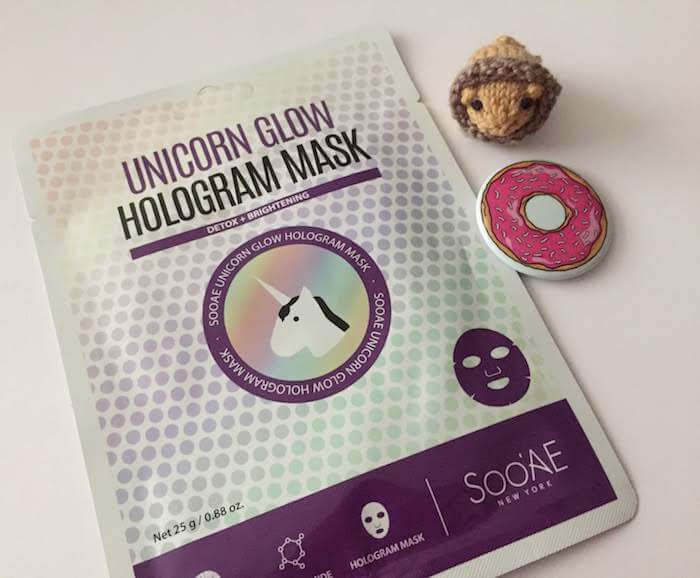 Soo'ae Unicorn Glow Hologram Sheet Mask ingredients
water, methylpropanediol, glycereth-26, glycerin, isopentyldiol, 1,2-hexanediol, peg/ppg-17⁄6 copolymer, sodium hyaluronate, allantoin, rosmarinus officinals (rosemary) leaf extract, hamamelis virginiana (witch hazel) leaf extract, salvia officinalis (sage) leaf extract, lavandula angustifolia (lavender) flower extract, mentha piperita (peppermint) leaf extract, glycyrrhiza glabra (licorice) root extract, niacinamide, phenoxyethanol, bis-peg-18 methyl ether dimethyl silane, dipotassium glycyrrhizate, tocopheryl acetate, butylene glycol, glycine, serine, flutamic acid, aspartic acid, leucine, lysine, alanine, tyrosine, phenylalanine, threonine, proline, valine, isoleucine, histidine, methionine, cysteine, hydrolyzed collagen, natto gum, sodium ascorbyl phosphate, trehalose, calcium pantothenate, pyridoxine hci, sodium starch octenylsuccinate, maltodextrin, silica, fragrance
Soo'ae Unicorn Glow Hologram Sheet Mask includes soothing ingredients like allantoin and licorice extract. Licorice root extract was also included in Cetaphil Hydrating Eye Gel Cream, which, according to my dad, is an ingredient that helps with under-eye circles and age spots. I mean, have you ever seen a unicorn with under-eye circles or age spots? I think not.
This mask also includes moisturizing ingredients like sodium hyaluronate and glycerin to deliver a boost of hydration. Niacinamide is another nice bonus, since it helps improve the texture of your skin and provides anti-aging benefits.
Soo'ae Unicorn Glow Hologram Sheet Mask review
Soo'ae Unicorn Glow Hologram Sheet Mask had a picture of a unicorn on the label, and it turns out that the unicorn theme didn't stop there. The inside of the mask is charcoal-infused (black in color) and the outside is silvery and shimmery, like a unicorn horn.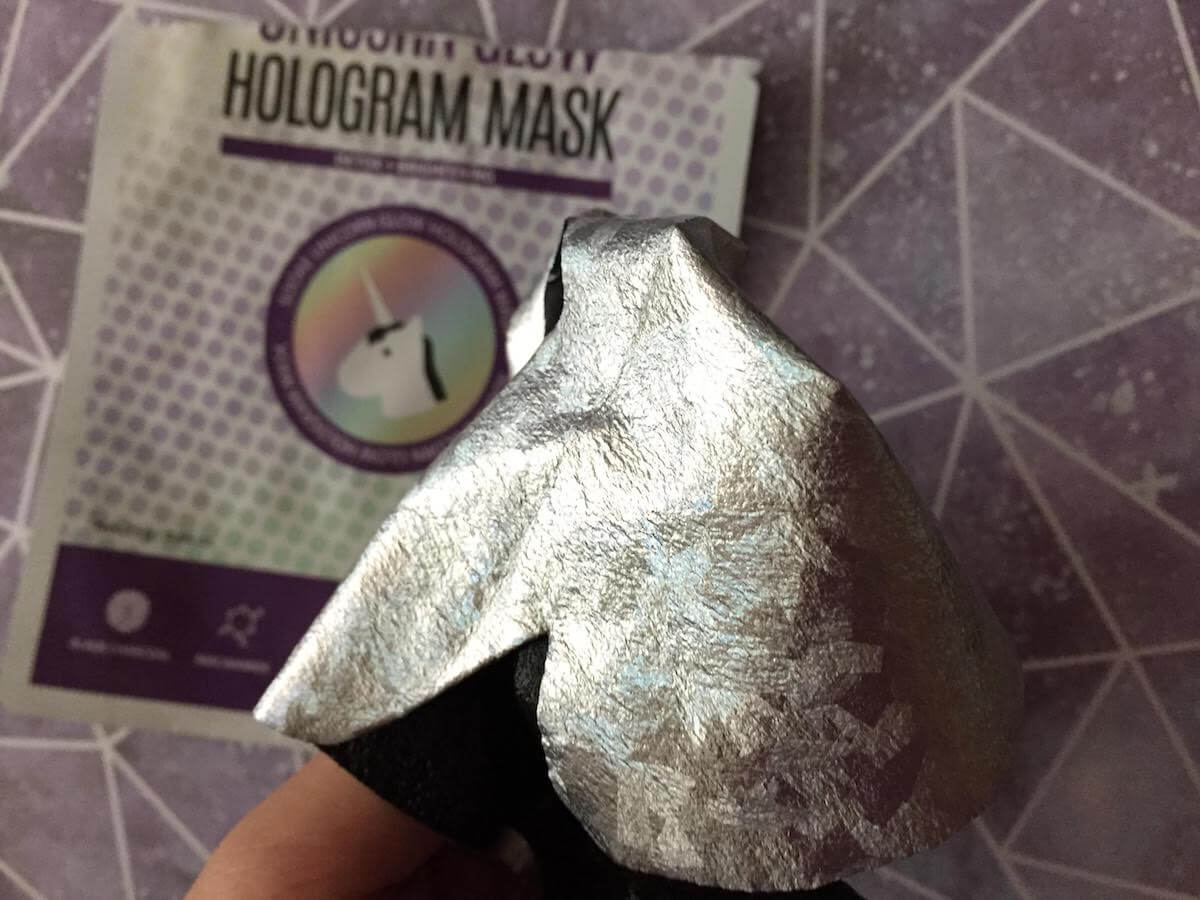 Thanks to my Q&A with a dermatologist, I now know to keep in mind that charcoal-infused masks only deliver short-term benefits, and aren't any more clarifying or detoxifying than plain old soap. I also learned that collagen, another ingredient in this mask, collagen, belongs in the same "show over substance" category, so don't expect the inclusion of collagen to deliver any noticeable benefits for wrinkles.
There are a few other caveats to this mask. One is that the company messaging isn't that consistent with reality. On the about page, Soo'AE says that it formulates its products without fragrances, but fragrance is listed as the last ingredient in this mask. I definitely noticed a medium-strong fruity fragrance, so if you're sensitive to that kind of thing, I wouldn't recommend buying this mask.
The texture of this Unicorn Glow Hologram Sheet Mask is a bit stiffer and more paper-like than other masks I've used in the past. I wasn't sure if it was the fragrance or the stiffness of the material, but I experienced minor irritation/itchiness in my undereye area, which manifested itself as a small red bump in that area.
All in all, I was glad I had fun trying out this mask, even though it was a little too irritating for my skin. When you put on this sheet mask, you'll feel like your skin has transformed into the same shade as the horn of a unicorn. Usually sheet masks make me feel like I just wrapped my face in bandages after plastic surgery, but this one was refreshingly different—it delivered more of a costume-like effect, which was a nice change of pace.
I think my skin is too sensitive to the fragrances in this mask, so I won't repurchase it. However, if your skin is generally not sensitive to fragrances, you should give this Unicorn Glow Hologram Sheet Mask a try—it's not every day that you get to feel like a magical creature for 15 minutes. Plus, you get to treat you human, mortal skin to some beneficial ingredients like sodium hyaluronate, niacinamide, allantoin, and licorice root extract.
Related reading
Note: This post uses affiliate links, which means that I'll receive a commission if you make a purchase after clicking a link (at no extra cost to you). See our
disclosure policy
.