This face mask contains broccoli extract (yum?), tiger grass, green tea extract, and sodium hyaluronate to soothe and moisturize your skin.
Innisfree is a Korean beauty brand that falls under Amorepacific, along with other companies like Etude House and Laneige. Today I'm reviewing one of the sheet masks I purchased during an impromptu trip to Innisfree's Midtown East location in NYC. I initially picked up Innisfree My Real Squeeze Broccoli Sheet Mask because of I was amused to see a bunch of broccoli florets on the front of a skincare product. But then I realized that it made sense: Why wouldn't this food be healthy for your skin? Aside from broccoli, this mask also includes a number of other nutritious ingredients to help promote "clear and supple skin," according to the packaging claims. Other than broccoli, let's see what else is in Innisfree's My Real Squeeze Broccoli Sheet Mask.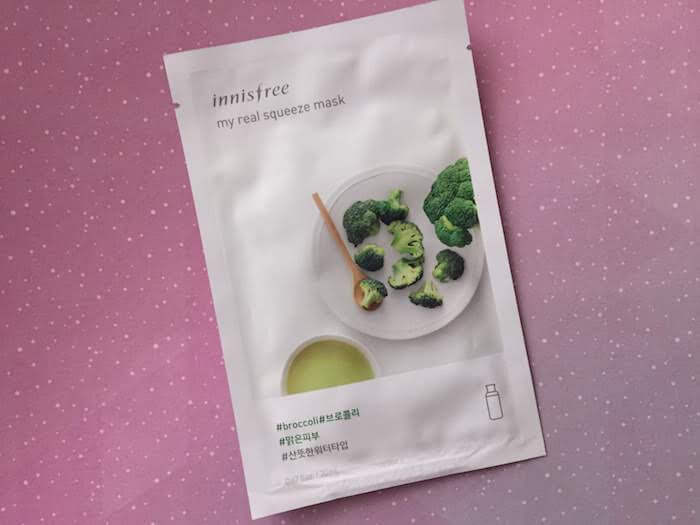 Innisfree My Real Squeeze Broccoli Sheet Mask ingredients
water, glycerin, dipropylene glycol, brassica oleracea italica (broccoli) extract, butylene glycol, betaine, xanthan gum, centella asiatica extract, paeonia suffruticosa root extract, 1,2-hexanediol, chamomilla recutita (matricaria) flower extract, peg-60 hydrogenated castor oil, glyceryl caprylate, ethylhexylglycerin, dipotassium glycyrrhizate, disodium edta, aloe barbadensis leaf juice, fragrance, sodium hyaluronate, camellia sinensis leaf extract, citrus unshiu peel extract, opuntia coccinellifera fruit extract, orchid extract, camellia japonica leaf extract
The namesake of this mask, broccoli, is rich in many nutrients, including vitamin K, vitamin C (an antioxidant) as well as sulfur compounds that help reduce inflammation when consumed. I'm not sure if these benefits transfer to the skin when applied topically, but it can't hurt, I guess. The website says that the broccoli extract was taken from cold-squeezed broccoli to preserve as many of the nutrients as possible.
Like Frudia Citrus Brightening Cream, the Innisfree My Real Squeeze Broccoli Sheet Mask contains citrus unshiu peel extract, which is also known as mandarin orange/tangerine peel extract. This helps provide vitamin C, which is known to brighten dull skin. Camellia sinensis leaf extract (green tea extract) is another antioxidant-rich ingredient.
This mask also contains centella asiatica extract, also known as tiger grass. This ingredient is one of my favorite ingredients to look for in a skincare product, since it provides soothing, anti-inflammatory effects and could help with conditions like eczema and psoriasis (see this study for more details).
Glycerin and sodium hyaluronate are used as moisturizing ingredients in this mask.
FYI, for some reason, Innisfree doesn't list the ingredients for this mask on its product page. Instead, it lists the ingredients for all of the "My Real Squeeze" masks on the ingredients tab of this page.
Innisfree My Real Squeeze Broccoli Sheet Mask review
According to innisfree, "My Real Squeeze" masks are available in three levels: water base, essence base, and cream base, listed in order of increasing hydration properties. The Innisfree My Real Squeeze Broccoli Sheet Mask is a water base mask, which means it is the least hydrating but probably good for people who don't have excessively dry skin.
I noticed that the serum of the Innisfree My Real Squeeze Broccoli Sheet Mask was slightly more watery than other masks I've used in the past, such as Leaders AC Dressing Face Mask, still my favorite (non-fragrance-free) face mask.
I kept the mask on for about 15 minutes—the directions say to leave it on for anywhere from 10–20 minutes. I thought the mask was pretty easy to apply, and fit my face pretty well, except that it was a tad too large in the upper lip area, which meant that the mask was covering my entire lip, and I almost felt like I was accidentally ingesting the serum as a result. Not too pleasant of a feeling since it has a light floral fragrance, so you kind of feel like you're eating potpourri. (The sizing of the upper lip area was actually the opposite problem I faced with the Kose Clear Turn Babyish Face Mask I tried recently, which was undersized in that area…do I have a abnormally sized upper lip?)
Consistency of the mask material
The mask material itself is made from eucalyptus fibers, which are biodegradable, which is a nice bonus (but note that the packaging is probably not as green). This mask was not quite as smooth and silky as Leaders's, but also not as rough as others ones I've tried before (such as this dollar-store Japanese face mask).
Amount of serum in the mask
The amount of serum included in this mask is about average. When you squeeze out the remaining serum from the package, you only get a few drops, unlike other masks that have a lot more serum leftover. So if you're hoping that this package will contain enough serum to apply to other parts of your body, it probably only contains enough to cover the surface of your neck. The mask itself is pretty saturated with serum, though.
Final first impressions of the Innisfree My Real Squeeze Broccoli Sheet Mask
After I took off the mask, it left a sticky residue on my skin, but most masks tend to do this. For this reason, I think it's only suitable for nighttime use. My skin felt soothed and moisturized afterward, and it seemed to help plump up my skin a bit. Though it contains a light fragrance, it didn't irritate my skin. I wouldn't feel opposed to repurchasing this mask, but I'm also not going to go out of my way to find it again. If I had to choose, I'd rather eat broccoli than apply it to my face.
Related reading
Note: This post uses affiliate links, which means that I'll receive a commission if you make a purchase after clicking a link (at no extra cost to you). See our
disclosure policy
.