These sheets are great for keeping your T-zone in check—and they make a great gift for anyone in your life who has oily skin.
In high school, my skin was fighting a losing battle with acne. I remember my friends and I would wipe our faces with Clean & Clear Oil Absorbing Sheets and then compare how dark our sheets ended up. Of the four of us, one friend and I would always have much darker blue sheets, and my other two friends would hold up their barely smudged sheets and then gawk at how dark ours got. I don't blame my skin—it was probably just rebelling against all the acne treatments I was submitting it to day and night.
Although I've mostly gotten my acne under control (thanks largely to understanding the power of moisturizer + Differin, I still get slightly oily at the end of the day. Whenever I know that I'm going to be away from home for a long time, I like to carry a pack of oil blotting sheets on me so I can keep my shiny T-zone in check. Although I've typically stuck with Clean & Clear's oil blotting sheets out of habit, one day, I happened to pick up a beautiful package of Boscia green tea blotting linens at Sephora, and I haven't looked back.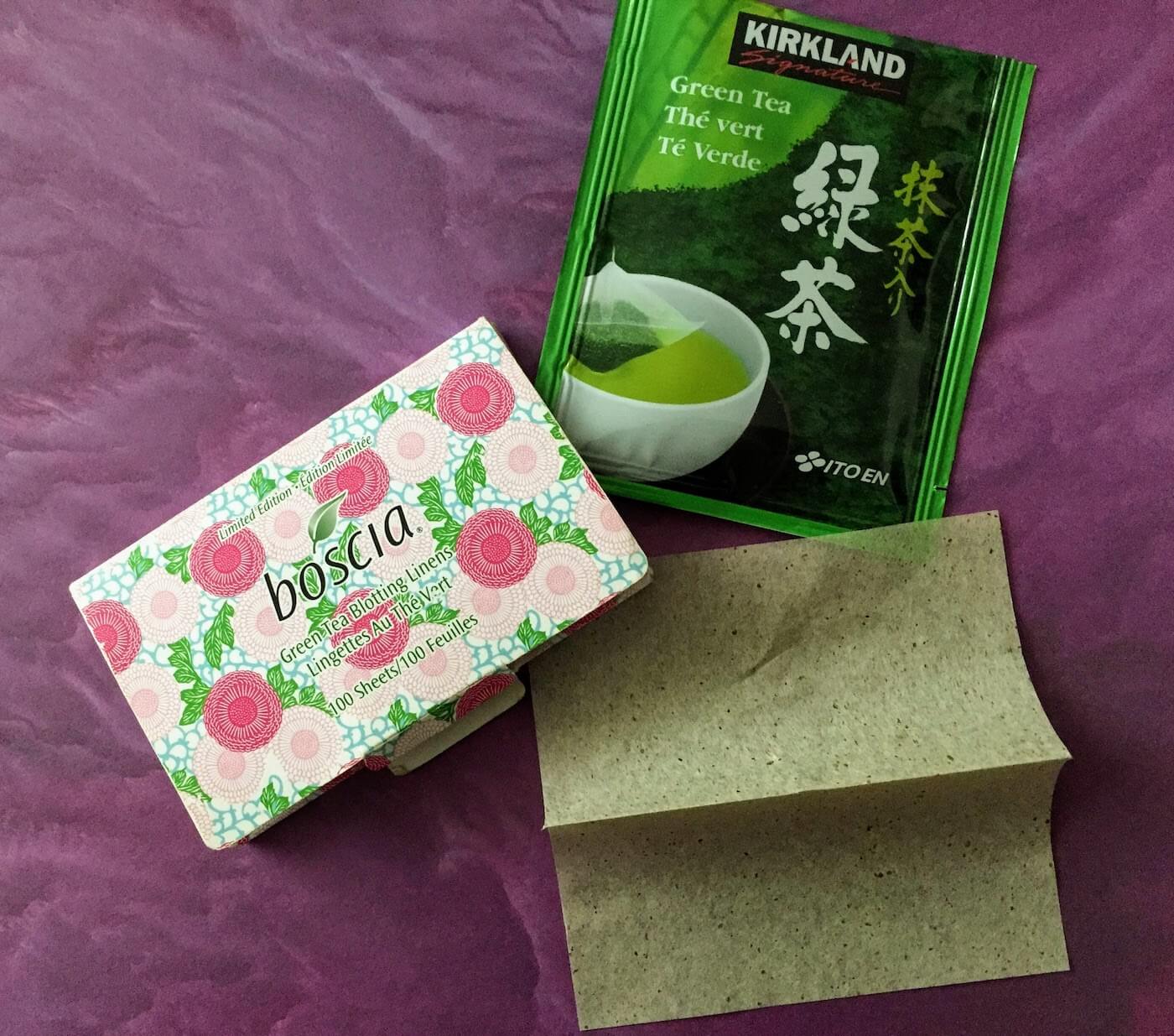 Boscia Green Tea Blotting Linens ingredients
100% natural abaca leaf fiber, green tea
Boscia Green Tea Blotting Linens are the classier, grown-up version of the Clean & Clear oil blotting sheets I used as a teenager. They aren't even sheets—they're "linens," made out of abaca leaf fiber, which comes from the banana plant family.
Boscia has also incorporated green tea extract into these linens. Green tea is an antioxidant that helps protect skin from free radicals. To be honest, I'm not sure if these blotting linens include enough green tea to make much of a difference in terms of actually delivering antioxidants to my skin, but I'm sure it doesn't hurt! Plus, it makes these linens look prettier.
Interestingly, I assumed that Clean & Clear Oil Absorbing Sheets didn't contain any ingredients other than the blue, latex-like material they were made from. However, it looks like these sheets actually contain other ingredients: polypropylene, mineral oil, dimethyldibenzlidene sorbitol, ultramarines. Ultramarines were also used in the AcneFree Sulfur Mask, and provide the signature blue color that I will always associate with these sheets—the same shade of sterile blue that you might associate with medical scrubs or latex gloves. It's also kind of weird that something that is supposed to sop up oil contains oil itself. But then again, I guess that is the reasoning behind oil cleansers.
Boscia Green Tea Blotting Linens review
I love my pack of Boscia Green Tea Blotting Linens and I think each sheet does a great job of removing excess shine from my face, without smudging my tinted moisturizer/sunscreen.
Each "linen" is made from a paper/papyrus-like pulp, with a greenish-tan tint. Boscia's product feels more like tissue paper, whereas Clean & Clear Oil Absorbing Sheets are silkier in texture. However, Boscia's sheets feel more natural, less synthetic, and basically, they make themselves feel more like a part of a wholesome routine, not a way to atone for your skin's oily sins.
Boscia Green Tea Blotting Linens also contain fewer chemicals and oils, whereas Clean & Clear's sheets include more fillers. It is slightly more satisfying to use the Clean & Clear sheets, since the blue color darkens when it absorbs oil from your face. Boscia's blotting linens turn a slightly darker shade of tan/brown, but the color difference isn't nearly as pronounced as it is with Clean & Clear's product. So if you're totally into the "the darker my oil blotting sheet gets, the happier I feel because that oil is no longer on my skin," then Clean & Clear's Oil Absorbing Sheets are the way to go. But if you're into a low-key, more natural-feeling way to help reduce oil at the middle or end of a day out, or you'd like to give a "just because" gift to a friend, Boscia Green Tea Blotting Linens won't let you down.
Related reading
Note: This post uses affiliate links, which means that I'll receive a commission if you make a purchase after clicking a link (at no extra cost to you). See our
disclosure policy
.