This classic lip balm leaves a tingling sensation (thanks to the camphor), which can help soothe extremely chapped lips. However, it also contains lanolin, an ingredient that may aggravate eczema.
"There are some things I will never again be able to bear, like the sight of Holy Cow, or the smell of strawberries, which reminds me too much of the lip gloss Cassie always used to wear."
—The Scattering (Outliers Book 2), Kimberly McCreight
Do you ever see something that immediately jolts you back to an earlier time in your life? For me, Carmex Classic Lip Balm's distinctive bumblebee-yellow metal tin will always be one of those things. The smell of it as well—a strange marriage of wax and camphor/Vick's VapoRub—is forever ingrained in my brain. Growing up, my family always kept a few tins of Carmex distributed around the house. Carmex used to print the price on the label, and I remember seeing the price increase from ~$1 to several dollars over the years, like a physical manifestation of inflation and the rising cost of living. Carmex doesn't print the price on the label anymore, but it does still package its lip balm in the same size metal tin with a yellow cap.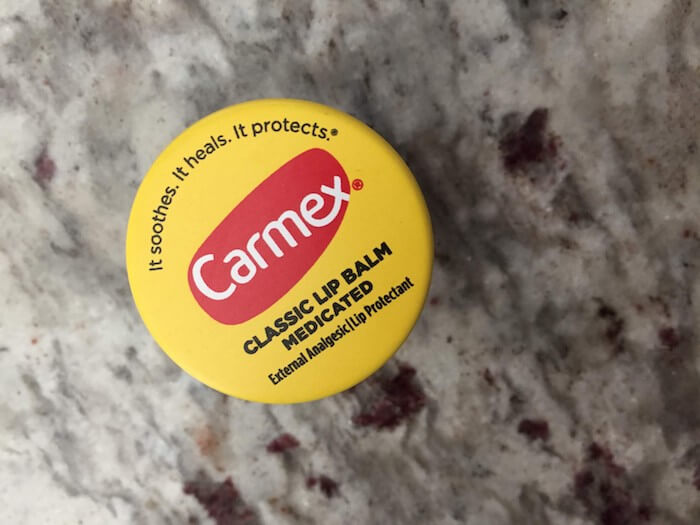 When I close my eyes, I can still remember the sensation of smearing a bit of Carmex over my chapped lips, and the ensuing cooling sensation. (And after that, I'd have to look for a tissue to wipe the leftover Carmex off my finger.) There really is nothing else like the cooling feeling of Carmex on dry lips. It's like the Vick's VapoRub of the lip balm world. And indeed, Vick's VapoRub and Carmex share an active ingredient in common: camphor.
That got me curious to see what exactly what else goes into this product. I feel like I know it so well, but in reality, I don't know much about it at all, if that makes sense. While researching this post, I learned a few new things about this product. Without further ado, let's see what goes into Carmex Classic Lip Balm!
Carmex Classic Lip Balm Medicated ingredients
Active ingredients: camphor (1.70%), white petrolatum (45.30%)
Inactive Ingredients: lanolin, cetyl esters, theobroma cacao seed butter, paraffin, beeswax, menthol, salicylic acid, phenol, vanillin, flavor
Camphor and white petrolatum are listed under Active Ingredients. Camphor is listed as an "External Analgesic" and white petrolatum is listed as a "Lip Protectant." The other inactive ingredients (~50% remaining concentration) include lanolin, a common moisturizer that's actually derived from sheep. This ingredient commonly irritates people with eczema, so I probably wouldn't recommend using this product if you belong in that category (like me). I'm not sure if Carmex always included this ingredient, or if it's a new development. Either way, I probably wouldn't risk using it again today now that I know that it contains lanolin.
I've used Bag Balm—another product that features lanolin as an ingredient—in hopes that it would help heal my cracked, itchy patches of hand eczema, but it only made my eczema much itchier. I strongly suspect that it was because of lanolin.
That said, lanolin does serve as an effective moisturizing ingredient for some people. If you have sensitive skin or eczema, however, I would recommend staying away from Carmex Lip Balm and other products that contain lanolin. According to the American Contact Dermatitis Society, lanolin also shows up in ingredient lists under other names like adeps lanae anhydrous, wool alcohol, and other terms including the word "wool."
This formula is actually quite similar to ChapStick moisturizing lip balm, which contains lanolin, 40.7% white petrolatum, and paraffin. These are all ingredients that help protect your skin and prevent it from losing moisture.
Carmex Classic Lip Balm Medicated review
Certain products will always hold a special spot in my memories. Carmex Classic Lip Balm is one of them. I haven't used it for many years, but when I recently came across a tin of it, I was instantly transported back to my childhood, and thought I'd give it a try. Now that I know that it contains lanolin, I probably won't repurchase this unless I'm feeling nostalgic. What differentiates Carmex from other lip balms is that it contains cooling ingredients like camphor and menthol. I personally love this cooling sensation, but it might be too strong for some people. It's also quite oily, since it consists of over 40% petrolatum. It has a distinctive yellow color that's a bit darker than your average Vaseline. In terms of texture, it feels exactly like Vaseline or petroleum jelly.
If you don't have an adverse reaction to lanolin or any of the other ingredients in Carmex Classic Lip Balm, I don't see why you shouldn't use this product. It's available in just about any drugstore and is very affordable. You can also buy it in bulk on Amazon The cooling sensation is really nice, as long as it doesn't irritate your lips. The circular tin is a little larger than a quarter in diameter, and is perfect for throwing into your purse. Carmex also sells it in plastic tube form, but I think the metal tin is nicer, even though it requires you to use your fingers. Plus, the metal tin package makes it easier to get very last bit of product out. Just remember not to rub your eyes after applying this to your lips with your fingers—any lingering menthol or camphor could cause your eyes to sting.
Related reading
Note: This post uses affiliate links, which means that I'll receive a commission if you make a purchase after clicking a link (at no extra cost to you). See our
disclosure policy
.