When should you shop online, and when should you buy something in person? It depends.
Lately, I've been thinking about the pros and cons of buying stuff online vs. in a brick-and-mortar store. I probably shop online a lot more than many other people, mostly because of (a) where I live, and (b) how lazy I am. Here are the main reasons why I do most of my shopping online:
I don't have a car, which means that I have to carry everything back home. I have pretty minimal upper body strength, so I either need to build up my biceps or not buy so much stuff.*

Prices are oftentimes cheaper online than in an actual store. Plus, you can compare prices across online retailers to really make sure you're getting the lowest price. Of course, this benefit is sometimes offset by the fact that you have to buy more things to reach the "free shipping minimum." 😱 Of course, this can be fine if you need to stock up on other stuff anyway, like toilet paper or other essentials. But sometimes I buy stuff that I don't need, simply because I don't want to pay for shipping. Don't ask me why that makes sense in my head.

When I'm buying something for the first time, I like reading online reviews. This is particularly important when it comes to buying new skincare products that I've never tried before. However, it is rather time-consuming.

*Ha! Like that's an option…
The case for shopping for skincare products in person
I still buy lots of stuff online. But recently, I've been trying something that humans did for many years, long before Amazon.com ever existed: buying skincare products in actual stores. And I have to say, it's been really enlightening.
When you actually step foot in a store, you're able to do lots of stuff you can't do online. For one, you can browse through stuff in person without having to click on anything with your hands. You just use your eyes to scan the shelves. Plus, you can ask the employees questions. When I visited the Deciem store in SoHo, I was able to get advice about the order in which I should apply products, and I also got some recommendations for my skin concerns.
The same thing happened during my last trip to Sephora—I was able to sample a selection of products selected specifically for my skin…including a bunch of things that I otherwise would never have tried on my own. Plus, I learned some pretty useful skincare regimen tips from my mini facialist.
In conclusion, here's what I really enjoy about shopping the old-fashioned way, rather than online:
When you're shopping for skincare products, it's really nice to be able to hold the product, look at the packaging, and feel its weight, instead of having to click on pictures of the product and squint at the ingredient list online.

It's really easy to compare it to the product right next to it on the shelf. This is usually a struggle for me online, because I have to open two browser windows or tabs at a time. On my tiny 13" laptop screen, it's a bit of a process.

You don't feel pressured to reach any free shipping minimum. You can just buy what you need and go, which saves time (and money).

You don't have to wait for your product to arrive in the mail. Instant gratification.

You can check expiration dates or look for the best package on the shelf (one that isn't dented or dusty, for example). When you're shopping online, you don't have this luxury!

The case for shopping for skincare products online
I must say that online shopping really does rock, though. If you live in an expensive city like me, it's tough to beat online prices. Even brick-and-mortar retailers like CVS may list better prices online than in stores.
Let's use Australian Gold Tinted Face Sunscreen SPF 50 as an example. I recently saw it in an actual CVS store in Manhattan. It cost $14.79 for a 3-oz. bottle, which was about 14 percent more expensive than the online price tag of $12.99.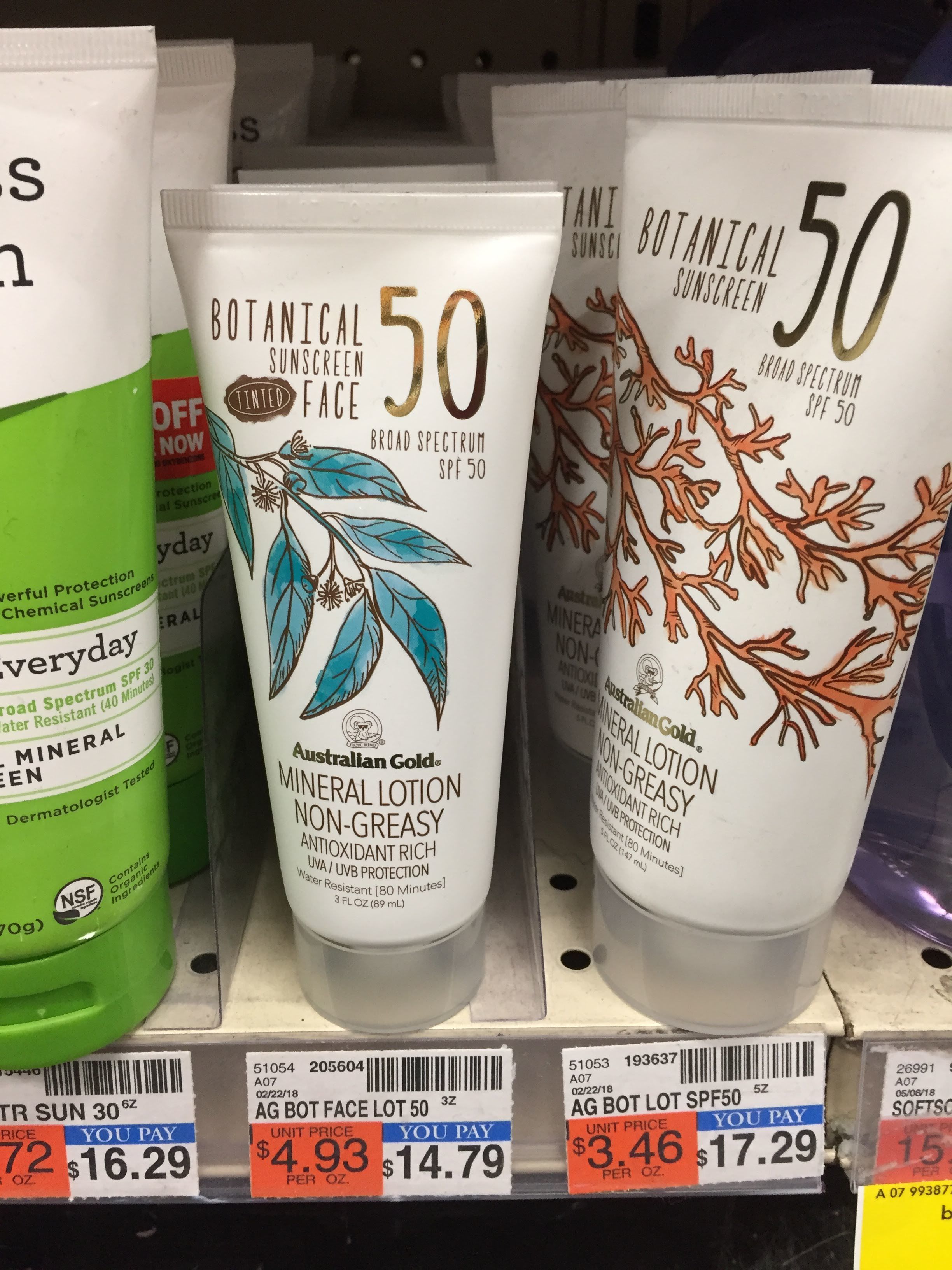 $14.79 at a CVS store in NYC (no shipping cost, of course)

$12.99 on CVS.com ($5.49 shipping, or free shipping with $49 purchase)

It's tough to beat the convenience and price of online shopping. However, I also believe that the in-store shopping experience has come a long way since online shopping became a thing. Now brick-and-mortar stores have to stay competitive by training their employees to offer expertise in person, something that many consumers can't get online. Shopping for stuff in person can help you learn more about the products from people who actually use them (they work at the store, so they've probably tried the products on themselves). Of course, once in a while you may get someone who's just trying to sell you something, anything…but the naive part of me still believes that many employees are telling the truth and that they truly want to help instead of just sell as much as they can.
Note: This post uses affiliate links, which means that I'll receive a commission if you make a purchase after clicking a link (at no extra cost to you). See our
disclosure policy
.