This product lives up to the 'sheer' in its name, which is especially impressive for a zinc oxide-based sunscreen. It blends in like a dream and only leaves a very faint cast. And even though it's fragrance-free, it has a pleasant scent.
Supergoop Mineral Sheer Screen Sunscreen SPF 30 is the most elegant mineral/physical sunscreen I've ever tried. It's impressive that it doesn't contain any chemical sunscreen filters, because it blends in just like a chemical sunscreen would. Because it's not water resistant, I only use it sparingly (whenever I'm sure I'm not going to sweat). But whenever I do use it, it's always a treat.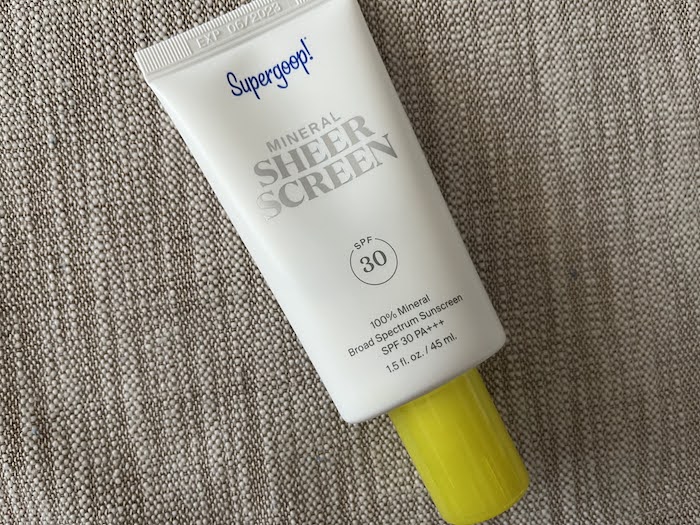 Supergoop Mineral Sheer Screen Sunscreen SPF 30 ingredients
Active ingredients: zinc oxide (17.5%)
Inactive ingredients: water, isododecane, caprylic/capric triglyceride, butyloctyl salicylate, propanediol, glycerin, squalane, trioctyldodecyl citrate, polyglycerin-3, polyclyceryl-3 lactate/laurate, polysilicone-11, cetearyl alcohol, glyceryl stearate, sodium stearoyl glutamate, butylene glycol, xanthan gum, polyacrylate crosspolymer-6, isostearic acid, lecithin, polyglyceryl-3 polyricinoleate, polyhydroxystearic acid, caprylhydroxamic acid, citric acid, aloe barbadensis leaf juice, lespedeza capitata leaf/stem extract, maltodextrin, sodium hyaluronate
My Dad the Chemist's review of Supergoop Mineral Sheerscreen Sunscreen SPF 30
Dear Emily, looks like a nice and smooth formula, depending on how the ingredients are put together, the water resistance may vary, you may test yourself after applying on hand uniformly, dip that hand in water then move left to right to left to right and see if any Zinc Oxide particles come out? If yes, use in any where except swimming or the sports you may sweat a lot (very hot weather)

Good Luck!

Love,
Dad
My dad immediately wanted me to test the water resistance of this sunscreen. Once I told him that it wasn't water resistant, here's what he had to say:
Dear Emily, yes , it makes sense. For the mineral sunscreens with water resistance, they're much more difficult to make the sunscreens less white, because the film forming polymers used to build water resistance would make these formula base more white in color.

Love,
Dad
So it turns out that it's not just zinc oxide particles that can make sunscreens whiter in color…the polymers that help build water resistance also contribute to the whiteness of the formula. That makes a ton of sense and makes me wonder when/if they'll ever be able to create a water-resistant mineral sunscreen that is truly sheer, if this is the case.
Supergoop Mineral Sheerscreen Sunscreen SPF 30 review
Supergoop Mineral Sheer Screen Sunscreen SPF 30 is a joy to wear. It almost feels like a regular moisturizer rather than a sunscreen. It contains moisturizing ingredients like glycerin, squalane, and sodium hyaluronate, so it's not a stretch to think of it as a moisturizer with bonus SPF capabilities. I typically don't think of sunscreen as a product that will boost my current skin's health—instead, I see it as a protective measure against future harm from UV rays. But this product makes me question that because it feels like a treat for my skin rather than just a shield, if that makes sense. It's like spending time with a friend versus a bodyguard if you're a public figure…both people contribute to your well-being, but you enjoy spending time with your friend more.
It's surprising that it contains such a high percentage of zinc oxide (17.5%), but leaves only the faintest trace of a white cast on my skin. It also has a pleasant (but mild) nutty aroma that's hard to describe. I really like the smell of it, but some people may be turned off by it. It doesn't contain any added fragrances or essential oils, so it must be the scent of one of the ingredients (not sure which one), or the scent that results from combining several ingredients in this formula.
Now for the cons. It's not water resistant, so I can't wear it in the summer when I'm constantly sweating. I also wish they made an SPF 50 version. And it's pretty pricey, but I guess you get what you pay for. Since it's a quality product that actually makes you actually look forward to applying your sunscreen, its price tag may be worth it to some people.
Related reading
Note: This post uses affiliate links, which means that I'll receive a commission if you make a purchase after clicking a link (at no extra cost to you). See our
disclosure policy
.