This conditioner helps smoothen your hair, but its fragrance is a bit overpowering and it includes some irritating preservatives.
Whenever I'm traveling, I like to pop over to the local drugstore to see if there are any interesting haircare products to try. I normally try to use fragrance-free haircare products, but vacation is a time when I'm forced to be a bit more flexible about what products I use—sadly, it's pretty challenging to find fragrance-free products on the road.
I normally avoid anything that contains coconut when it comes to food (for some reason, I can't stand the taste!), but I'm willing to use coconut-based products on my hair since coconut oil is actually good for your hair. In this study, researchers compared the benefits of coconut oil, sunflower oil, and mineral oil for haircare, and found that only coconut oil was the only one that was able to actually help mend damaged hair. Plus, it seemed like a very appropriate choice for the location I was in at the time (Hawaii).
OGX Coconut Milk Conditioner ingredients
water, cetearyl alcohol, cetyl alcohol, behentrimonium chloride, glycerin, cocos nucifera oil, cocos nucifera (coconut) fruit extract, glycol stearate, glycol distearate, ceteareth-20, isopropyl alcohol, dimethicone, cyclotetrasiloxane, citric acid, cyclopentasiloxane, panthenol, ovum, propylene glycol, tetrasodium edta, dmdm hydantoin, methylchloroisothiazolinone, methylisothiazolinone, fragrance
This conditioner is a coconut lover's dream, since it contains two coconut-based ingredients: coconut oil and coconut extract. I didn't see coconut milk listed anwyhere, so I'm guessing that coconut extract is ingredients-speak for coconut milk in the world of haircare.
Another interesting addition to this conditioner is ovum, or "egg powder" as stated in the ingredients list (I removed it for the sake of brevity). OGX says that it includes "ultra-whipped egg white proteins" on the label.
My Dad the Chemist's review of OGX Coconut Milk Conditioner
Dear Emily, egg white may promote hair growth (I've never tried on myself) I think this formula should be a nice hair conditioner, i'll Like it better if they use better preservatives instead of methylchloroisothiazolinone, methylisothiazolinone.
I asked him if he had any better ideas for preservatives that could be used in this conditioner, and he said:
Dear Emily, the following ingredients are robust as broad spectrum preservatives when combined (1 or 2 or even 3 depending on the formula compatibility) and may be as closest to be a Natural Identical preservatives.



Sodium Benzoate, Potassium Sorbate, Glycerin, Glyceryl Caprylate, Pentylene Glycol, Magnolia Officinalis Bark Extract, Caprylhydroxamic Acid, Benzoic Acid, Triethyl Citrate, Lactobacillus Ferment, Gluconolactone

Love,
Dad
My dad thinks this conditioner seems intriguing, particularly because of the egg whites included in the formula, but he thinks it would be an even better product if they replaced the methylchloroisothiazolinone and methylisothiazolinone with a combination of other preservatives. Interesting that glycerin is considered a preservative—and this formula does already include glycerin. It's also cool to see that is on the list—this ingredient was actually included in Origins GinZing Eye Cream.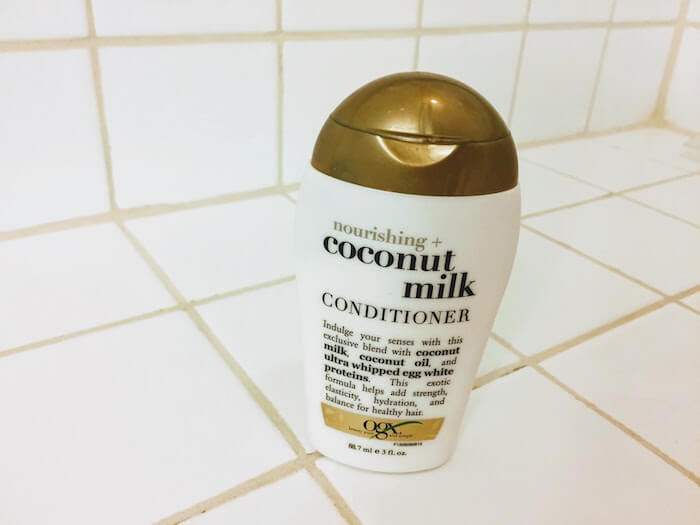 OGX Coconut Milk Conditioner Review
OGX Coconut Milk Conditioner was a pretty decent conditioner. I bought a 3-oz. bottle, and it was enough for about five days' use (if you use it generously). The instructions say to leave it on for 3-5 minutes, but since it contains potentially irritating preservatives (methylchloroisothiazolinone, methylisothiazolinone), you may want to make sure that you apply it to the hair only, and avoid making contact with the sensitive skin of your neck, ears, and face as much as possible. I used the strategy of applying it to my hair and then piling it on top of my head, taking care to avoid my ears, since that was the area of my skin that got irritated by Suave Professionals Sleek and Smooth Conditioner last time. That conditioner also contained the same preservatives, so I wanted to be extra cautious this time around.
The consistency is pretty creamy, and definitely coats your strands well. The fragrance, however, is pretty strong, so if you're sensitive to that kind of thing, you should probably avoid this product.
I was pretty satisfied with OGX Coconut Milk Conditioner, and it did seem to help detangle and smoothen my hair, particularly after submitting my hair to the abuses of ocean and pool water on a regular basis. However, I probably wouldn't buy it again, just because I'm wary of exposing myself to potentially irritating preservatives on a regular basis. Plus, the fragrance adds another potential irritant to the mix. I much prefer The Seaweed Bath Co. Moisturizing Unscented Argan Conditioner, which contains argan oil and is fragrance-free. You can read the review of that product here.
Related posts
Note: This post uses affiliate links, which means that I'll receive a commission if you make a purchase after clicking a link (at no extra cost to you). See our
disclosure policy
.