This chemical sunscreen blends in nicely and provides up to 80 minutes of water resistance. However, you may want to choose a different sunscreen if you have sensitive skin.
When given the option between a physical sunscreen and a chemical one, I'll choose the physical one every time, because many chemical sunscreens irritate my face. But given the option between no sunscreen and a chemical sunscreen, I'll likely choose the chemical sunscreen if I have to spend some time in the sun. Lately I found myself in that situation, which is why I had the opportunity to try out a chemical sunscreen I would normally never use or buy: Coppertone Water Babies Sunscreen SPF 50. Though the product name includes the word "babies," it isn't specifically marketed to babies. Coppertone makes other formulas targeted to kids and babies, as well as mineral/physical versions of its formulas. Today I'll be reviewing the Water Babies Sunscreen SPF 50, a chemical sunscreen.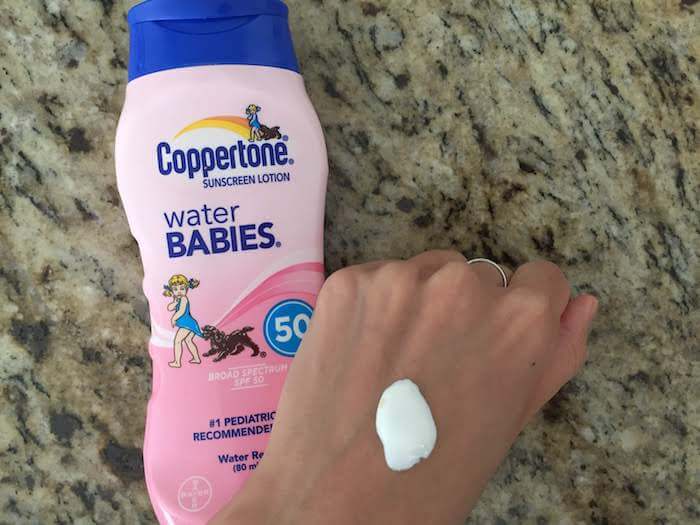 Coppertone Water Babies Sunscreen SPF 50 ingredients
Active ingredients: avobenzone (3%), homosalate (13%), octisalate (5%), octocrylene (7%), oxybenzone (4%)

Inactive ingredients: water, sorbitol, aluminum starch octenylsuccinate, VP/eicosene copolymer, stearic acid, triethanolamine, sorbitan isostearate, benzyl alcohol, dimethicone, tocopherol, polyglyceryl-3 distearate, fragrance, methylparaben, carbomer, propylparaben, disodium EDTA
Coppertone Water Babies Sunscreen SPF 50 review
Coppertone Water Babies Sunscreen SPF 50 contains five chemical sunscreen filters: avobenzone, homosalate, octisalate, octocrylene, and oxybenzone. Avobenzone and octisalate are included at the maximum level allowed by the FDA (3% and 5%, respectively). According to the FDA, you can put up to 15% homosalate, 10% octocrylene, and 6% oxybenzone in your formula. This particular sunscreen doesn't reach the maximum levels for those three active ingredients.
This sunscreen is more of a liquid than a paste—but similar to the texture of Elmer's glue. I thought it was very easy to blend into my skin. The picture below is after I rubbed about a quarter-sized amount on the back of my hand. It didn't leave as much of a waxy finish as many other sunscreens, even though it is marked as water-resistant up to 80 minutes. It also didn't leave much white cast to speak of.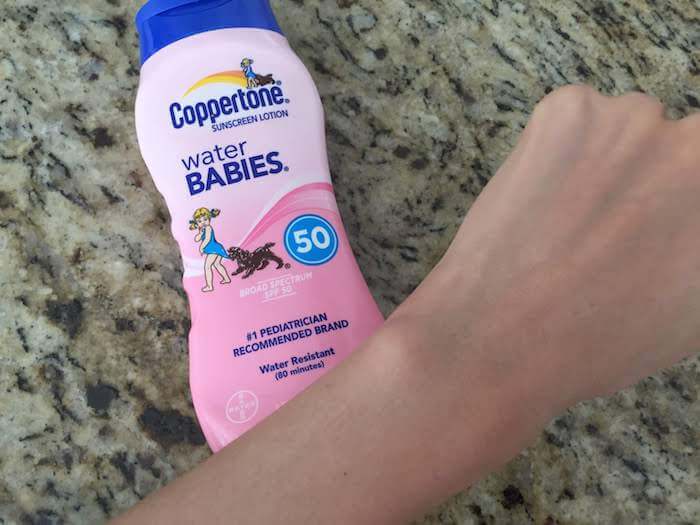 The fragrance is pretty noticeable—it reminds me of baby powder. Not really up my alley, but maybe it appeals to some people out there. In addition to fragrance, this sunscreen also contains some other potentially irritating ingredients. One is used as a preservative: benzyl alcohol. If you read my review of Aveeno Moisturizing Bar for Dry Skin (which also contained this preservative), you may recall that my dad mentioned that benzyl alcohol is listed as an allergen in the EU.
In the past, my dad has mentioned that oxybenzone is known as the most irritating sunscreen filter in the U.S. When reviewing the Neutrogena Men's Triple Protect Face Lotion Broad Spectrum SPF 20, he mentioned that at 3% or lower concentration, oxybenzone may be acceptable/less likely to irritate skin. However, Coppertone Water Babies Sunscreen SPF 50 contains 4% oxybenzone, which may increase the likelihood that it will be irritating for anyone with contact dermatitis and/or sensitive skin.
Indeed, even though I loved the way it blended into my skin without any white cast, I did feel a slight burning sensation upon applying it to my face. This isn't particularly unusual—I usually experience some sort of irritation with chemical sunscreens from the U.S., which is why I usually turn to physical sunscreens. I didn't notice any stinging on my arms, but the skin there is usually less sensitive than the skin on my face.
Pros of Coppertone Water Babies Sunscreen SPF 50
easy to blend into skin, no waxy finish despite water resistance claim

SPF 50 and up to 80 min. of water resistance

no white cast

very affordable

Cons of Coppertone Water Babies Sunscreen SPF 50
noticeable fragrance: smells like a baby product, but without any of the benefits

contains potential irritants like fragrance, benzyl alcohol, which is listed in the EU as an allergen

oxybenzone is known as an irritant and can also pollute our waterways

Although I was initially going to recommend this sunscreen as an affordable option for anyone who doesn't have sensitive skin, I think I'd much rather recommend finding another sunscreen without oxybenzone in it, if you're looking for an affordable, chemical sunscreen that blends in without leaving a white cast. (Hint: Dr. Aegean Chan recommends Neutrogena Hydro Boost Sunscreen). Also, Coppertone Water Babies Pure & Simple Mineral Sunscreen SPF 50 combines zinc oxide with chemical filters (specifically, octinoxate and octisalate), without any benzyl alcohol.
If you're looking for a physical sunscreen that leaves minimal white cast, I recommend checking out Coppertone Pure & Simple Sunscreen SPF 50 For Face and Australian Gold Tinted Face Sunscreen.
Related reading
Note: This post uses affiliate links, which means that I'll receive a commission if you make a purchase after clicking a link (at no extra cost to you). See our
disclosure policy
.